Yampa River Fun! 5 Things to Do on the Yampa River in Steamboat Springs
Posted by Jon Wade on Thursday, March 16, 2023 at 2:40:58 PM
By Jon Wade / March 16, 2023
Comment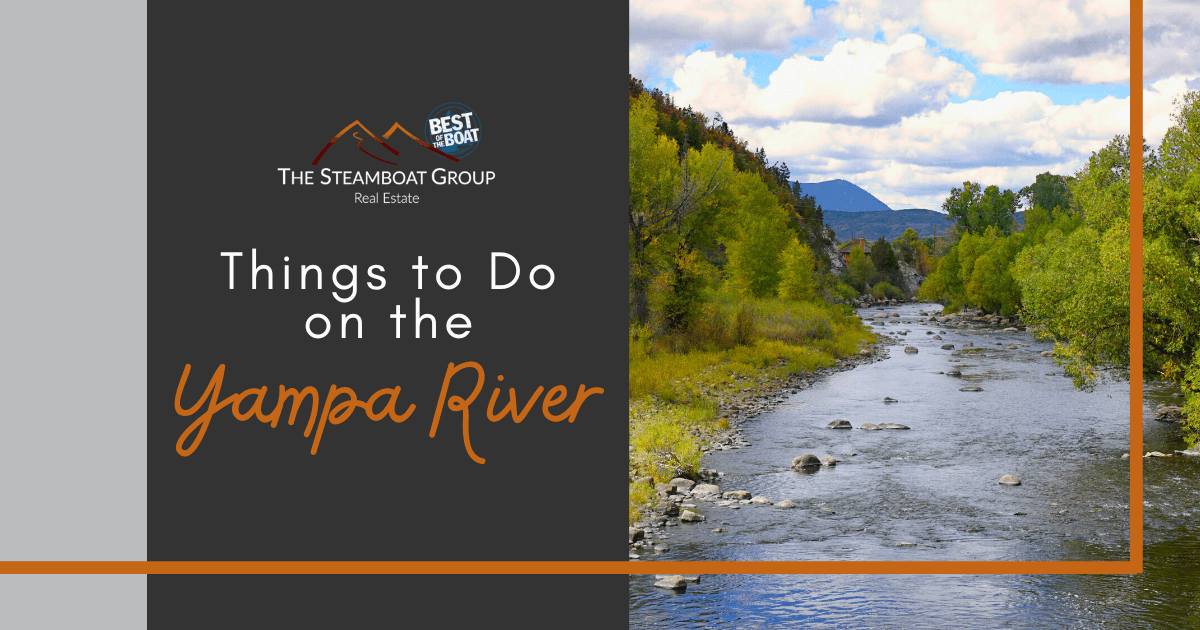 A quintessential, postcard-perfect Colorado mountain town, Steamboat Springs is nestled on the banks of the Yampa River, just a few hours from Denver. The river flowing right through town is one of the biggest draws to Steamboat. Aside from providing gorgeous natural scenery, the river offers endless recreation opportunities. From its fantastic fly fishing to the class II and class III rapids ideal for kayaking and whitewater rafting to the multi-use Yampa Core Trail, here are five things to do on the Yampa River in Steamboat Springs.
Search
Steamboat Homes for Sale.
Moving to Steamboat Springs? Let the Steamboat Group help! When it comes to insider information on the Steamboat market, no one is better equipped to help you buy your next Steamboat Springs home.
White Water Rafting
As the longest free-flowing, undammed river in Colorado, the Yampa is ideal for whitewater rafting. Starting right in downtown Steamboat Springs, there are over 65 miles of class II and III rapids.
Due to seasonal fluctuations in the river's flow, white water rafting in Steamboat Springs is a summer-only water activity, generally from mid-May through August. Peak flow is usually in early June when the spring melt creates higher, faster-moving water levels. This is the most exciting time to go rafting, thanks to the abundance of class II and III rapids, with the occasional class IV (not for beginners).
The best and safest way to experience the thrill of white water rafting is by taking a guided tour between May and July. Several outfitters in Steamboat offer beginner-friendly trips ranging from 1.5 hours to multi-day excursions for experienced paddlers.
Fishing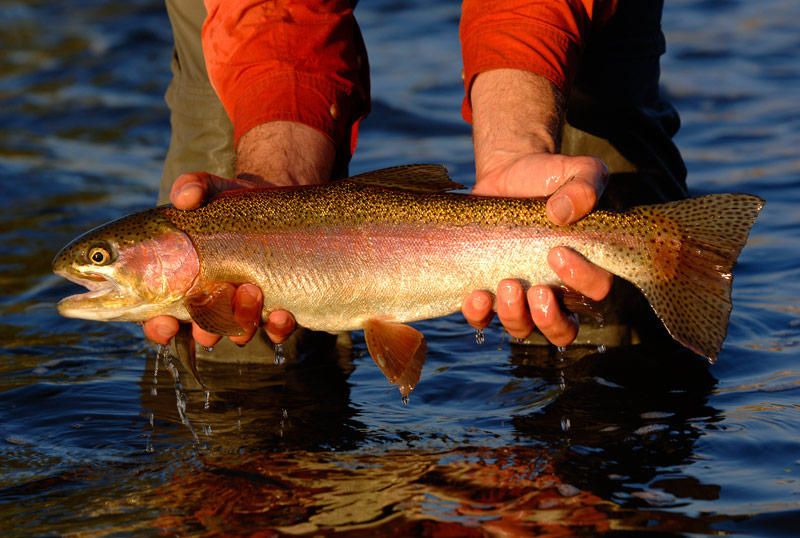 The Yampa River is widely regarded as one of the best places in Colorado to catch rainbow and brown trout. Some of the largest fish are caught in Steamboat Springs.
Steamboat has several miles of publicly accessible riverbank where hopeful anglers can cast for trout, including downtown. The Yampa Core Trail is a great place to start, especially because you can move downstream when patience begins to thin. Best of all, fishing isn't a seasonal sport here—in Steamboat Springs, you can fish year-round!
During summer, the most abundant waters are generally those in the river behind Yampa Avenue, between Fifth and Ninth streets. However, you will have an audience as many restaurants look out onto this stretch of the Yampa. The Stagecoach Reservoir is an epic fly fishing spot in winter, thanks to the giant trout that gather in the shallow riffles and large pools here.
If you don't have your own gear, rent it at Steamboat Flyfisher on Fifth Street or Straightline Sports on Lincoln Avenue. Alternatively, if you prefer a local's guidance and firsthand expertise, ask around (including at either shop!) about hiring a guide for the day.
Paddleboarding
Paddleboarding is becoming increasingly popular on the Yampa, and from town, one of the best access points is the C-Hole (AKA Charlie's Hole), adjacent to Bud Werner Memorial Library. During summer, this stretch of the river becomes Steamboat's beach, with people relaxing on the rocks and swimming and braver folks boarding C-hole. The type of paddleboarding here is whitewater-style rather than flatwater—but it sure is exciting!
For a more peaceful paddling experience, head to scenic Steamboat Lake or Stagecoach Reservoir. Even they can get a bit crowded on sunny weekends, so to really get away from it all (and maybe practice some yoga on your SUP), head to Pearl Lake, one of the best lakes near Steamboat Springs.
Kayaking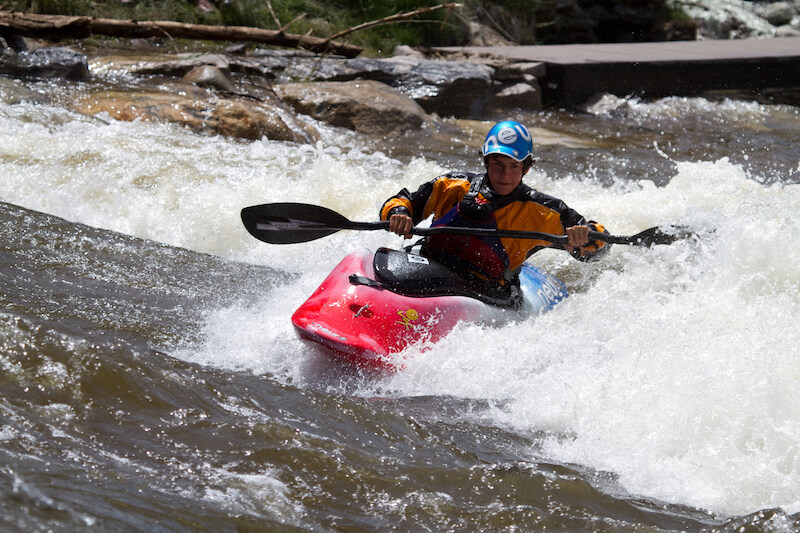 One of the most popular activities in Steamboat Springs is kayaking, and for a good reason. Thanks to the town's convenient access to thrilling whitewater and serene lakes, Steamboat offers various kayaking experiences for everyone.
For thrill-seekers, the stretch of river flowing through downtown provides ample opportunity to tackle class II rapids. The Steamboat Town Run comprises four exciting rapids and holes: the A-Hole, the Double Z wave, the C-Hole, and the D-Hole. Due to rapidly changing water levels, Kayaking can typically only be enjoyed in this section during summer, from May to July.
If you're looking for calmer waters to kayak, River Creek Park and Rich Weiss Park should be your go-to. A bit further away, Steamboat Lake offers a memorable paddling experience. Fortunately, this waterway can be enjoyed via kayak year-round!
There are numerous places in Steamboat Springs to rent kayak equipment, from inflatable kayaks to specialty boats and paddles. If you're new to the sport and hoping to learn the ropes (after all, kayaking is practically a way of life here), consider booking lessons or a tour with Mountain Sports Kayak School.
Hiking, Biking, Running & More
Steamboat Springs is not just for water lovers—there's something for all outdoor enthusiasts here. Aside from the river, the town is home to many stunning multi-use trails, challenging mountain bike paths, and of course, natural hot springs, Steamboat's namesake.
The Yampa River Core Trail is, understandably, wildly popular. This 7.5-mile Steamboat Springs hike cuts straight through the heart of downtown Steamboat and runs beside the river. It's not just a means to an end—there's plenty to see along the route, including the six-acre Yampa River Botanic Park, home to 40 colorful, seasonal gardens and sculptures, and ponds. Plus, you'll want to snap some photos of the scenic wooden bridges sprinkled along the trail, built as safe crossings over the fast-flowing Yampa River.
The slightly shorter, 5.2-mile Spring Creek is another excellent multi-use trail where hikers can wander over bridges crossing babbling creeks and see curious wildlife like chipmunks and garter snakes. Spring Creek Trail is seasonal, closing between December and April to protect the native elk herds.
Mountain bike enthusiasts in Steamboat have several incredible trails varying in difficulty, including:
Buffalo Pass/Long Lake Loop: Easy, 14 miles roundtrip
Coulton Creek Loop: Moderate to difficult, 13 miles roundtrip
Fishhook, Lost, and Lake Elmo: Moderate, 6 miles roundtrip
Other popular Steamboat Springs bike trails include the Emerald Mountain Trail System, Hare Loop, Mad Creek Trail/Hot Springs Trail, and the Manzanares Loop.
After enjoying The Great Outdoors, relax in the town's mineral hot springs. Old Town Hot Springs boasts eight natural hot pools ranging from 80° F to 103° F. The center also features a waterfall pool, multiple kids' pools, and its crown jewel, a waterslide pool with two 230-foot-long slides.
The Yampa River Offers Steamboat Year-Round Recreation
Between the excellent river access, Steamboat Springs' 240-plus days of sunshine each year, and a collectively active lifestyle, water recreation is a huge part of the daily culture here. Although it comes to life in the summer with kayakers, paddleboarders, and rafters enjoying the many benefits of being on the river, you'll find people enjoying it in other ways year-round, from fishing to exploring the Yampa River Core Trail alongside it.
If you're looking for the best home in Steamboat Springs for you, contact The Steamboat Group at (970) 879-0879 to get in touch with local real estate agents who can help you find a Steamboat Springs home you'll fall in love with.
Buying or Selling
a
Steamboat Home?
Let the
Steamboat Group Help You!
Do you want to buy a home in Steamboat Springs? Let the Steamboat Group handle it all. Contact us now to schedule a consultation and take the first step towards a stress-free home buying experience with the best real estate team in Steamboat Springs, CO.