Animals You Can See in Steamboat Springs
Posted by Erik Ramstad on Wednesday, July 7, 2021 at 12:04 PM
By Erik Ramstad / July 7, 2021
Comment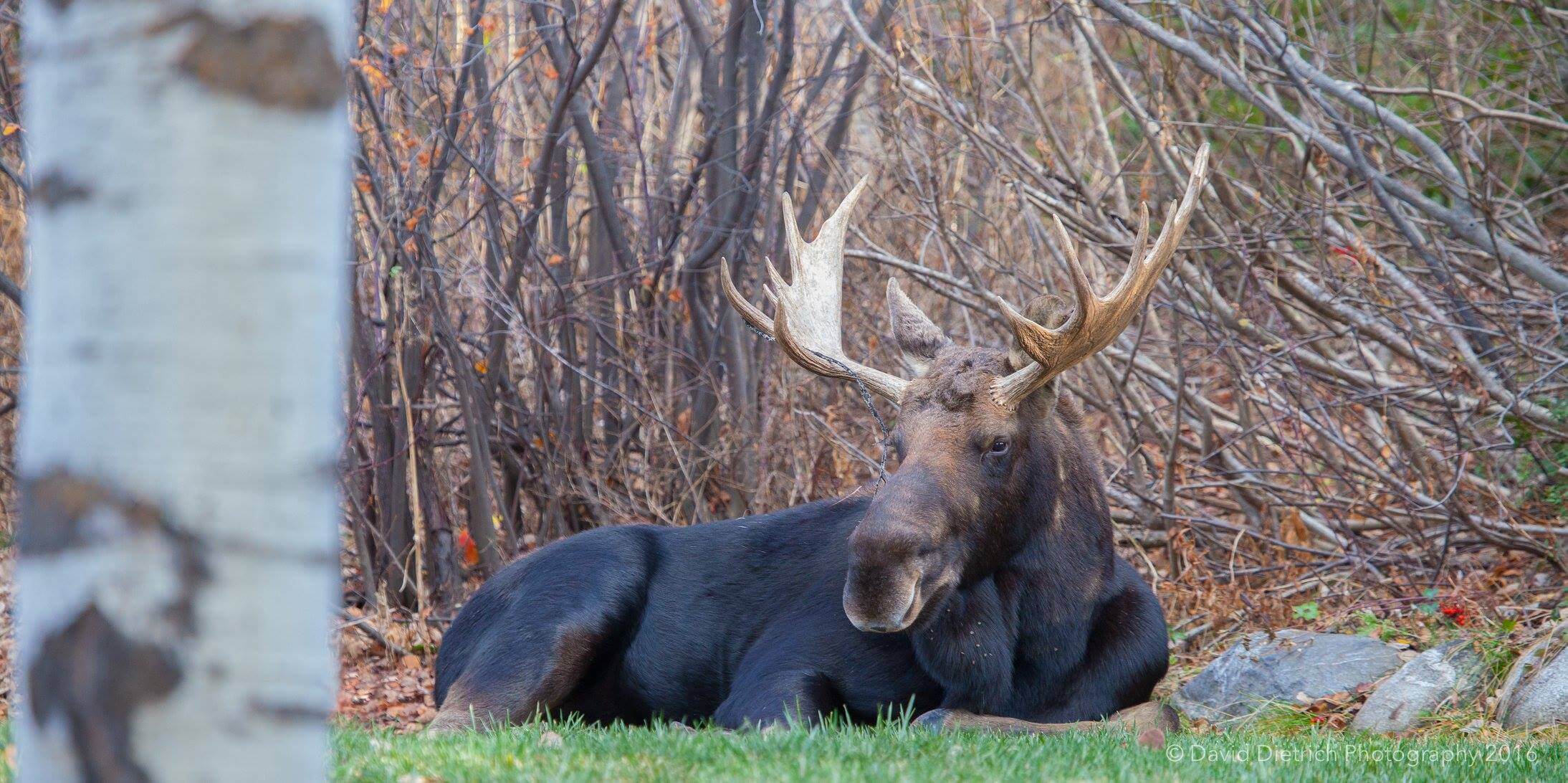 Steamboat Springs Wildlife
Steamboat Springs is home to animals large and small. You always see something exciting, whether it's a bear, a moose, an elk, or someone still rocking out in 80s ski gear.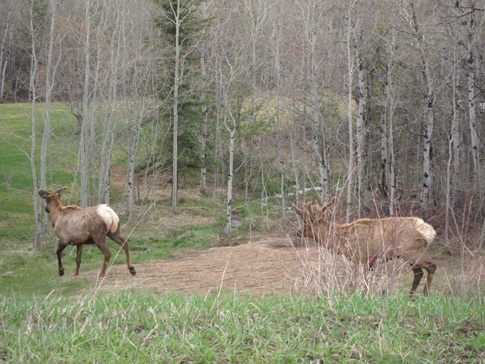 From mountains to rivers, our landscape provides food and shelter to everything from bears, deer, and elk to mountain lions and beavers. During any time of the year, you can expect to see some form of wildlife in the Steamboat Springs area, and that is what makes living here such a joy.
Take a look below at some animals you might see on a daily journey in Steamboat Springs.
Moose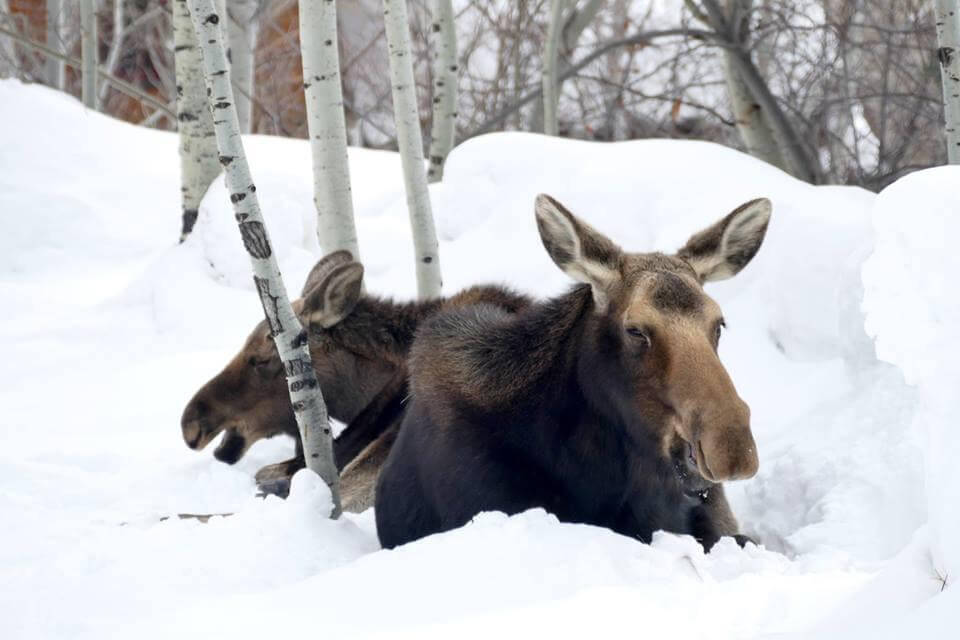 It's hard to believe that 20 years ago it was a rare siting to see a moose in Colorado. During the 1970s, only a few stray moose wandered the state. Their numbers were slowly increasing, but not enough to boost the population. In 1978, The Colorado Division of Wildlife arranged the first transplant of 12 Utah moose into the Walden area. Then in 1979, 12 more Wyoming moose were transplanted in the same area. After one more transplant in 1987, their numbers soared.
As this population grew, they began migrating over the Continental Divide and into Routt County. The Yampa Valley is ideal habitat for moose and, without any natural predators, their population is thriving. Moose can be seen almost on any given day in Steamboat Springs. They have adapted well to their new home and can be enjoyed for years to come if admired from a distance.
How to Interact with a Moose
Moose can be a tricky animal to spot and can even be dangerous to approach. So understanding the animal and also knowing how to remain safe is paramount in your moose-spotting adventures.
Do's
Do keep a safe distance away from the moose. They can charge super fast. If they charge you try to run behind something big so that they get confused and lose sight of you.
Do keep your pets leashed or inside. If you hear a moose on a trail and have a dog with you, turn around and take Fido back home. Moose and dogs do not get along, and you do not want to be there for the resulting showdown.
Dont's
Don't say that the plural for moose is moosen. I heard that the moose get very annoyed by that.
Facts About Moose
Here are some facts about the moose that live in Steamboat Springs.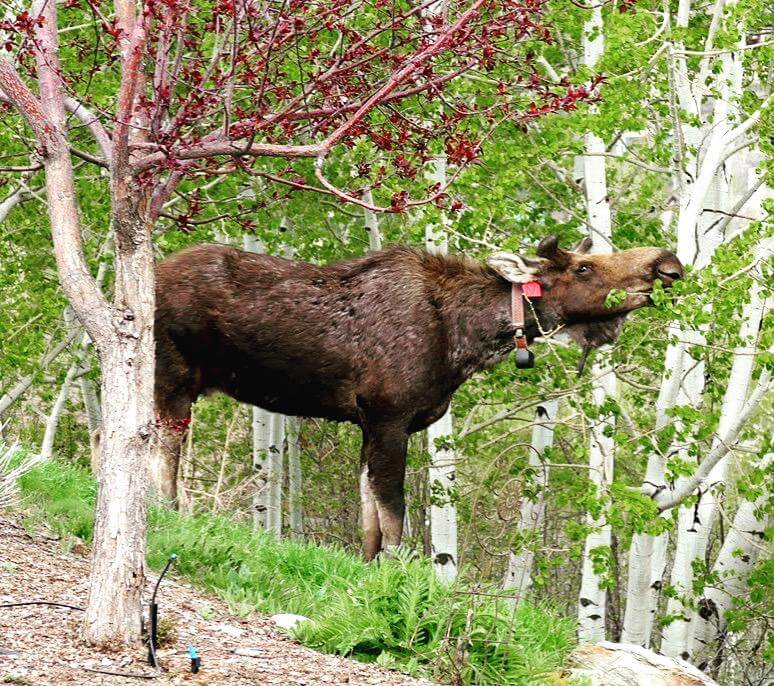 Some of the moose in Steamboat have collars on so that Colorado Parks and Wildlife can analyze moose behavior. I hear that within the moose population collars are in fashion right now, which could also be a contributing factor.
Moose can run up to 35 miles per hour! They "moose" be in a hurry!
The skin that dangles below a moose's neck is called a bell.
Bears in Steamboat Springs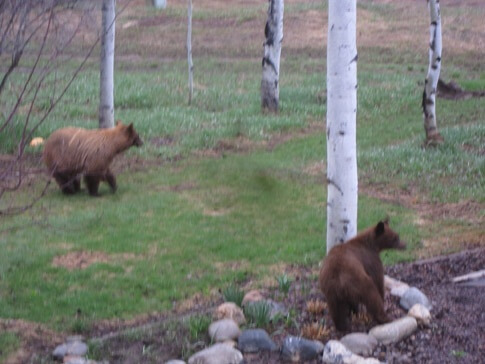 Black bears have inhabited the forests of Colorado long before humans settled in Steamboat Springs. There are an estimated 17,000 to 20,000 bears roaming Colorado, with the population growing each year.
What to Do if You Encounter a Bear
If you stumble upon a bear out in the wild, don't approach it. Follow the tips below:
Do NOT feed a bear or let it gain access to your food.
Do not run, scream, yell or make sudden movements.
Stay calm and talk to the bear in a low tone of voice. Slowly wave your arms to show the bear that you are human and not prey.
Walk slowly away from the bear. Move away and try to find safety in a nearby building or enclosure.
With Black Bears, do NOT play dead. If the bear chooses to attack, fight back with kicks to the face.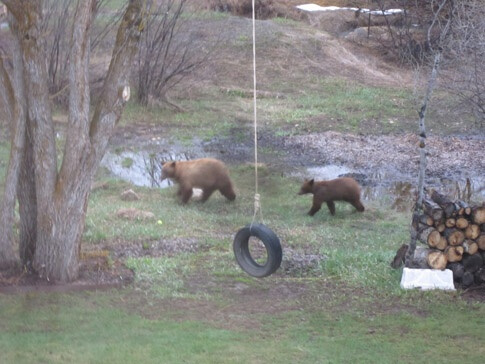 Facts About Bears


Black bears are a species of bear, not just a color. Black bears can vary in color from blonde or cinnamon to brown.
Bears are extremely smart and have great memory.
Bears living in Colorado are most active between mid-March and early November.
Living with Wildlife in Steamboat Springs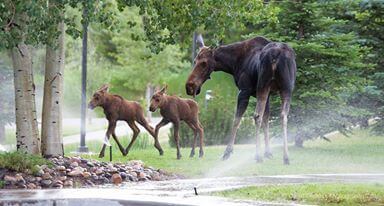 Steamboat Springs is full of wildlife and beautiful scenery. Whether you're living in Downtown Steamboat Springs or the Mountain Ski Area, living in this beautiful town always gives you the opportunity to be surprised by nature.
Whether it is the weather's surprising ability to snow 8 inches on Sunday and then raise to 70 by Thursday, give you those perfect bluebird spring skiing days, or surprise you with few unexpected early morning visitors outside your own front door.
It's always a small reminder of why we love living in Steamboat! Just remember that when viewing any wild animal in Steamboat to keep a safe distance and enjoy nature.