Trailhead Lodge Steamboat update: Will we see a second Trailhead Condo Auction or a New Plan?
Posted by Erik Ramstad on Tuesday, November 6, 2012 at 8:57 AM
By Erik Ramstad / November 6, 2012
Comment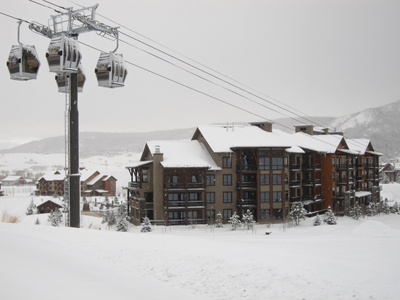 Update 11-14-12: The second Trailhead Lodge Steamboat Auction was announced a few minutes ago.  It will happen on Saturday Dec 15th. Looks like my prediction came to pass. Call me for more details. I can show you what they sold for before, what they are worth now and which ones are available. No one else has the combination of the info and insights I have combined with representing your interests.  Just call me to see.
See more on the New Steamboat Auction Here
  It's November and Silverleaf pulled the condos they own in Trailhead Lodge at Wild Horse Meadows off the market a few days ago.  Last fall they bought the debt to get the unsold condos, sold a few at high prices, then did little to sell more. The Trailhead Auction this spring was the result.  In the auction they sold approx 24 condos at good to great prices. Since then they sold a few more condos at decent prices but have lost momentum again.  Given this where do things stand?
   The condos at Trailhead Lodge in Wild Horse Meadows are very nice, have a mountain modern design, great features / amenities and a good location.   What is holding them back?  One of the top three things is price.  Why is price holding them back when they were bought out of distress?  Several things are driving why the price needs to be lower (I'm happy to talk about them personally if you call).  The problem is that Silverleaf overpaid for the debt by $4-8M due to either extreme optimism or a lack of local market knowledge.  I have a good idea why.  This isn't meant to beat up Silverleaf it is just that things didn't go anything like they thought and they need to take a new look at things. Several things could have been done better this led to different results and a bigger challenge going forward.  I'll share the other two things if you call me. 
   What will happen?  I don't know for sure but they did take on significant short term debt to purchase this property and their lenders likely forced them to schedule the first auction.  It is unclear what their preferred plan was after the purchase because so little visible action was taken to sell units before the auction.  In my opinion little has been done since the auction, a highly informed opinion but still an opinion.  For example they priced lower level 2 bedroom condos above what 3 bedrooms sold for at the auction and seemed to do little to position them or adjust when it didn't work.  These were the easiest to position, the smaller condos are harder.  If you are looking for a 2 bedroom condo I see a good to great deal in your future. If you are looking for a Studio to 1 Br Plus Den condo the deals will be even better.
  At this point they either need a well thought out plan to relaunch the condos, add value by positioning them and addressing the other reasons they haven't sold. Once they have done this they can price them to find the best balance.  I hope that they choose to take this path but it requires an entirely different approach than we have seen to date.  We are seeing more and more good signs in the Steamboat Springs real estate market, more here, so it will be good make some progress in either direction at Trailhead Lodge.  I hope that it isn't an auction but will be ready if it is. 
  If they don't make some significant changes in their plan I see a 70+ % probability that we will see another Trailhead Lodge Condo auction announced in the next month or two.  I generally know what is going on there before others and understand the unique dynamics of this project well so I can help you make an informed choice. I also know how many are left of each type and which ones have the best views.  If you would like to know more or have me keep you up to date as things develop give me a call at 970-819-6930.