5 Fun Things to Do With Kids in Steamboat Springs: Kids Love The Boat!
Posted by Jon Wade on Monday, April 18, 2022 at 8:10 AM
By Jon Wade / April 18, 2022
Comment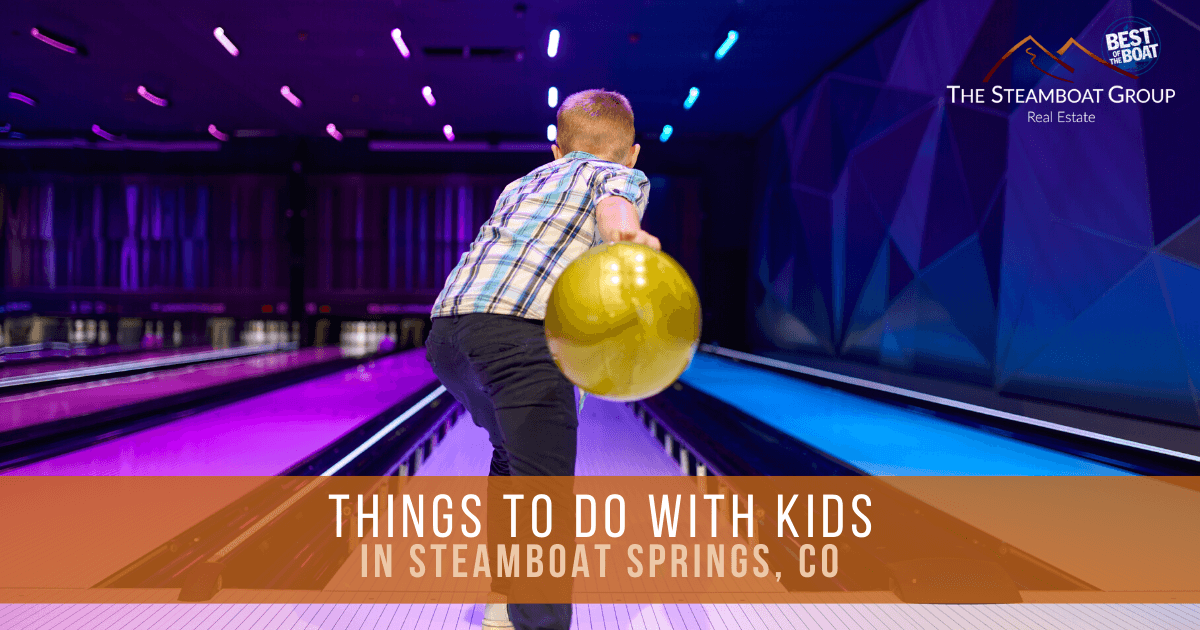 Steamboat Springs in northern Colorado is a stunningly beautiful, world-renowned ski destination. Aside from its adrenaline-pumping winter sports and spectacular mountain scenery, the city of Steamboat Springs has plenty to offer in any season — especially for children.
Known for its 150-plus natural mineral springs, the Rocky Mountains, and the Yampa River, Steamboat Springs has no shortage of ways to enjoy The Great Outdoors. That's hardly all, though; there's also plenty to do indoors in this mountain community, no matter what someone is interested in. Keep reading to discover five things to do with kids in Steamboat Springs, Colorado.
If you're looking for the best home in Steamboat Springs for you, contact The Steamboat Group at (970) 879-0879 to get in touch with local real estate agents who can help you find a Steamboat Springs home you'll fall in love with.
Search
Steamboat Homes for Sale.
Moving to Steamboat Springs? Let the Steamboat Group help! When it comes to insider information on the Steamboat market, no one is better equipped to help you buy your next Steamboat Springs home.
---
Escape the Crooked Key Rooms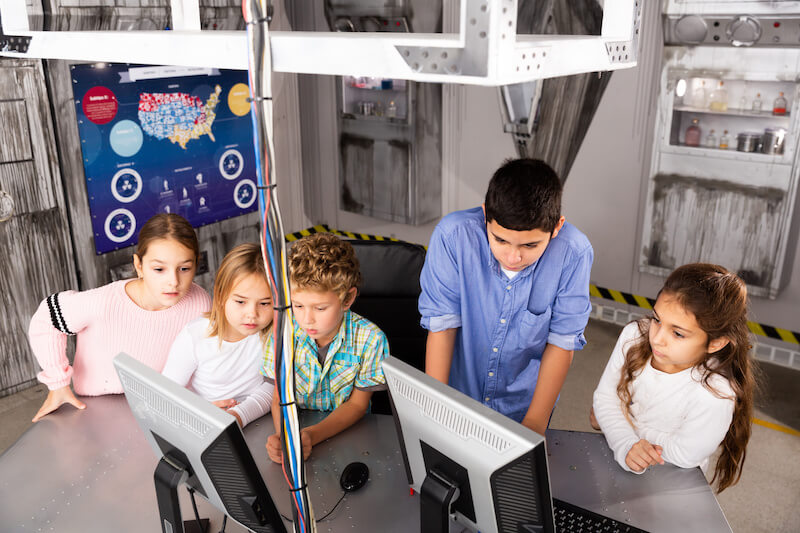 Escape rooms have become wildly popular worldwide in the last several years, and it's easy to understand why: they're interactive, challenging, suitable for a wide range of ages, and require teamwork. Plus, players can go several times and have different experiences with each visit.
The Crooked Key in Steamboat Springs offers an especially unique experience, with four individual escape rooms and indoor and outdoor game options. The Crooked Key's escape room experiences include:
Taphophobia: An Edgar Allen Poe-themed escape room with no physical locks
Escape the Old West: You're an escaped convict who gets re-captured and has to try to escape — again
Flashover!: Pretend to be firefighters who have to rescue several pets as you complete a series of mental and physical challenges
Key to the City: The Crooked Key's newest game, this one is played entirely outdoors in downtown Steamboat Springs
This Steamboat Springs escape room offers a completely private experience for individual groups, so it's a way to enjoy something different. Games are available seven days a week, but because it's a private experience, players must reserve their specific escape room and time in advance.
---
Have Fun at Snow Bowl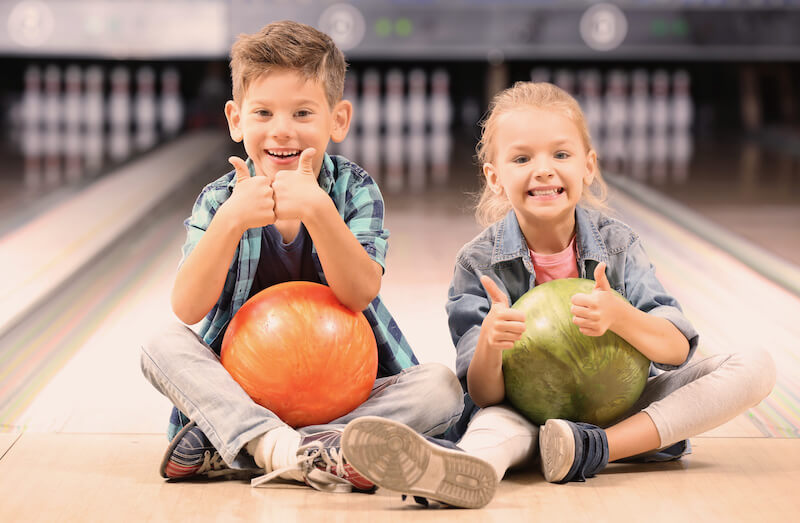 A longstanding locals' favorite establishment, Snow Bowl has been around since 1977 but was completely redesigned in 2019. The state-of-the-art bowling center features 12 lanes, arcade games, a restaurant and bar onsite, frequent live music performances, and a dog-friendly patio. This isn't just any dog-friendly patio — it's an 8,000-square-foot outdoor turf area. Snow Bowl staff even puts out chew toys and kid pools on Sundays! Pet adoption events are frequently held on-site as well.
The food at Snow Bowl focuses on elevated pub fare, and the reviews prove that it's some of the best around. Enjoy burgers, nachos, wings, and more while sipping on a beverage, listening to great music, and taking turns trying to get a strike.
Snow Bowl charges per lane, per hour — not per person — so gather your crew and enjoy bowling with up to six people per lane. Exact pricing varies depending on the day of the week and ranges from $20-$40 per lane per hour.
Snow Bowl is closed on Mondays and Tuesdays. In addition to individual and group bowling, Snow Bowl also offers league play. While reservations aren't required, they are highly recommended.
---
Explore the Bud Werner Memorial Library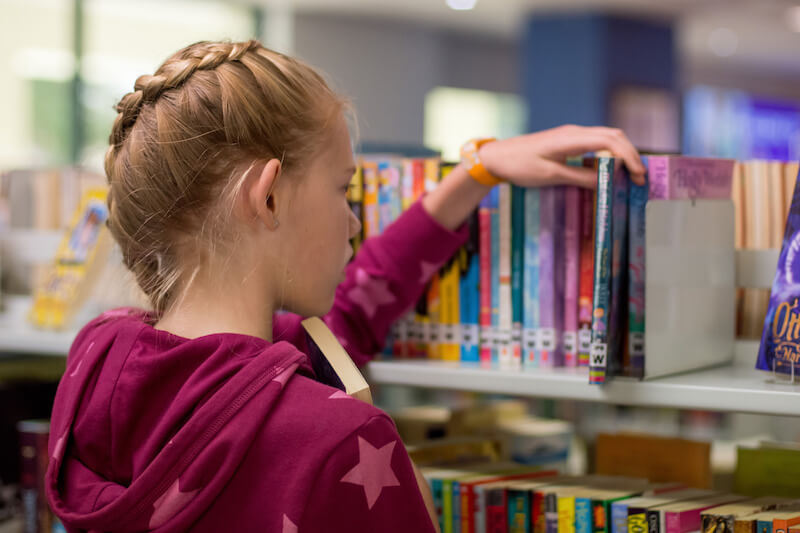 More than "just" a library, the Bud Werner Memorial Library is a pillar of the Steamboat Springs community. The library hosts many community events throughout the year, offers an extensive selection of educational programs, and even sells used books.
A sampling of the library's public events include:
Sunday Stories, an interactive singalong and storytime designed for children ages 1-5
Crafty Tales, a program for children ages 2-5 that pairs a simple (but often messy — in a good way) craft with a themed story
Tween Book Club, for boys and girls ages 8-12
Cuddly Buddies, where children of all ages are encouraged to bring a favorite stuffed toy along for a relaxing pre-bedtime evening of storytelling
Film Festivals, monthly film-viewing events centered around a theme, such as "Reel Rock," rock climbing films
The Bud Werner Memorial Library is particularly well-known for offering youth programs. Parents and guardians will find reading challenges, book clubs, story and craft times, contests, and more throughout the year. One unique offering is StoryWalk Steamboat Springs, an initiative that combines the community's love of The Great Outdoors with a focus on early literacy.
Steamboat's library is open seven days a week and even offers convenient curbside pickup for books and other items reserved online ahead of time.
---
Relax at Old Town Hot Springs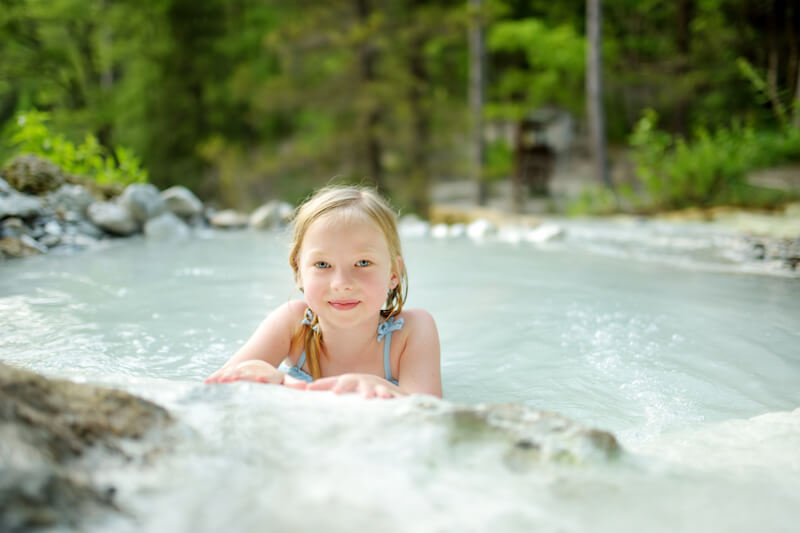 Of course, no list of things to do in Steamboat Springs could be complete without mentioning the town's natural hot springs! Old Town Hot Springs is a beautiful place to spend a day in any season, as it's open every day except for Christmas and Thanksgiving.
In the heart of downtown Steamboat Springs, visitors can enjoy several 100-plus-year-old natural mineral springs, including some with soothing spa jets, some designed specifically for adults, and some that are family-friendly, offering fun water features and even a unique aquatic climbing wall.
In addition to the mineral hot springs, visitors to Old Town can take state-of-the-art fitness classes, use the rock climbing wall, or even get a massage. Perhaps best of all, though, are the two giant 230-foot-long water slides.
Old Town Hot Springs offers daily single-use admission passes and membership packages for residents and frequent visitors.
---
Visit Burgess Creek Beach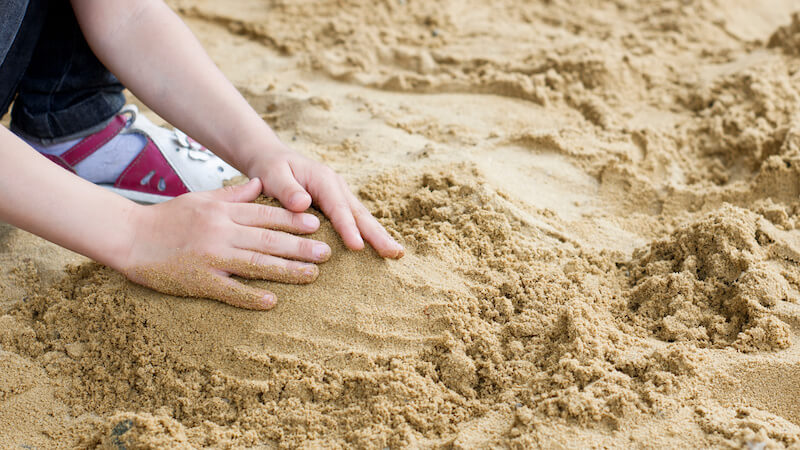 Many people don't know that sandy beaches exist in the Rocky Mountains. Yet, sandy, scenic Burgess Creek Beach is one of Steamboat Springs' best hidden gems. Nestled at the base of the mountain near the Steamboat Ski Area, this beach — and its picture-perfect waterfalls — is perfect for children to splash around while the adults watch nearby as they relax in an Adirondack chair.
The natural stream flows from the mountains, providing a chilly, refreshing way to cool off on hot summer days. The scenic mountain views surrounding visitors insist that they relax and take it all in, so this is a perfect location for a group picnic. Several small beach areas span between Slopeside Grill and One Steamboat Place, so it's easy to find a little slice of paradise to relax in and enjoy, even on crowded days.
Burgess Creek Beach is also pet-friendly, so bring the dogs along to cool off.
---
So Many Things to Do With Kids in Steamboat Springs
Whether you live in Steamboat Springs, Colorado, you'll find plenty of activities to do with kids. From relaxing, quiet days reading or crafting in the local library to an exciting night spent trying to unlock challenges in The Crooked Key escape rooms or even an afternoon relaxing on the community's very own beach, Steamboat Springs has something for everyone.
Buying or Selling
a
Steamboat Home?
Let the
Steamboat Group Help You!
Do you want to buy a home in Steamboat Springs? Let the Steamboat Group handle it all. Contact us now to schedule a consultation and take the first step towards a stress-free home buying experience with the best real estate team in Steamboat Springs, CO.