The Steamboat Report Q3 2013 - The Conversation is Changing in Steamboat
Posted by Erik Ramstad on Friday, October 18, 2013 at 7:37 AM
By Erik Ramstad / October 18, 2013
1 Comment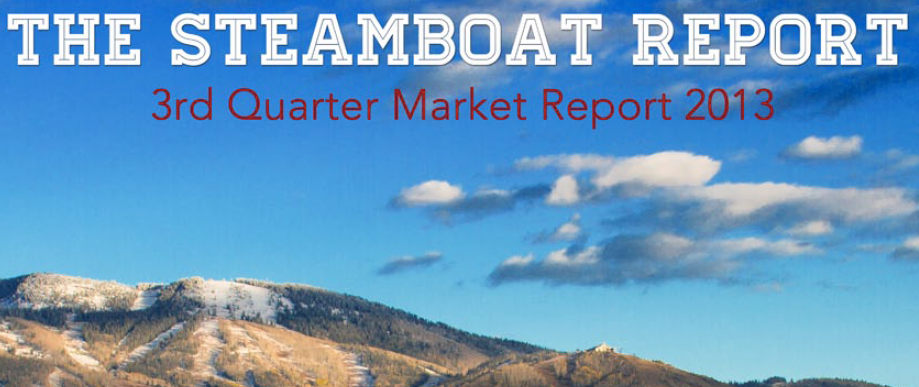 The transition from summer to fall in Steamboat has brought more than just a change in seasons. The conversations about the market are changing as well. People looking to buy tell me that they see this as the time to either move to Steamboat, own in Steamboat or upgrade because they see Steamboat set to improve with the national market. People looking to sell tell me that they see this as the time to move forward to their next home or investment while it is available at a good price. They are more cognizant of current values. I hear, "what makes sense?" more than "I have to have this price."
  I can now say with confidence that the Steamboat Real Estate market is recovering. Until July, it was tenuous, now with a strong summer & early fall under our belts our market has found the confidence to move forward. So far in 2013 $ volume is up 14% and transactions are up 12%. In Q3 the pace is picking up with $ volume up 29% on 8% higher transactions. This reflects a shift up market in activity and price range as inventory thins in the low end. Higher sales, more construction, an increase in land activity, lower inventory and pricing that is no longer driven by distressed sales shows us that the right things are happening to move forward. Sellers that are realistic and have amarketing plan that works today have an opportunity to move forward at the lowest upgrade cost or better liquidity to move on to something else. This doesn't mean it's 2007 again, so we cant price for to the moon.
  The market is improving but we still have to be honest with ourselves about value. Being "In the MLS" is not the same as "In the Market". Overpriced properties will be passed over or seen as stigmatized. A sell order that is well above the market doesn't work with stocks or any better with homes. It just requires a lot more time and effort with real estate to prove that. Buyers won't find many outright steals but the prices are often better than they were 2 years ago. Back then we were just seeing a faint light at the end of the tunnel, the national market was weak, short sales were pulling down prices and interest rates were higher. The risk is lower now that the recovery is in process and prices are still attractive.

  I expect we will see a good finish to 2013 then further progress next year. The front range and other key markets that our buyers come from are strong and people are ready to move forward with their goals. We will see more new single family & spec construction plus a few multi-family starts. Parts of the single family home market are strong but there is significant inventory that has grown stagnant and needs to be repositioned to keep the current momentum going. We will continue to see a shift to rural homes due to low supply in town.

  Condo & Townhomes should improve as the black hole left by the Trailhead Lodge auction dissipates, more realistic pricing and ski season brings buyers to the table. There are few if any distressed properties left in the market and little chance this will change. Land with the most desirable attributes should continue to show more signs of life but there is a danger this may slow given pricing that often makes no sense compared to existing homes. See the rest of the report for more specifics by segment. Each part of the market is different so just ask if you want to know where things are for you.  If you found this useful and want to work with a knowledgeable broker you can trust to buy or sell a property in Steamboat give me call and see if I have the skills you need 970-819-6930.
This is just the summary, click on The Steamboat Report below for details and insights on how each part of the market is doing.  Thank you to Michael Schrantz for quoting The Steamboat Report on Oct 21 in the Steamboat Pilot.