The Steamboat Real Estate Market is now up 4 months in a row - October 2014 Market Report
Posted by Erik Ramstad on Monday, November 24, 2014 at 3:31 PM
By Erik Ramstad / November 24, 2014
Comment
Is the Steamboat Real Estate Market Ready to move forward?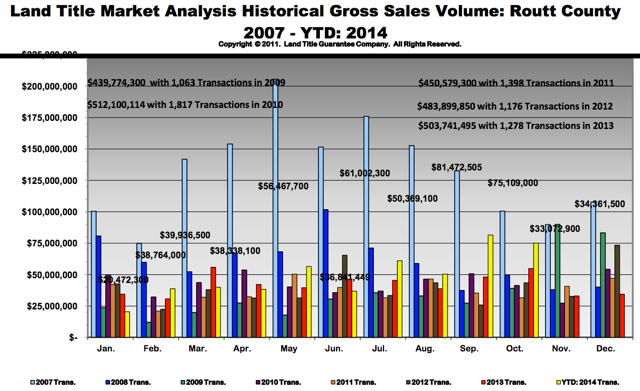 The official October 2014 Stats are out from Melissa Gibson at Land Title and the numbers are starting to show a trend.  We had been up and down during the first part of 2014 following five years of bouncing around between $440 to 500M.  Now we have seen 4 months of solid gains in a row and are positioned to be up over 10% for the year even if November and December are basically flat. That means we are likely to fall somewhere north of $560M for 2014 and could reach $600M. That would compare favorably to $504M in 2013 and get us close to matching 2004 Volume of $637M.
See more in the Steamboat Pilot's article I was quoted in
  That doesn't sound great but the key is that we are making forward progress after a long recovery process where volumes basically sat still.  Getting back over $600M would would be a strong sign that we are back to a normal market here in Steamboat and can move forward again.  Steamboat Typically follows the Denver market by about 2 years and this would put us basically on schedule.  Values are also recovering with average selling prices up 11% vs. a year ago allowing more people to be in the position to upgrade and providing more options for people looking into the market. 
  How much values have changed in any particular part of the market, area, street or housing type varies considerably. Just let us know if you would like to know how the market is for your property or dream property.  Zillow seems to be even more inaccurate than usual so a quick evaluation from us will avoid a good chance of bad info from their "Zestimates". The word is 90% estimates and only 10% Z so what did you expect?
Give us a call at 970-879-0879 for a market based valuation.  We are low key and happy to answer any questions you have. There is much more we can share specific to your part of the market and how it looks going forward.