The Steamboat Group Receives International Best Real Estate Website Award
Posted by Erik Ramstad on Tuesday, October 9, 2012 at 2:53 PM
By Erik Ramstad / October 9, 2012
Comment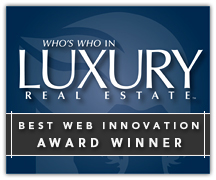 We are honored to announce that The Steamboat Group, a part of Colorado Group Realty in Steamboat Springs, Colorado, was the recipient of the '2012 Best Website for Innovation' award from the Luxury Real Estate Board of Regents at their annual Fall Conference in Scottsdale, AZ last week.  The award was presented to the Luxury Real Estate member or company with the most outstanding online presence, with a focus on the technological innovation and functionality of their website. TheSteamboatGroup.com was chosen as the winner from a field of 12 nominees around the world.
   "The Steamboat Group stood out for its focus on the customer's search experience, the 60% increase in traffic they gained from their latest re-design and how they use technology to help people learn more about Steamboat," said Meghan Barry, the President of Luxury Real Estate.
   "We are humbled to receive this award given the quality and quantity of the firms in the competition. LuxuryRealEstate.com has been recognized by Forbes as the Best of Web for 8 consecutive years, so the other nominees were impressive. The field for this award ranged from The Steamboat Group, an individual broker, all the way up to firms that sell more than $1B in real estate a year." said Jon Wade, a Realtor in Steamboat Springs, CO.
TheSteamboatGroup.com web site was recognized for several technological innovations including:
The Best Steamboat Real Estate Search technology available with the most details available outside of the Steamboat MLS (TM).
A ranking system that allows users to rate their favorite properties on a 1-5 star scale and take notes on each.
Flexible search criteria that allows users to search by newly listed property, bank owned and short sale property, as well as by different areas and developments.
 In-depth community details, including videos that help users to find information about specific areas and developments.
Videos that help to complement the Steamboat Lifestyle and display what Steamboat is like in all seasons.
   LuxuryRealEstate.com is a global collection of luxury real estate brokers. This group of more than 70,000 professionals in over 85 countries collectively sells in excess of $190 billion of real estate annually, with an average sale price of $2,450,000.
   The Steamboat Group is part of Colorado Group Realty based in Steamboat Springs, Colorado, a ski, resort & ranching community of 12,000 full-time residents. If you would like the same level of attention we put into have the best web experience applied to your real estate needs in Steamboat just give us a call.