The National Market continues to improve ... What it means for Real Estate in Steamboat
Posted by Erik Ramstad on Thursday, September 6, 2012 at 5:10 PM
By Erik Ramstad / September 6, 2012
Comment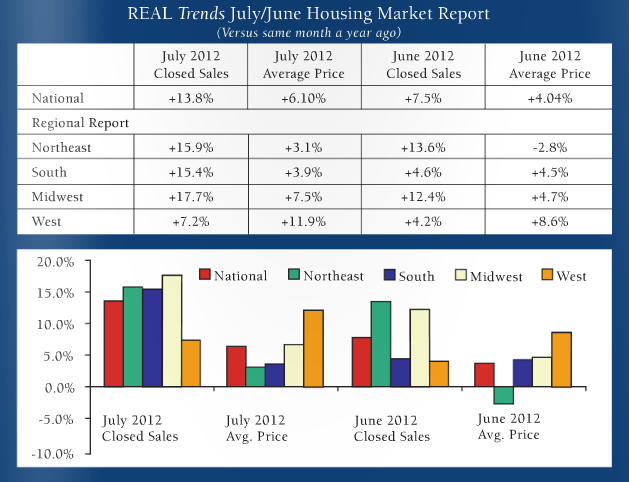 June and July were good months for the US Housing market nationally and in each region (see the chart above). Volumes rose significantly this summer due to increasing confidence, pent up demand from people that have delayed purchases, limited new construction for several years and very low interest rates.  In the last six months to one and a half years, a significant number of areas around the country have seen inventory come back into balance. 
  Real Trends reported today that "Nationally we have now seen 11 consecutive months of increasing volumes and 2 consecutive months of increasing prices. It would appear the worst is over for now."  Case Shiller / Standard & Poors also reported last week that prices increased in all 20 of the major metro areas they track.  There are still risks out there with Europe and a slowdown in the US Economy but people are looking forward and acting on their needs / goals in increasing numbers. Prices will be higher once there are fewer questions and many parts of the country are already there.
 So what does this mean for the Steamboat Real Estate Market? 
We generally follow the national market by 1-2 years.  In reality we follow the markets our buyers come from. The Front Range of Colorado makes up about 50 percent of our non-resident owners / buyers and they have been recovering since early 2011. The other half comes from the markets we see recovering in the chart above with a strong emphasis on places like Houston, Minneapolis, Florida, New York & it's suburbs, California and more.  Each of these areas including many parts of Florida are also seeing recovering to strong markets. I talk to clients in each of these areas on a weekly basis and they bring this up as a reason they are looking for a place to start with or their next home that meets their future needs in Steamboat. I can't time it exactly but most signs say we are on our way to a recovery in the Steamboat Real Estate Market if we haven't started one already.
How are the market stats in Steamboat?In a word improving.  It's not a strong market by any means but inventory is down about 1/3rd in total and 1/2 for bank owned / short sale property. We have seen prices stabilize and in some cases improve as distressed property has been reduced in different parts of our market. This has happening in enough parts of our market that we have a good idea when other parts of the market are about to recover.  Just give me a call for examples in your part of the market, some parts are further along in this process than others.
 Dollar Volume wise we are up 6.29% 2012 YTD in Steamboat vs 2011 YTD (year to date). Five of seven months have been up so far this year and our pending sales have increased to 140 properties (+5 this week) worth a total of $65.9M.  Units sold are down 20.0% which means higher average selling prices.
 Average prices have increased to $433K in 2012 YTD vs $326K in 2011 YTD. This reflects fewer distressed properties, a similar effect from a shift to higher end property sales and fewer fractional sales.  The portion of sales from approx. $1-2M has increased driven in part by One Steamboat Place, a good part is driven by lower supply in property types locals were buying in 2011 that are now harder to find and offset some by lower volumes above $2M due to fewer well priced choices there. In 2011 Locals were buying Single Family homes in the city limits below $500K and Locals condos with a garage under $250K. It is much harder to find good options in these ranges now and getting harder under $1M.
 In some ways we are at a unique point in time where the news is much better than it was a year ago, we are seeing sustained improvements in our national and local real estate markets, interest rates are low and prices are lower than when the news was worse / there was more distressed inventory driving them down. Lower prices and a better outlook are increasing buyer interest.  At the same time even though inventory is high overall the supply of quality properties that are priced anywhere close to market value is going down, limiting the growth in sales and choices for people looking to own in Steamboat.
  It is now difficult in some parts of our market to find good choices since little has been built in 4 years and buyers are steadily (but not quickly yet) purchasing the best options.  This makes it worth looking sooner rather than later to see what is available before the best choices for you are gone. You can search the MLS in Steamboat via IDX but seeing what is available yourself is the best way to know.  I don't mean that today is your last chance but it is worth seeing where things are right now for properties that meet your goals.
  If you are considering a purchase, selling or upgrading give me a call and I can show you what is going on in the area you are interested in.  If your needs have changed and are considering upgrading your current property may be in a better position than you think or your upgrade cost may be lower now than once things recover further and sellers become less motivated.
  I'm a no pressure Steamboat Realtor that sees my role as giving you the information and insights that it takes to make the best decision for you.  I can give you some objective info to help you decide and will respect your timing so it's not too early to call.   Realtors are not all the same, so give me a call to see how I can give you a much better experience in the Steamboat Real Estate Market.  I will give you an honest and informed update based on your needs.