How to Talk like a Steamboat Springs Local: Learn the Lingo
Posted by Erik Ramstad on Sunday, September 12, 2021 at 12:02 PM
By Erik Ramstad / September 12, 2021
Comment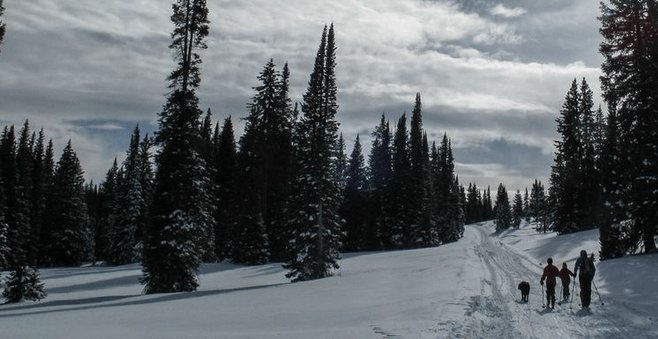 Skiing, much like surfing, has an avid set of followers and participants that seem to speak their own private language. So, where did this interesting ski lingo hail from?
Since the sport originated from the European mainland, most terms were initially established by Germanic and Norwegian peoples. As the sport spread to the Americas with the arrival of Scandinavians, Germans, and other Europeans, skiing and numerous terms were introduced to locals.
As skiing became more associated and embedded within the American culture, some of the technical terms likely took on more local phrasings. Many have stuck, changing ski linguistics around the world!
While some of the more traditional skiing terms can still be heard around Steamboat, there is also a distinct language all of our own.
Take a look below to learn more of the local lingo and see how many of the Steamboat phrases you know!
Champagne Powder®
Champagne Powder® is one of the things that Steamboat is famous for! Think sparkling champagne, but in the form of snow that is smooth, dry, and makes you feel like you are flying.
First Tracks
Un-touched fresh powder. Use a special ticket to load the gondola at 8:00 am or, better yet, the local knowledge to know where untracked lines will be later in the day.
Inversion
When it is very cold in town but surprisingly warm on top of the mountain. It can be -10 degrees at the base of the mountain and a balmy 20-30 degrees at the top!
If you walk outside and it is freezing, check the temperature on top of the mountain because there is a very good chance it is nice on top.
Locals Secrets
The things you only learn by getting outside and finding them yourselves, and locals can only share if you are out there with them. Earn your stripes, and you will be amazed by what you will learn.
Orographic Lift
The best words you can hear in a weather forecast are "orographic lift" if you want to use your Powder Clause. Even better if they mention a strong northwest flow. These effects give Steamboat lots of our Signature Champagne Powder®.
Powder Clause
The art of being valuable enough to your boss or being your own boss & planning your schedule to be able to ski on all the best Powder Days. It is also a great reason to be in Steamboat.
Pressing glass
What you do first thing in the morning when the Powder Clause is in effect. Get there early to press glass at the front of the gondola line and get the first tracks.
Roy(corduroy)
The groomer tracks on soft, fresh snow. As in: "Let's go out and cut some Roy."
Skinning Up
These are all those crazy people (including me) who like to get an early workout in. You attach "skins" to the bottom of skis with special boots and bindings to ski up to the gondola and get FREE first tracks.
Townie
A bike that you can leave in town unlocked. Usually equipped with a cupholder or basket.
Valley Car
A car that can't leave the Yampa Valley because it's not good enough to make it over the pass!
3-Sport Day
This is a big thing in Steamboat - see how many sports you can do in one day! With the abundance of things to do in Steamboat Springs, this is an easy task for many.
3-Wire Winter
Ranch fences traditionally feature three wires running horizontally from post to post, and they serve as benchmarks for measuring snow depth: When snow covers the top wire, you know it's been a great ski season.