Sustainable Building Technologies and Materials for New Construction Homes
Posted by Jon Wade on Tuesday, August 17, 2021 at 3:42 PM
By Jon Wade / August 17, 2021
Comment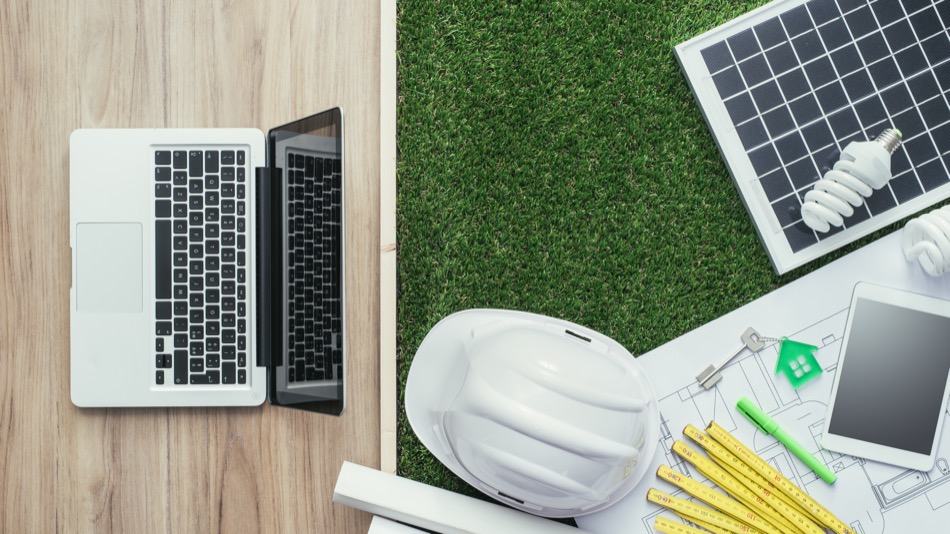 For those building a new construction home, the use of sustainable building technologies and materials can help increase a home's value while helping the homeowner save money. Sustainable building technologies and materials are the way of the future, and many home buyers already expect their homes to be as energy-efficient as possible. The following technologies and materials used in a new construction home can increase a household's quality of life, reduce a home's carbon footprint, and make the home easier to sell in the event the homeowner decides to list it on the market.
Sustainable Building Technologies
There are many sustainable technologies homeowners choose to install in their houses, and more are being invented every day. Smart technologies and ENERGY STAR appliances can be beneficial for homeowners hoping to keep their utility costs low. Below are just a few examples of the types of technologies homeowners turn to when building their new construction home.
Smart Thermostat
A smart thermostat is a smart home product that connects to the home's Wi-Fi and can be controlled via smartphone, tablet, or home computer.
Smart thermostats are easy to program (a feature that has long been known to save energy) but, better than that, many of them can learn the homeowner's preferences, follow the homeowner's patterns, and make adjustments to the temperature based on what will save the most energy, or keep the homeowner the most comfortable.
ENERGY STAR Appliances
The EPA's ENERGY STAR program identifies appliances and home technologies that are especially energy-efficient and labels them as such so homeowners can easily identify these products when shopping.
ENERGY STAR rates all kinds of appliances, from freezers to dishwashers, refrigerators, to air conditioners. ENERGY STAR even labels certain materials that can be used in the home, such as new windows. Homeowners seeking to improve their home's energy efficiency can do so by purchasing ENERGY STAR appliances whenever possible.
Smart Blinds
Smart blinds are designed to raise and lower according to the homeowner's preferences or depending on the movement of the sun throughout the day. These blinds make it easier to control the temperature of the house inside and relieve some burden on the home's HVAC system.
By allowing the sun to shine in only when it's cold outside, for example, smart blinds can reduce home energy costs and can even reduce wear and tear on the HVAC system, thus saving the homeowner money.
Smart LED Lighting
Lighting has significantly evolved since the traditional incandescent lightbulb was first invented. Not only are LED bulbs more energy-efficient but some types are also designed to work with smart technology. No longer do homeowners have to get up to switch a light on or off, set timers while out of town, or worse, leave lights on while away from home. Today, people have control of their lighting, whether they are home or out.
All they need to do is connect their lighting to their routers. Once complete, they can immediately control their lighting from a smartphone, laptop, tablet, or voice assistant. LED technology continues to widely gain popularity because these bulbs have a long lifespan, are energy-efficient, and are highly convenient.
Sustainable Building Materials
Sustainable materials are materials that can be harvested or made without significant impact on the outside environment. There are so many sustainable materials that homeowners have options.
Cork
Cork is a flooring material made from the bark of cork oak trees. It is sustainable because it can be harvested without killing the tree and can be harvested many times over a single tree's lifecycle. Cork resembles hardwood in some ways (in coloring, mostly) but also has unique properties. It is, for example, much softer than hardwood and a better surface to fall on.
Reclaimed Wood
Reclaimed wood is wood that has been reclaimed from another building. Once cleaned and refinished, reclaimed wood can serve a whole new purpose. This type of wood is often preferred by homeowners for reasons that go beyond sustainability: reclaimed wood has character.
Typical reclaimed wood boards have nicks, scratches, and stains that tell a story of their previous life. This type of wood is often used in flooring and furniture making.
Wool Insulation
Wool insulation does its job well: it makes great insulation that can be used in the walls of a modern home. However, it also has other properties that homeowners tend to like. For example, wool is highly resistant to flame and does not burn easily. It's also resistant to mold and mildew. Wool insulation is not commonly used at this time but may be someday in the near future.
Work With Experienced Professionals
Homebuyers who will soon be working on a new home construction project should align themselves with the professionals who know how to incorporate sustainable building materials and technologies into their new homes. Some home buyers build their new home by hiring an architect and a home building firm, while others build their new home by hiring a design-build contractor. Building a nature-friendly and sustainable home is the best you could do on your way to balanced coexistence, comments zero waste living expert Antonia Ko.
Whichever route someone chooses, they should hire a professional who can talk about their history of incorporating sustainable materials, building supplies, and technologies into new home construction. Working with experienced professionals will help ensure that the work is done properly and in such a way that increases the home's value.