Steamboat's Annual Cowboy Downhill
Posted by Erik Ramstad on Tuesday, January 18, 2011 at 10:54:05 AM
By Erik Ramstad / January 18, 2011
Comment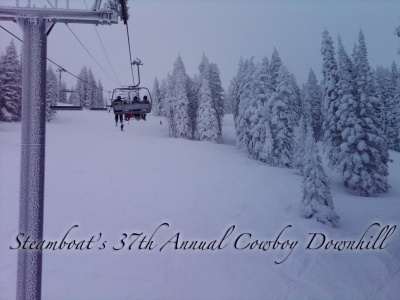 Steamboat's Billy Kid, Director of Skiing and Larry Mahan, Six time all around World Champion cowboy started this event 37 years ago and decided to invite a few of the Pro-Rodeo stars to Steamboat for a day of skiing. The cowboys had such a great time that the Downhill has become the most popular event of the season with over 100 of the best professional rodeo cowboys competing in the most unique ski rodeo in the country.
Public Festivities run in Gondola Square from 12:00 to 4:00pm in the Bud Light Tents and at the Bear River Bar & Grill, with live musical entertainment from Sundog. The Slalom will begin at 4:00pm followed by the Stampede. We'll wrap up the evening at 5:30pm with the Cowboy Downhill Awards.
No matter what the season or the age of our visitor, the Old West excitement of Steamboat Springs keeps them riding back to town year after year! Some Call Steamboat Heaven, We Prefer Home!
Click on the following link to read about the 98th Winter Carnival that takes place in Beautiful Steamboat Springs. If you would like to know more about what it's like to live in Steamboat or to stay up to date with our Steamboat Blog please feel free to browse around or call us at 970.879.0879 or email at [email protected]