Steamboat's 98th Winter Carnival
Posted by Erik Ramstad on Wednesday, January 12, 2011 at 11:01:35 AM
By Erik Ramstad / January 12, 2011
Comment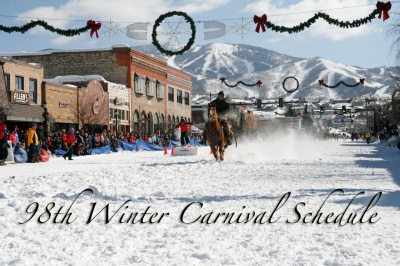 The Winter Carnival started as a way to help residents cope with cabin fever during the height of the winter season. The event continues to this day as a way to celebrate winter; as a reason for neighbors to gather; and as an opportunity for everyone to experience a piece of Ski Town U.S.A history and tradition.
This annual celebration includes a variety of events that embrace our western heritage and highlight Steamboat's tradition of winter sports. The festivities include such events as: Ski Jumping competitions, a Snowboarding Jam Session, the Soda Pop Slalom, a Tubing Party, the Diamond Hitch Parade which includes the High School band on skis, the Street Events on Lincoln Avenue, and the Night Extravaganza at Howelsen Hill with a brilliant fireworks display and the famous Lighted Man.
Click on the link for the complete 98th Winter Carnival Schedule.
If you would like to follow our Steamboat Blog or to learn more about Living in Steamboat please feel free to browse or call us sometime at 970.879.0879 - email [email protected]