Best Steamboat Water Skiing Locations
Posted by Erik Ramstad on Thursday, July 29, 2021 at 1:09 PM
By Erik Ramstad / July 29, 2021
Comment

Steamboat Springs is best known for snow skiing, but many don't realize that the summer months offer water-lovers opportunities to glide across the slick surfaces of local lakes on skis. Water skiing around the community is highly enjoyable thanks to the fresh air and clear, river-fed waters in the state parks.
Check out these top water-skiing destinations in the Yampa Valley below:
Rifle Gap State Park
There are 350-acres of wet and wild water fun waiting at Rifle Gap State Park. This long, narrow reservoir is highly inviting for power boaters who often pull behind water skiers and those on floatation devices. Water skiing is only allowed on the west side of the lake for safety purposes, and participants must circle in a counter-clockwise direction around the lake.
Boaters will launch at the ramp on the lake's north side and head towards the beach and picnic zone on the west side before gearing up and gliding. There's more than skiing here, as swimmers and sailers love it here, in addition to anglers seeking bass, trout, pike, and perch.
Location: 5775 Hwy 325, Rifle, CO 81650
Phone: 970-625-1607
Stagecoach State Park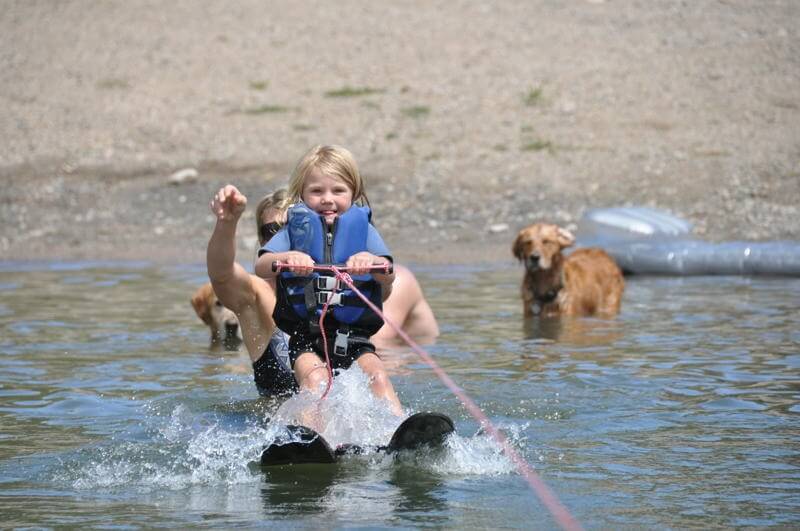 Stagecoach State Park is a treasure amid the lush Yampa Valley of Steamboat Springs. There is an 820-acre refreshing lake here with impressive vistas and world-renowned river fishing from its tributaries. However, summer's arrival brings out water skiers in droves along with explorers looking for quick access to the nearby Sarvis Creek Wilderness Area and the Flattops.
With summer temperatures getting the waters nice and warm, boaters can safely tow skiers here. The route is again counter-clockwise when towing to alert other boaters and ensure no confusion in the water occurs. After hitting the waters, visitors can camp out, take a hike or enjoy a picnic by the shoreline.
Location: 25500 County Road 14, Oak Creek, CO, 80467
Hours: 6 a.m. to 10.p.m.
Steamboat Lake State Park
Relaxation and thrills alike await at Steamboat Lake State Park, where Hahn's Peak overlooks the waters to create a lovely backdrop for skiers each summer. Over half of the lake is open for water skiing and wake boating, but flag use is required for safety purposes. There is a full-service marina here where boats and supplies can be rented at great rates.
Location: 61105 RCR 129, Clark, CO, 80428
Phone: 970-879-3922
Let summertime be a fast and breezy experience on the lake at these top water-skiing locations near Steamboat Springs, CO!
If your family has a more serious interest in water-skiing, wakeboarding, or other water activities in Steamboat, you can find a whole different level of fun on a private lake.
As a serious water-skier and friend of private lake owners, Jon knows the options better than anyone. Options range from memberships to purchasing property on a private water-ski and wakeboarding lake. If you would like to know more give Jon Wade a call sometime at 970.879.0879.