Wintertime in The 'Boat: How to Enjoy the Best of Winter in Steamboat Springs
Posted by Jon Wade on Friday, December 3, 2021 at 12:33 PM
By Jon Wade / December 3, 2021
Comment
Winter is here! Here are the top 10 things we look forward to most in Steamboat during the wintertime:

That moment when it first starts to snow. Or when you wake up in the morning and get excited because you see snow all around you for the first time since spring.
Getting hot chocolate before/after going skiing. Better yet, drinking hot chocolate at Four Points Lodge, looking at one of the best views in Steamboat!
Seeing all of the holiday lights go up in town. Steamboat really gets into the holiday cheer. My favorite part about the holidays is meeting everyone on the gondola because they always are in Steamboat to experience a storybook holiday season.
Soaking in the hot springs in the middle of a blizzard. The snow can't get to you because of the heat, and it feels incredibly secluded because you can't see more than five feet in front of you with all of the steam.
You can make an igloo or build a snowman because of how much snow hits Steamboat. My goal is to build an igloo in my backyard this winter and sleep in it one night.
Hockey season starts up! Watching hockey games in Steamboat is a blast because the whole town comes out to support the teams.
Champagne Powder. This local Steamboat slang isn't a myth. It's incredible!
Sitting by the fireplace. You can sit by a fireplace and read a book, and it's wonderful.
People still go biking! You get to be amazed watching people going biking on the snow, and then you question how they do that?
Winter Carnival. Steamboat has its own holiday; that's how special we are!
The Best Winter Events in Steamboat
There are many winter activities in Steamboat to enjoy, but here are our top 4 must-see events during the cold-weather months in The 'Boat:
Steamboat Springs Winter Carnival
Did someone say skijoring on Lincoln Ave., ski jumping through fiery hoops, and fireworks?
This could only mean one thing…it's almost time for Steamboat's infamous Winter Carnival--the longest-running Winter Carnival west of the Mississippi!
The Winter Carnival began as a way to help residents cope with all the cabin fever that creeps up during the peak of the winter season. The event has continued to this day as a celebration of winter, a place to gather with friends and neighbors alike, and as a fun way to experience all that Ski Town U.S.A has to offer!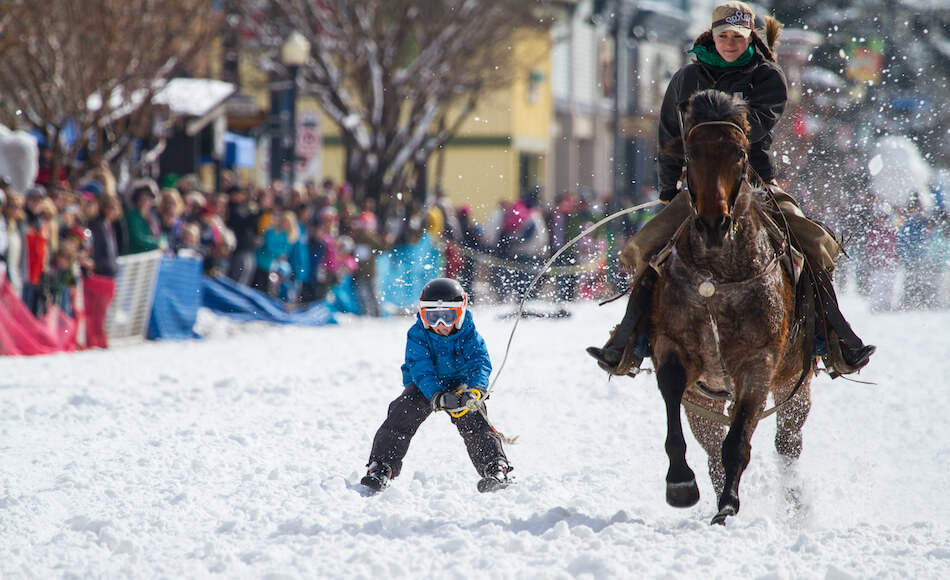 Every winter, around 400 tons of snow is dumped onto the main drag in downtown Steamboat Springs for an entire weekend of action-packed festivities. You won't believe your eyes as kids ski behind horses ridden by Yampa Valley's legacy ranchers or as our very own Steamboat Springs Winter Sports Club athletes fly over the jumps at night on Howelsen—lit by flares and LED lights. Experience this and so much more at the Winter Carnival!
The festivities include events such as ski jumping competitions, a snowboarding jam session, a soda pop slalom, a tubing party, the diamond hitch parade, which includes the high school band on skis, street events on Lincoln Avenue, and a night extravaganza at Howelsen Hill with a brilliant fireworks display and the famous lighted man.
Opening ceremonies typically begin on Howelsen Hill. Make sure to catch the S'More Family Fun and the Dual Slalom Bicycle Races. All street events usually take place on Saturday and Sunday on Lincoln Ave, and the "Lighting the Flame" nighttime extravaganza typically happens on Saturday evening. On Sunday, Winter Carnival concludes with the Diamond Hitch Parade, followed by the Pro Alpine Ski Jumping Finals.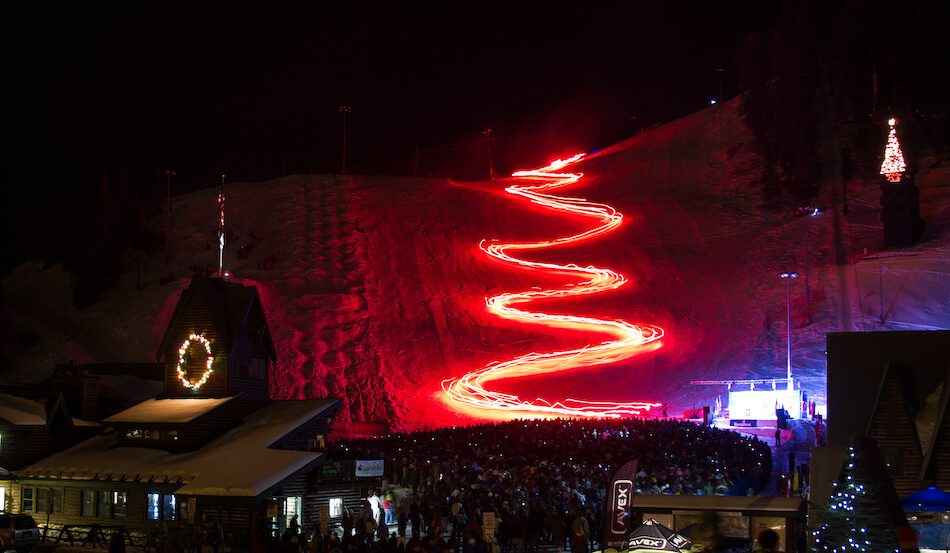 The Winter Carnival event is an excellent opportunity to embrace the western heritage upon which Steamboat was founded, highlight Steamboat's Tradition of Winter Sports, and enjoy a variety of winter events performed by Steamboat Olympians, athletes, and locals. Even more, Winter Carnival is a fun-filled weekend with exciting opportunities for people of all ages to enjoy. We can guarantee this is one event you won't want to miss out on during the winter season. We'll see you there!
Cowboy Downhill - No Bull, It's One of the Funniest Events You'll Ever See!
Coinciding with the National Western Stock Show in Denver, the Annual Cowboy Downhill draws over 100 of the best pro rodeo cowboys to Steamboat to hang up their boots and try their luck at the slopes.
Steamboat's Billy Kid, Director of Skiing, and Larry Mahan, a six-time all-around World Champion cowboy, started this event 40 years ago and decided to invite a few of the Pro-Rodeo stars to Steamboat for a day of skiing. The cowboys had such a great time that the Downhill has become the most popular event of the season, with over 100 of the best professional rodeo cowboys competing in the most unique ski rodeo in the country.
Public Festivities typically run in Gondola Square during the afternoon in Bud Light Tents and at the Bear River Bar & Grill, with live musical entertainment. The Slalom begins in the late afternoon, followed by the Stampede. The day is finished with the Cowboy Downhill Awards.
In the past, festivities kicked off in Gondola Square with an afternoon of western celebration featuring:
A 4H animal petting zoo,
Appearances by the Denver Broncos cheerleaders,
A learn-to-rope clinic,
Limited edition Bud Light Cowboy Downhill logo wear,
A timed slalom,
Stampede,
And a free concert in Gondola Square!
The Cowboy Downhill is always a good time. We hope to see y'all there! No matter the season or the age of our visitor, the Old West excitement of Steamboat Springs keeps them riding back to town year after year!
WinterWonderGrass Festival
Known as the event where brews and music collide, the WinterWonderGrass Festival brings together Colorado craft beer and beloved, authentic bluegrass music for a winter celebration. It is considered one of the best music festivals of the entire season and features over 25 bands and 20 Colorado craft beers.
Festival headliners for this year's event include The Travelin's McCourys, Kitchen Dwellers, Yonder Mountain String Band, and Trampled by Turtles, to name a notable few.
This music festival is beloved by locals and is a welcome community and family-friendly event that features many activities like hula-hooping, face painting, and other fun activities as part of the colorful kid's zone. This allows kids to have fun in a safe and carefree environment while their parents enjoy libations and live music. Seniors over the age of 75 and children under 12 are free. Tickets range from $159 to $439.
Winter Landscape Photography at Fish Creek Falls
For the nominal price of $20.00, individuals ages 16 and older can go on a tour to take advantage of the picturesque landscape of Fish Creek Falls. The professionals at Morning Light Photography will share photography tips on how to best capture the beauty of the area, including the frozen winter landscape, 280-foot waterfalls, and pillows of snow-covered creek beds. Guests can use their professional cameras or phone cameras to capture the beauty of the area. Tripods are recommended but not required.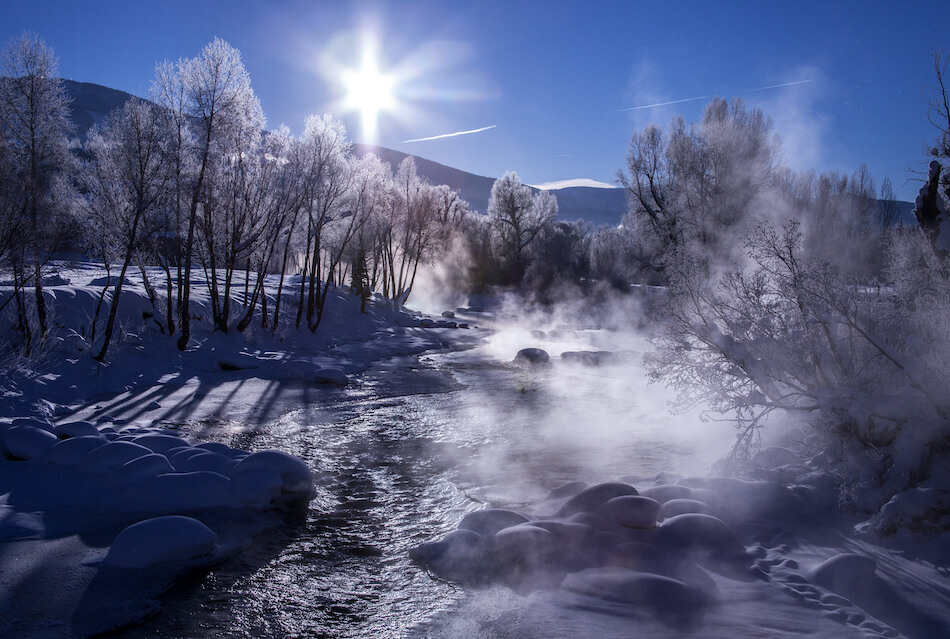 Guests will be led out to the photography location and will utilize snowshoes provided for them. It is a beautiful trek; the walk is a short distance and is considered easy terrain. Guests will arrive at 9:45 am and then set off for the destination at 10:00 am. They can expect to return to the parking lot at around noon.
Guests need to dress for standing still more than for hiking since the point of the event is to learn photography strategies, and most time will be spent standing still. Guests should wear waterproof winter boots, waterproof pants, dress in layers, avoid cotton, and wear gloves, hats, sunglasses, and sunscreen.
If you would like to know more about what it's like to live in Steamboat or stay up to date with our Steamboat Blog, please feel free to browse around or call us at 970.879.0879 or email at [email protected].