Steamboat Springs Vacation Guide: What to Do When Vacationing in Steamboat Springs, CO
Posted by Jon Wade on Monday, January 25, 2021 at 7:16 AM
By Jon Wade / January 25, 2021
Comment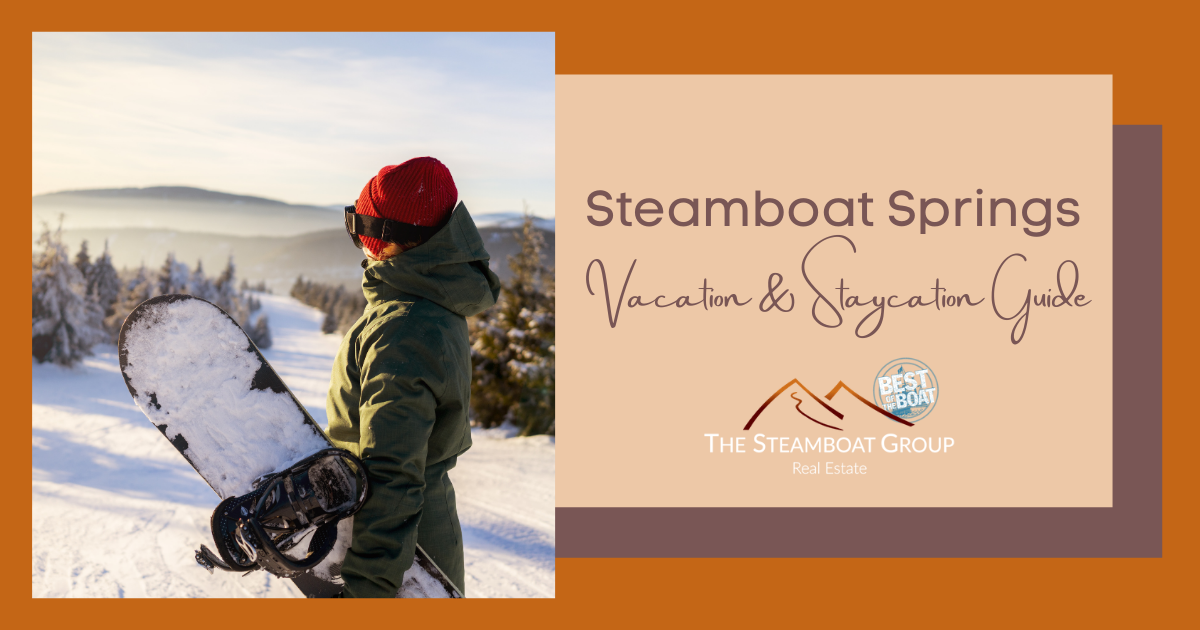 Anyone who enjoys watching or participating in winter sports is bound to have heard of Steamboat Springs. The area has earned the coveted name of "Ski Town USA" due to its trademark champagne snow. However, Steamboat Springs, CO is more than just a world-renowned skiing destination. The vast landscapes and country scenic views allow visitors and residents alike an escape from daily life. Whether someone is planning a vacation or looking to create a memorable staycation after moving to this city, they do not need to look any further than the offerings available in Steamboat Springs.
Search
Steamboat Homes for Sale.
Moving to Steamboat Springs? Let the Steamboat Group help! When it comes to insider information on the Steamboat market, no one is better equipped to help you buy your next Steamboat Springs home.
Stay at the Steamboat Grand
Steamboat Grand Amenities
Pool fitness center
The Cabin restaurant
Penthouse suites
The Grand Spa
Address: Steamboat Grand, 2300 Mt Werner Cir, Steamboat Springs, CO 80487
Visitors to the area who wish to have all of their needs met will enjoy every moment of their stay at the Steamboat Grand. However, this exceptional resort is not just for tourists. The Steamboat Grand is also a wonderful destination for Colorado natives and longtime locals.
At the Steamboat Grand, guests will have numerous options to choose from for their rooms. Those who want to utilize a kitchen during their stay will need to select a studio, condo, or penthouse when making their reservation. Studios are small, 300-square-foot rooms that sleep up to three guests. Condos are a bit more spacious and offer a fireplace and dining table. Guests may choose condos with up to four bedrooms. Finally, penthouse suites are available and range from 2,220 to 4,000 square feet. This option boasts exquisite views from the 7th floor.
During their stay at the Steamboat Grand, guests may visit the pool and hot tubs. The pool itself is open year-round and boasts 85,000 gallons of heated water. After a day at the slopes or in the pool, The Cabin offers dishes for every palate during every meal of the day.
Hit the Slopes at the Steamboat Ski Resort
Steamboat Ski Resort Amenities
Ski and snowboard lessons
Equipment rentals
Season passes
Ski lift
Address: Steamboat Ski Resort, 2305 Mt Werner Cir, Steamboat Springs, CO 80487
One will find it difficult to visit Steamboat Springs during the winter and not enjoy a day on the slopes. Fortunately, individuals of all ages and skill levels can have a good time. From those who have never stood on skis to athletes training to be the next great Olympians, there is a slope for everyone.
The Steamboat Ski Resort offers quite a bit to guests. There are over 169 trails to be conquered, along with 2,965 skiable acres. Over the past 10 years, 319 inches of champagne snow has fallen onto the slopes. With 18 lifts and a staggering 3,668-foot drop, individuals can work up the courage to get up and down the mountain faster than ever.
The famed champagne snow gets its name from local rancher Joe McElroy. During the early 1950s, before the area was known for its impressive winter activities, locals were the ones who enjoyed the slopes. During one skiing adventure, McElroy noticed that the snow tickled his nose like champagne. The name stuck and has been used ever since. No other area in the world offers the same quality snow that can be found at Steamboat Springs.
Relax in the Strawberry Park Hot Springs
Strawberry Park Hot Springs Amenities
Heated cabins
Picnic area
Massages
Concession stand
Address: Strawberry Park Hot Springs, 44200 Co Rd 36, Steamboat Springs, CO 80487
After a long day out in the cold, what can be better than a dip in a hot spring? Fortunately, Steamboat Springs is perfectly positioned to offer such a luxury to residents and tourists. Located less than seven miles from downtown in the Strawberry Park area, the Strawberry Park Hot Springs mineral pool offers guests the ability to relax their muscles and unwind. The springs range from 101 to 105 degrees (Fahrenheit) all year long!
Visitors may opt to find their own transportation to the springs. However, one of the most popular options is to take the famous Strawberry Park Hot Springs with Sweet Pea Tours. Guests can join a scheduled tour or request private door-to-door service. Transportation to and from the springs is included in the tour price, along with admission to the springs. Those 12 and under can secure tickets for $20, teens aged 13 to 17 years old for $30, and adults for $45 a person.
Stroll Through Yampa River Botanic Park
Yampa River Botanic Park Amenities
Amphitheater
Core Trail access
Drinking fountains
Hiking trail
Address: Yampa River Botanic Park, 1000 Pamela Ln, Steamboat Springs, CO 80487
When vacationing or staycationing, it can be difficult for people to find free activities that are worthwhile. Fortunately, Steamboat Springs is able to accommodate everyone with Yampa River Botanic Park. This park is free and open to the public 365 days a year. It is open from dawn to dusk and has free parking on site.
Those who want to enjoy a hike through the Colorado Wilderness without straying too far from Steamboat Springs will find trail access at this park. During the warm season, guests can enjoy a simple stroll and take in the wondrous sites of native blooming flowers. Often, wildlife can be seen in or near the park. Pets are not permitted at the park at any time.
If visitors have a special event that they would like to have in the park (such as a birthday, wedding, engagement, or anniversary), Yampa River Botanic Park is available for rent. To ensure the park is available on the specific day, guests can call (970) 879-4300 for information and scheduling in advance.
Visit the Steamboat Art Museum
Past Exhibits at Steamboat Art Museum
The Art of the Quilt
Colorado Nature Photography
Birds in Art
The Russian Experience
American Watercolor Society
Donna Howell-Sickles
Address: Steamboat Art Museum, 801 Lincoln Ave, Steamboat Springs, CO 80487
Those who think Steamboat Springs only has one free activity to enjoy will be pleasantly surprised to learn the town also has a second option. The Steamboat Art Museum is a public museum that is free to visit. Lovingly nicknamed The SAM, this museum opened its doors in 2006 and has held nearly 30 successful exhibitions. The exhibit they feature changes every few months, so there's always something new to see.
Since its humble beginnings, nearly 100,000 visitors from all 50 states in America and 13 foreign countries have walked through The SAM's doors. The SAM strives to keep exhibits unique and planned far in advance. In fact, the next three years of exhibits are already scheduled.
Plan Your Steamboat Springs Vacation or Staycation
Steamboat Springs is rich with history, the arts, and nature. It is dedicated to adrenaline-pumping excitement in addition to well-deserved rest and relaxation. Whatever someone is looking to gain during a visit to Steamboat Springs, they are sure to find it and more. Guests can opt to never leave during their stay at the Steamboat Grand, while others may want to explore the hot springs, nature trails, ski slopes, and many things to do in the area. A stay in Steamboat Springs is completely customizable and sure to provide people with memories that will last a lifetime. The only thing left to do is plan the road trip or book the flight to visit this amazing city.
If, after your vacation, you decide that you'd like to stay for longer, contact The Steamboat Group with Steamboat Springs Real Estate at 970-879-0879 to get in touch with local real estate agents who can help you find your Steamboat Springs dream home today.
Buying or Selling
a
Steamboat Home?
Let the
Steamboat Group Help You!
Do you want to buy a home in Steamboat Springs? Let the Steamboat Group handle it all. Contact us now to schedule a consultation and take the first step towards a stress-free home buying experience with the best real estate team in Steamboat Springs, CO.