Things to Do in Steamboat Springs
Posted by Jon Wade on Thursday, January 14, 2021 at 12:54 PM
By Jon Wade / January 14, 2021
Comment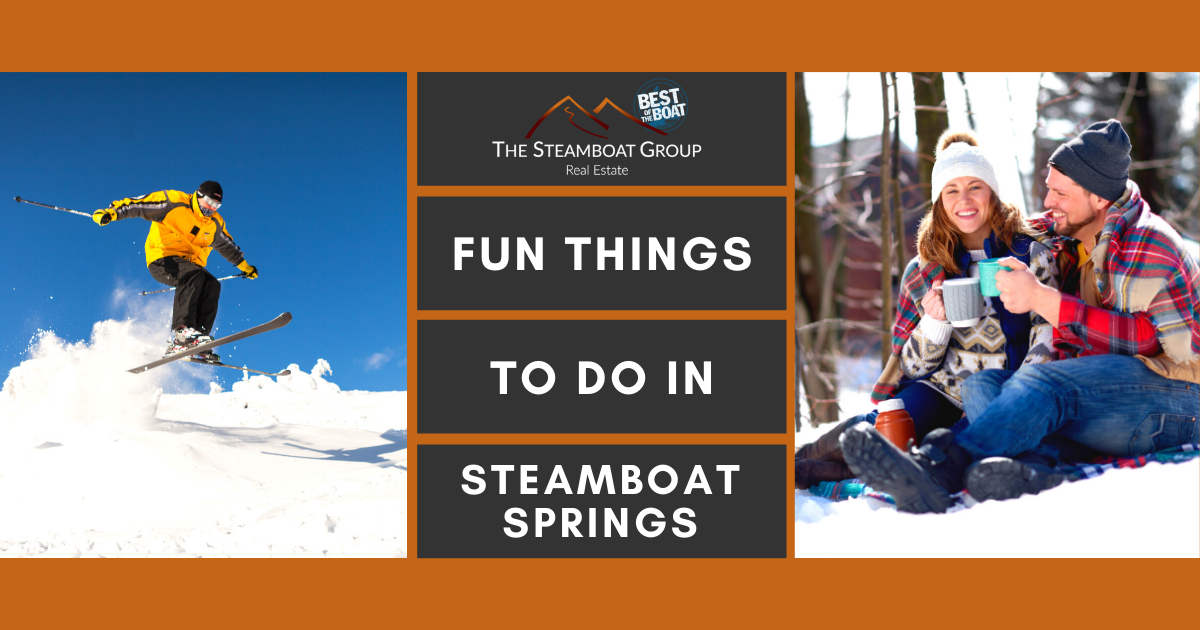 Nestled in Colorado's Rocky Mountains, the city of Steamboat Springs is known internationally as a skiing area. Serving as the county seat for Routt County, the city has a population of about 13,764 year-round residents, with winter serving as its peak tourist season.
Skiing was originally the only way for the community's residents to get around, and it grew in popularity over the years. One of the town's early residents introduced ski jumping in 1913, building the first jump. This was also around the time the annual Winter Carnival was established, a winter festival that continues to this day.
Beyond its reputation as a skiing destination, there are many other things to do in Steamboat Springs, Colorado. Here are some of the most popular.
Search
Steamboat Homes for Sale.
Moving to Steamboat Springs? Let the Steamboat Group help! When it comes to insider information on the Steamboat market, no one is better equipped to help you buy your next Steamboat Springs home.
Steamboat Springs Outdoor Adventures
While Steamboat Springs is known for its outdoor winter activities—especially skiing—the city's residents and visitors enjoy outdoor activities year-round.
The area's city and state parks, as well as its trails, lakes, and waterways, provide scenic beauty, as well as opportunities for camping, hunting, exploring, and water recreation.
Parks
Parks in Steamboat Springs
Little Toots Park
Yampa River Botanic Park
Whistler Park
Rita Valentine Dog Park
Stehley Park
Steamboat Springs offers 29 park sites, with 1,000 acres of recreational space. The park system includes two skate parks and six mineral springs, as well as 10 playgrounds, 22 athletic fields, and three volleyball courts. Access to all facilities is free.
The Yampa River Botanic Park is a public-private partnership consisting of six acres of gardens, featuring everything from alpine to desert plants. The park, which hosts about 350,000 visitors yearly, also offers a venue for weddings, festivals, and classes.
Anglers can try their luck at ponds in four waterfront areas in the city's parks: Casey's Pond, Fetcher Park, River Creek Park, and Spring Creek Park.
Water Recreation
Lakes Near Steamboat Springs
Fish Creek Reservoir
Lake Catamount
Steamboat Lake
Pearl Lake
The Yampa River offers kayaking and stretches through downtown Steamboat Springs. The area's rivers provide opportunities for rafting, with several local outfitters offering guided tours.
Stagecoach State Park is located less than 17 miles to the south of the city, while Pearl Lake State Park and nearby Steamboat Lake State Park are about 27 miles north of the city.
All three state parks offer visitors a variety of water activities, including jet-skiing, boating, stand-up paddleboarding, sailing, canoeing, and swimming. Additionally, Stagecoach Reservoir offers fly-fishing and trophy fishing, with ice fishing available in the winter. Steamboat Lake is another favorite spot for anglers.
Hiking & Biking Trails
Steamboat Springs Trails
Yampa River Core Trailhead
Emerald Mountain Trail
Fish Creek Falls Trail
Mad Creek Trailhead
Steamboat Springs maintains 55 miles of trails around the city, managing three main trail systems.
The Yampa River Core Trail winds along the Yampa River from Dougherty Road, through downtown, to end at Bear River Park. This non-motorized, multi-use trail features scenic overlooks, picnic sites, and fishing spots along the way.
The 5.2-mile Spring Creek Trail is popular with cyclists and hikers alike. This multi-use trail runs through Spring Creek Park through the Routt National Forest, to end at Dry Lake Campground.
The Howelsen Hill trail system consists of over 24 miles of trails, popular with pedestrians, bicyclists, and equestrians. The beautiful Emerald Mountain provides a scenic backdrop.
Residents can enjoy plenty of outdoor recreation all year long, including a soak in the city's hot springs. Steamboat Springs got its name in part from the area's historic hot springs. Visitors and residents alike can enjoy a relaxing soak in Old Town Hot Springs, in the heart of the city, or Strawberry Park Hot Springs on the edge of the Yampa Valley.
Steamboat Springs Shopping
Unique Shops in Steamboat Springs
Steamboat Art Company
Off the Beaten Path Bookstore
Steamboat Shoe Market
All That
Rocky Mountain Remedies
While Steamboat Springs is known for its outdoor recreational activities, it also offers a variety of retail options. Outdoor apparel, Western wear, hand-crafted items, and fine art are among the many offerings.
The major retail areas of Steamboat Springs include downtown, along Highway 40, the mountain area, and West Steamboat.
Those with an adventurous spirit will find plenty of shops offering outdoor gear, sporting equipment, and clothing, ready for everything from skiing and mountain biking to camping and fishing.
While Western wear and outdoor apparel are popular, downtown boutiques offer more sophisticated fashion choices. Clothing and accessory shops are outnumbered only by those offering sporting equipment, service, and rentals. As expected in a tourist area, there are a number of gift and souvenir shops, as well as retailers showcasing local artisans.
Memorial Day and Labor Day feature downtown sidewalk sales, with some of the best deals of the year from local retailers.
Winter Activities in Steamboat Springs
Winter is when Steamboat Springs truly comes alive. The area is known as the perfect setting for alpine skiing, Nordic skiing, snowmobiling, snowboarding, snowshoeing, and other winter sports. The city lays claim to what it insists is the lightest, driest, and fluffiest snow on Earth, referring to its "Champagne Powder" snow.
Winter Sports
Winter Sports in Steamboat Springs
Skiing
Snowboarding
Dog sledding
Snowmobiling
Steamboat Springs has earned the nickname "Ski Town, USA." Home to more Olympic skiers than any other city in North America, Steamboat Springs is known for its slopes. It offers 3,000 skiable areas, with six towering peaks and 165 trails. Difficulty ranges from beginners to challenging slopes and even tree skiing.
Steamboat Springs is home to the Steamboat Ski Resort, known for world-class snowboarding and skiing. Another favorite downhill skiing destination is Howelsen Hill. Operating since 1915, Howelsen Hill is the state's oldest continuously operated ski area.
There is also backcountry skiing and snowboarding, offering the opportunity to enjoy untouched powder. A guide is suggested.
Casual Winter Fun
Casual Winter Activities in Steamboat Springs
Ice skating
Sleigh rides
Snowshoeing
Ice fishing
Steamboat Springs offers more than just downhill skiing for wintertime enthusiasts. There are plenty of opportunities for snowshoeing and cross country skiing among the city's system of trails.
The City of Steamboat Springs also operates Howelsen Ice Complex, the community's only ice rink. The facility features an Olympic-sized ice surface and hosts a number of activities. In addition to public skating, the complex offers figure skating classes, private venue rentals, hockey league games, and bumper cars on ice. All activities are fee-based, and skate rentals are available.
Other popular wintertime activities include dog sledding, ice and fly-fishing, horseback riding, sleigh rides, snow tubing, and snowmobiling.
Winter is arguably the most popular season for outdoor activities in Steamboat Springs. Well-recognized for its downhill skiing, the city offers a number of other activities for the cold weather months. The city's trails system remains open for winter bicycling and hiking. Snow tubing, cross country skiing, and snowmobiling are all popular pastimes, but the city also offers unique activities like the longest roller coaster in North America, gondola rides, and winter horseback riding.
Steamboat Springs Restaurants
Restaurants in Steamboat Springs
Laundry
Winona's Restaurant
Creekside Cafe & Grill
Salt & Lime
Freshies Restaurant
Mambo Italiano
All that outdoor fun can lead to hearty appetites. Steamboat Springs features over 130 restaurants, bars, breweries, chophouses, and cafés to provide plenty of food and refreshments. The city's restaurant scene is concentrated in its downtown area.
Local dishes may feature elk, bison, or other local game, but the selection of dining options also extends to worldly cuisine.
Table 79 features contemporary dishes, craft cocktails, and more. Located in downtown Steamboat Springs, Table 79 is a "foodbar," offering unique specialties of smoked elk and chorizo meatballs among its menu's items.
The Salt & Lime is a downtown restaurant offering unique Mexican cuisine with an emphasis on tacos. Other favorites include pollo enchiladas, quesadilla barbacoa, and the Durango bowl.
Arts & Culture in Steamboat Springs
Steamboat Springs also has an artsy side, with numerous art galleries, museums and musical entertainment. With its cultural roots tracing back to its Western heritage, the city features works from a multitude of local artists. Additionally, visitors and residents can enjoy live theater, as well as opera, music festivals, and dance.
Museums
Museums in Steamboat Springs
The Tread of Pioneers Museum
Steamboat Art Museum
Mesa Schoolhouse
Heritage Cabin
From history buffs to art lovers, Steamboat Springs has everyone covered with museums in the downtown area.
The Tread of Pioneers Museum offers exhibits, tours, and children's activities focused on celebrating the city's Western heritage. The largest attraction for the museum is a 1901 Queen Anne Victorian home featuring turn-of-the-century furnishings. The museum provides a glimpse of the area's history, including Native American life, the history of the area's skiing industry, and more.
Art lovers will appreciate the Steamboat Art Museum. Launched in 2005 in a historic building within downtown, the museum has hosted 87,000 visitors from every state as well as 13 additional countries. Since opening, the museum has hosted over 30 exhibits, with an emphasis on artists from the northwest Colorado area. The museum also holds several events and activities, including workshops, lectures, and open studios. The venue also has event space for rent.
Performing Arts
Performing Arts in Steamboat Springs
Chief Theater
Perry-Mansfield Performing Arts School
Opera Steamboat
Steamboat Springs Arts Council
From dance to live music and theater, Steamboat Springs is home to the performing arts.
Downtown's Chief Theater hosts numerous performances, from dance to live theater, as well as film festivals. The historic theater is recognized as the local hub of arts and culture.
The Steamboat Symphony Orchestra, founded in 1990, is a fully professional orchestra, consisting of local professional musicians as well as those from throughout the region and beyond. It focuses on community involvement and youth engagement.
Opera Steamboat is the city's professional-level classical opera company, combining local talent with visiting, world-class performers. The Piknik Theatre is the city's only outdoor professional theatre company, offering free performances during the summer months.
Eighty local dancers, choreographers, and dance instructors take part in the Steamboat Dance Theatre. The group conducts an annual dance performance, as well as hosting classes and appearances by special guests.
While known for its skiing and other outdoor activities, Steamboat Springs also offers a thriving local cultural arts scene. In addition to symphony orchestra, live theater, and dance performances, the city provides hands-on and up-close opportunities like live music festivals, art walks, and art in the park.
Steamboat Springs Nightlife
Nightlife in Steamboat Springs
Schmiggity's Live Music & Dance Bar
T Bar at Steamboat
Double Diamonds Bar
The Barley Tap and Tavern
In addition to its restaurant scene, downtown Steamboat Springs is home to a number of bars, pubs, and clubs, many offering live entertainment and craft drinks.
Located in downtown, Schmiggity's features dancing and music, as well as drinks. Known for its supreme sound capabilities, the venue aims to attract national touring acts.
McKnight's Irish Pub serves food and drinks. Locally owned, it is known for its selection of Irish Whiskey. The pub also offers an extensive lunch and dinner menu, creating specialties from power bowls to slow-roasted brisket that surpass the usual bar fare.
Enjoy Year-Round Fun in Steamboat Springs
Steamboat Springs has built a reputation as a world-class skiing area. Along with downhill, Nordic, and backcountry skiing, outdoor winter enthusiasts enjoy snowmobiling, snowshoeing, and tubing. Warmer weather brings about opportunities for hiking, cycling, horseback riding, fishing, kayaking, and boating, among other pursuits. Even in a downtown condo, the great outdoors is never far away.
In addition to its year-round outdoor activities, the city has a thriving restaurant and entertainment downtown district, as well as an arts community. Visitors and residents can enjoy live theater, fine art, symphony performances, opera, and dance. Steamboat Springs also offers a number of retail options as well as a gallery walk.
If you're looking for the perfect home base in Steamboat Springs to explore everything this city has to offer, contact The Steamboat Group with Steamboat Springs Real Estate at 970-879-0879 today and get started discovering your Steamboat Springs dream home.
Buying or Selling
a
Steamboat Home?
Let the
Steamboat Group Help You!
Do you want to buy a home in Steamboat Springs? Let the Steamboat Group handle it all. Contact us now to schedule a consultation and take the first step towards a stress-free home buying experience with the best real estate team in Steamboat Springs, CO.