Condo at The Resort vs. Remote Mountain Lodge: Pros and Cons of Steamboat Ski Property Types
Posted by Jon Wade on Tuesday, November 30, 2021 at 10:07 AM
By Jon Wade / November 30, 2021
Comment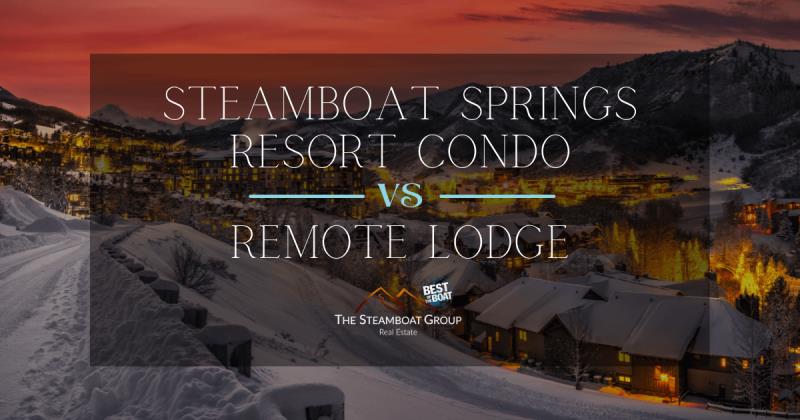 With an average of 336 inches of annual snowfall in Steamboat Springs, the attraction of investing in a Steamboat Springs ski condo or mountain lodge here in Ski Town, U.S.A. is undeniable. With powder so lovely that it has been officially trademarked as Champagne Powder® snow, buying a condo in a ski community or a remote mountain home is a good investment whether the buyer plans to use it personally or rent it out.
However, whether a rural single-family dwelling or a ski village condo is best depends on personal preference, location, and the primary intentions and uses for the property. Here are some factors to consider before making a decision to purchase a ski house or condo in Steamboat Springs, CO.
What Experience Are You Looking For?
Buyers planning to use their new property themselves and rent it out as well will have two sets of priorities to consider. They'll want to look at options that meet their own desires but will also want to find a home that will be appealing to vacationers or long-term renters, too.
If skiing vacations or renting the property to travelers during peak seasons is the main goal for the buyer, a condo is likely a great choice. These are located near the slopes and lifts, and many offer ski-in and ski-out access and amenities that appeal to buyers and rental occupants.
Buyers seeking a full-time residence or who plan to spend time in the abode more frequently than ski season might consider a ski lodge of some type. Mountain lodges are often near or on mountains with resorts and tend to offer much more privacy and quiet versus a busy ski condo community. Single-family mountain homes can also be profitable rentals when not in use.
How Often Will the Ski Home in Steamboat Springs Be Used?
Depending on how often owners plan to use or rent their property, association-managed condos and freestanding homes both have pros and cons.
For a set fee plus non-contracted repair costs if necessary, condo homeowner associations manage the property's upkeep and often handle rental tenants coming and going. For some properties, such as condo-hotels, they may even have staff for cleaning between guests. That being said, the rules of a condo association could positively or negatively impact buyers' experiences. While the convenience of having continual management and oversight of property maintenance off owners' shoulders, some don't care for the high level of control HOAs may have over what they can and cannot do with their own condo. Yet, this may be exactly the fit a hands-off owner wants.
Those only planning to use the ski house during personal vacations will need to decide how much responsibility they want. Private homes will be the full responsibility of owners or someone they hire for oversight and care while they are away. Unless personally seeing to upkeep is on the agenda inside and outside of the home, such as yard work, routine maintenance, and other issues on top of the mortgage, a remote home could be a drawback with higher expenses than condo HOA fees. Those who want some acreage and privacy may consider the upkeep a fair price to pay, and those in residence for a significant part of the year may find the upkeep less of a burden than those only visiting a few weeks a year on vacation.
Are There Plans to Rent Out a Steamboat Springs Ski Home?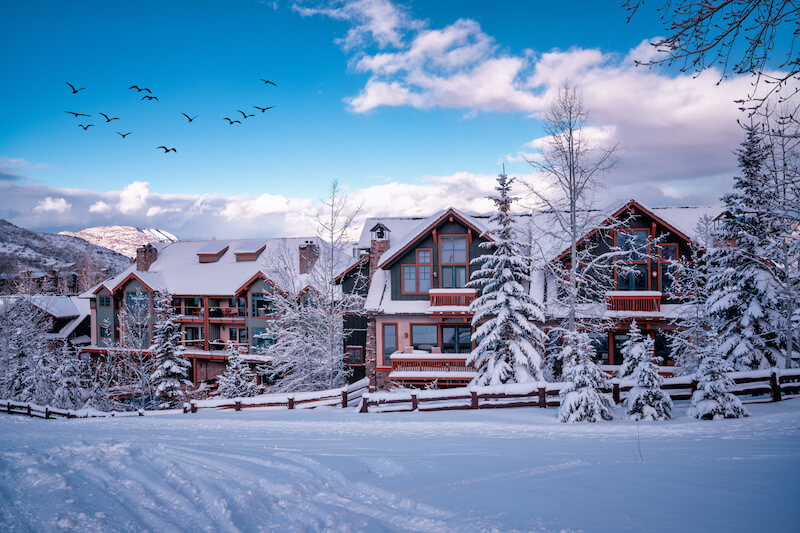 Ski-in/Ski-out condos and lodges are fantastic investment opportunities in Steamboat Springs, CO. Vacationers who come here primarily for the fabulous skiing prefer the convenience of taking off just steps from the door of their condo or rental mountain lodge.
Another feature appealing to some rental guests is to find a location that is somewhat near top sites and "civilization" for shopping, dining, and other exploits. Ski condos tend to be proximal to these goodies, with ski-in and ski-out being a common amenity, as well. Proximity to ski lifts or the shuttle to get there is a must-have feature.
In turn, some just want to chill out on the slopes and stay in the community in a nice quiet ski lodge, and these can also be ski-in/ski-out. However, those planning to rent frequently will want to give strong preference to investing in homes near attractions, whether it be a condo or single-family structure. The more attractions that are nearby, the more likely the rental will be filled year-round, which boosts income opportunities.
Some of the most popular rental properties with ski-in/ski-out options and fine après-ski amenities can be found in premier communities, such as the condos at One Steamboat Place, which offers five-star amenities and personal service to owners and guests. Edgemont's condos offer elegant baths, saltwater spas and pools, and gourmet kitchens.
What Kind of Ski Homes Can One See in Steamboat Springs, CO?
There are many styles of condos and homes here, with the most unique exterior features being present in single-family lodges and ski homes. Log cabin-style homes, including casitas, ranches, and even modern architectural dwellings are dominant in Steamboat Springs. These tend to be rather large homes that can bring in tidy profits and increase in value in time.
Steamboat Springs chalets are a luxurious choice that many upscale renters and large families tend to enjoy renting. These are like small mansions with multiple stories, exaggerated features and usually have lavish amenities that bring in premium rates. Other types of homes one can expect to see around Steamboat include Victorian abodes, cottages, and traditional A-frames.
Talk to Experts Before Buying a Ski Home in Steamboat Springs
No one will understand the appeal and demand for those looking for a full-time home or rental ski property in Steamboat Springs like the real estate professionals in the region. Experts like The Steamboat Group know what is in demand and can help buyers find the ideal home for their needs as well as guide them towards what will make for a fine investment. Be sure to reach out to a pro you trust and get ready to discover your Steamboat Springs dream home.
Steamboat Springs Ski In Ski Out Home Resources