Steamboat Springs Real Estate Market Update - October 2012 YTD
Posted by Erik Ramstad on Wednesday, November 21, 2012 at 7:30 AM
By Erik Ramstad / November 21, 2012
Comment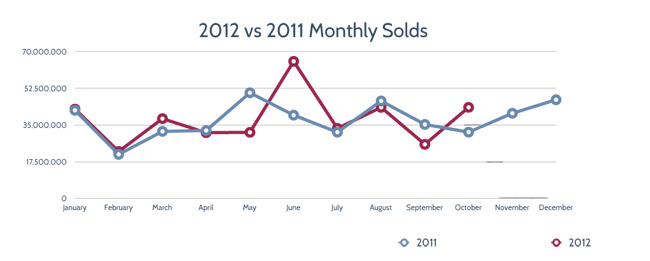 We are lucky to live in Steamboat in any economy but it will be even better as things recover and the economy makes it easier on local families.  It looks like we have more to be thankful for as we look at October 2012 Real Estate results for Steamboat. Stan Urban published his stats this morning. Dollar volume is up 37% and transactions are up 20% for October 2012 which mean average sales prices are up as the mix of properties sold shifts up and the percentage of distressed homes decreases.   It is not a recovery yet given sales are up 4% and transactions are down 16% year to date in 2012 but it sure beats when things were going down with no indication of a bottom.  That said recovery is in process in more parts of the Steamboat market, distressed inventory continues to go down and buyer sentiment is improving as the markets they come from recover and get stronger. 
  A significant portion of the real estate sales in Steamboat Springs are driven by out of town purchases so as the real estate markets around the country recover people that love Steamboat feel better and decide it may be the right time to look in Steamboat.  The local adage is that the Steamboat market recovers about one and a half to two years after the Denver market.  People from Denver, Boulder and Fort Collins make up about half of the out of town owners in Steamboat so how they feel makes a big difference in Steamboat.  Single Family homes prices in Denver are up 14% in 2012 and have recovered back to 2006 levels in all but the high end of their market.  The market in Denver has been strong since Spring 2011. A bit earlier according to some.
  I traveled to 3 Resort and Luxury Real Estate conferences this fall to compare notes and learn the latest from the best in the business. I was one of the few people whose market wasn't doing great yet.  Seeing increases in home prices in all of the top 20 markets that Case Shiller tracks, strong increases in Denver and the things it takes for a recovery to take root locally gives us good reason to see that Steamboat isn't too far behind.  
  It is great to see our market on the path to recovery but each part of our market is unique by property type, price range and area so give me a call for a look at what is happening where your interest is.  I will give you honest insights into what is going on and what that means for the property you own or would like to.  You can reach me at [email protected] or 970-819-6930 . Search our local Steamboat MLS listings via IDX here on our award winning website. You can rate the properties you like on a 5 star scale and note your thoughts on each property. When you are ready I can help you understand their true values and what is a match for your goals.
 11-25-12 Some insights from this article were featured on the front page of the Steamboat Pilot's Real Estate section today titled Real Estate Sales bounce back in October.  Thank you Tom!