Steamboat Springs Downtown Halloween Stroll
Posted by Erik Ramstad on Monday, October 18, 2010 at 1:42:34 PM
By Erik Ramstad / October 18, 2010
Comment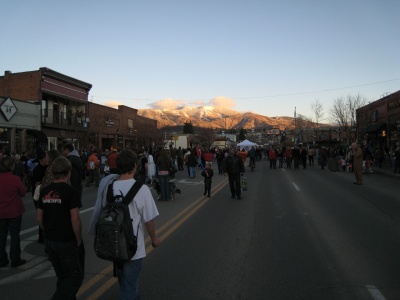 Steamboat Springs Downtown Halloween Stroll
"Photo of 2009 Downtown Halloween Stroll"
October 31st at 5:00 - 7:00pm
The Annual Halloween Stroll has been taking place in Downtown Steamboat for more than 30 years. It is incredibly cool to walk down Lincoln Avenue (they close US Highway 40 all through downtown) let the kids trick or treat and see all of your friends in one place. The kids trick or treat at the downtown businesses but all segments of the community show up plus fire trucks with their ladders up are there for kids to see.
For example plenty of retired people show up in or out of costue. It's a priceless small town Steamboat tradition. We typically get down there early see everyone on the street then meet friends for dinner at the Tap House.