Steamboat Barn Village lots are about to come back on the market
Posted by Erik Ramstad on Saturday, April 6, 2013 at 7:39 AM
By Erik Ramstad / April 6, 2013
Comment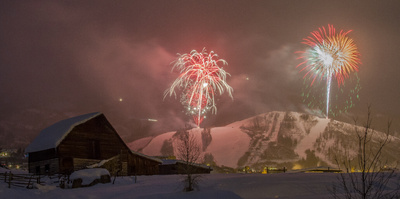 Big news for Steamboat Barn Village that has been a long time coming. Steamboat Barn Village is the single family home and duplex development along Fish Creek behind Steamboat's iconic barn. It has a great location that is easy to get to downtown, the mountain or a grocery store. It easy to bike to from anywhere in town.
Update:  We expect to have pricing the week of April 15th then the lots available to sell May 4th.  They are likley to only offer a few lots at a time then raise prices between rounds so ask me how to navigate their rollout strategy.
  Steamboat Barn Village was originally developed back in 2007 and was reserved more than twice over when they rolled it out. The process wasn't handled well by the development team and most of the buyers didn't move forward before the market changed.  A few sold after then but mostly sat idle while the developer struggled and was eventually foreclosed on by the bank.  The note was auctioned for about $5.6M and Gibraltar Captial, the Private Equity arm of Toll Brothers bought the note. They were finally able to foreclose on the 47 remaining lots in Steamboat Barn Village a few months ago. Gibraltar is strong so their ownership removes the distressin this development and should allow it to move forward. I was fortunate to have a bidder for the property so I know it very well and have been following its progress closely.
  The Lots in Steamboat Barn Village are going to start at up to approximately 70% off of original pricing and sales. The Steamboat Real Estate market is completely different today but there are basically two remaining land developments that are very close to the mountain and a third that is located up above the Rollingstone golf course.  These are:  
The Range at Wildhorse Meadows with 40 out of 41 unbuilt lots all of which are individually owned. WildHorse has full amenities for owners along with a gondola that takes you up to the base.
 Steamboat Barn Village with 52 out of 54 unbuilt lots, 47 of which are owned by Gibraltar Capital. A great location between Downtown and the Mountain with a nice balance of amenities.
Graystone on the Green with 1 home being built and 2-3 more planned out of 17 lots, all owned by a private equity group. Graystone is located above the clubhouse at Rollingstone Ranch and has golf memberships available with purchase. None of the lots are currently listed, their plan is to build homes.
  This totals 108 lots that haven't been built as of today in these three new subdivisions with 68 owned by 2 different private equity groups. That is a significant number of lots so what is the path forward here?  It really depends on your goals. Outside of these developments there are few lots available at these price points and there is no land left to develop new single family lots so there is good potential here.  The big questions here are as follows:
Are they are a fit for your goals as a place to live, build or spec a home?
What will it take to restore buyer confidence that these developments will be built out at a reasonable pace?
Will the market for lots ever get better?
What prices make sense given the market and the value of the homes that can be built at current costs?
What do the HOA rules, costs and amenities look like and do they make sense for you?
How does all of this fit into the current state of the Steamboat Real Estate market and what can we expect to see going forward?
What other questions are there given your goals?
 There is a more I can cover if you have interest so lets get to expected pricing.  We should have exact prices and updated HOA info in the next week or so but here is what you can expect. Ask me and I will let you know as soon as more info is available but here is the top level pricing:
Smaller Single Family Lots $140,000-$200,000
Large Single family lots  $230,000-$240,000
Large Single family lots with creek frontage, about $450,000
Duplex lots $350,000-$450,000
To see how this compares to other available land that is listed in the Steamboat MLS just click here
  I've given you a pretty complete set of info above but there you need more to make a good decision.  If you want a broker that knows more about Steamboat Barn Village, the market for the lots there and most importantly will tell you what you need to know to make a good decision give me a call at 970-819-6930.  I'll give you the insights to need to properly evaluate this opportunity, see if it makes sense for you and look out for your interests. These are big discounts from original pricing but they only make sense if they are a good value based on your goals.