Spooky Steamboat Events for Halloween
Posted by Erik Ramstad on Thursday, October 7, 2021 at 12:44 PM
By Erik Ramstad / October 7, 2021
Comment
Ghoulish greetings from Jon Wade and The Steamboat Group for this year's Halloween season!
Looking for spooky fun events for Halloween? Search no further! Here is the Halloween event rundown in Steamboat Springs:
Steamboat Springs Downtown Halloween Stroll
The main Halloween event—the Annual Main Street Halloween Stroll—is a Steamboat tradition that dates back to 1991 and has been taking place in Downtown Steamboat for more than 30 years now.
Downtown Steamboat closes the streets so that locals can celebrate Halloween by trick-or-treating to different businesses around town!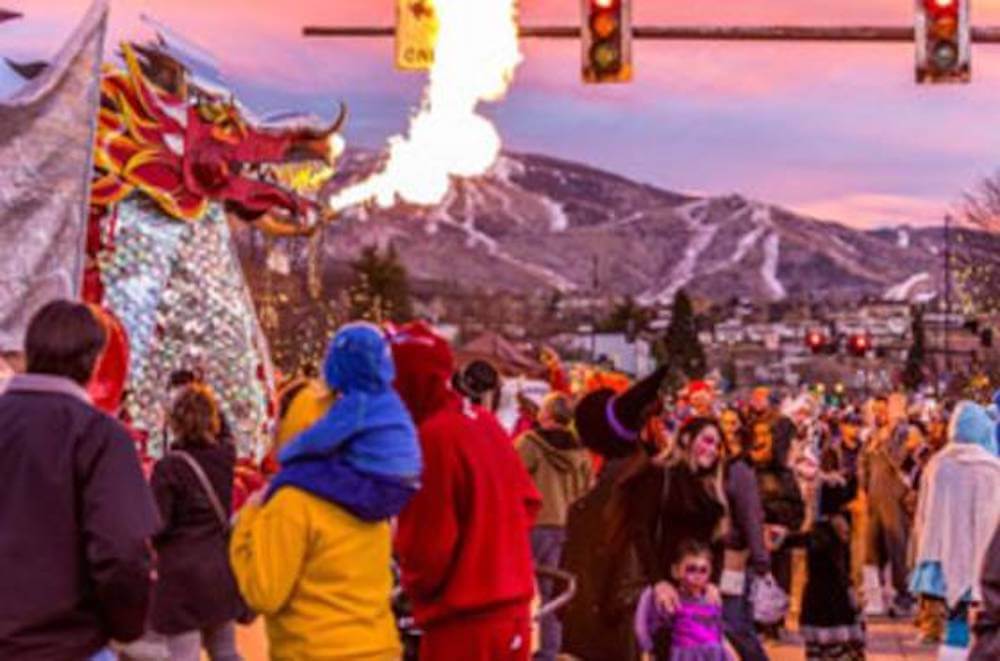 On October 31, the entire community comes out in droves, dressed in their costumes, and ghosts and goblins take over Main street.
The cars are redirected off the main drag, and trick-or-treating pedestrians get full priority. Shopkeepers, restaurant owners, bankers, and the Steamboat Group offer cauldrons full of candy, haunted houses, and even occasionally free French fries!
There are live music performances, and past Halloweens have seen a fire-breathing dragon take center stage. It is incredibly cool to walk down Lincoln Avenue (they close US Highway 40 all through downtown), let the kids trick or treat and see all of your friends in one place. The kids trick or treat at the downtown businesses, but all segments of the community show up plus fire trucks with their ladders up are there for kids to see.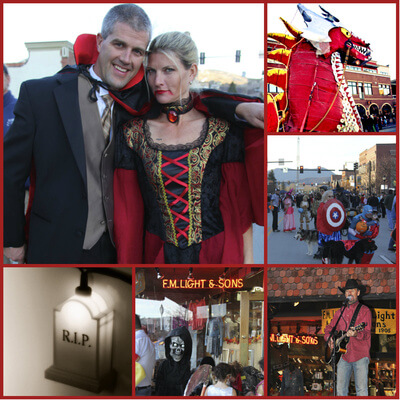 It's a priceless small-town Steamboat tradition. We typically get down there early, see everyone on the street then meet friends for dinner at the Tap House. We think this is one of the highlights of living in Steamboat Springs!
We can say that it's all treat, no tricks, and all these exciting things to do in Steamboat Springs make us incredibly lucky to call this city our home.
Pre-Halloween Steamboat Events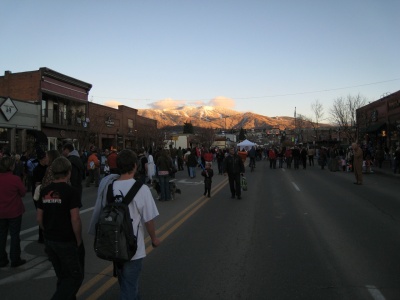 Here is a compiled list of the different October events in Steamboat Springs that have happened in the past that may be going on around Steamboat for Halloween this year.
Be sure to check your local calendars, websites, and Facebook groups for any updates for this year!
Steamboat Dance Theater Halloween Fundraiser
This costume party at the Old Town Pub benefits the Steamboat Dance Theatre. Bring your best moves and your best costumes for the costume contest and dance party!
Sugar Skull Painting Class
Mountain Tap Brewery has hosted a Paint 'n Sip class in the past for those looking to design a sugar skull on canvas.
Halloween Bash at Schmiggity's
Schmiggity's typically hosts different bands to celebrate Halloween before and after the big event.