5 Reasons to Love Living in the Fish Creek Falls Area: Stunning Scenery & Homes
Posted by Jon Wade on Thursday, May 4, 2023 at 10:52:42 AM
By Jon Wade / May 4, 2023
Comment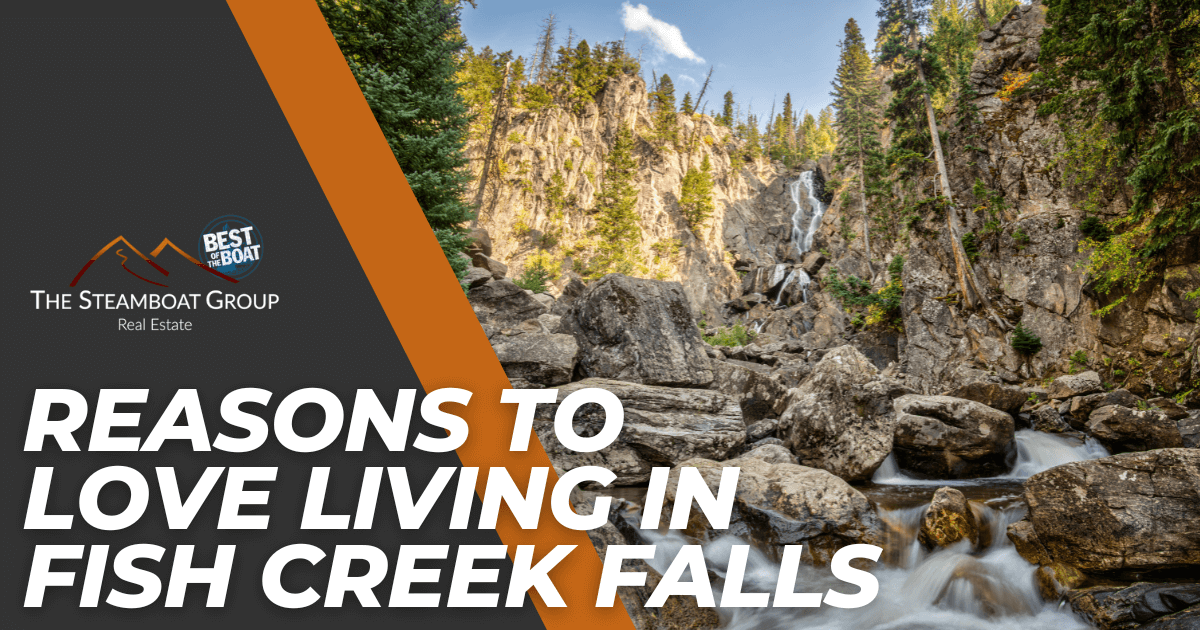 The Fish Creek Falls area of the town of Steamboat Springs, Colorado, is a picturesque and tranquil location that offers a unique living experience. Nestled in the Rocky Mountains, this region is known for its natural beauty, outdoor activities, and tight-knit community. The area boasts an extensive trail system that provides hiking, biking, snowshoeing, and cross-country skiing opportunities. It's also home to the Fish Creek Falls, a breathtaking waterfall that attracts visitors from all over the world.
In addition to its outdoor activities, the area offers homebuyers moving to Steamboat Springs a variety of restaurants, shops, and cultural events. Living in the Fish Creek Falls area is a dream come true for those who appreciate the beauty of nature balanced with proximity to everyday amenities.
Search
Steamboat Homes for Sale.
Moving to Steamboat Springs? Let the Steamboat Group help! When it comes to insider information on the Steamboat market, no one is better equipped to help you buy your next Steamboat Springs home.
Beautiful Mountain Homes
Like most mountain towns in Colorado, Steamboat Springs has plenty of stately log cabins with floor-to-ceiling windows looking over the valley below. However, there's a wide variety of home styles here, especially in the Fish Creek Falls neighborhood. You'll find everything from Steamboat Springs townhomes and condos to single-family, ranch-style homes and luxury mountain estates. Regardless of your home type, Steamboat residences tend to be spacious, come with enclosed garages, and typically have spectacular views over much of the valley.
Homes in Fish Creek Falls list for an average of anywhere from $150–$350 per square foot. However, with such a large variety of home types and styles, that average figure also has a lot of variation. In most cases, Steamboat Springs condos cost far less per square foot than a luxury multi-story home.
At-home Outdoor Recreation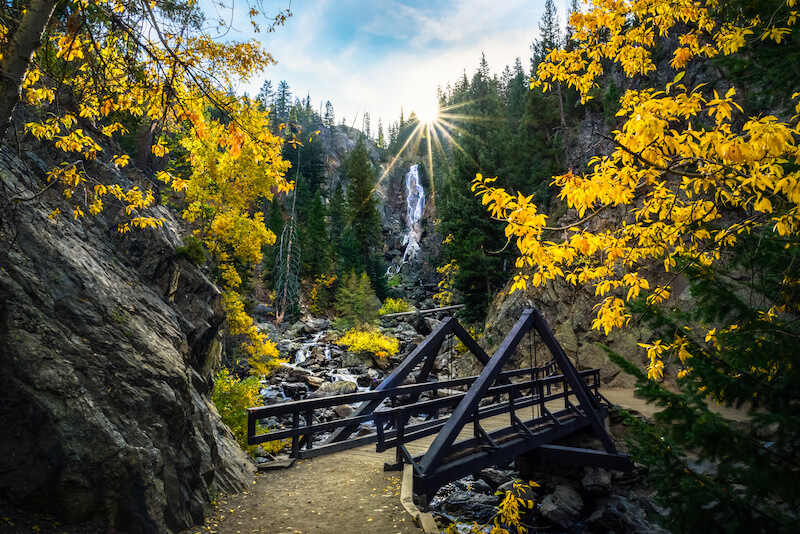 It's no secret that many people move to the Rocky Mountains specifically to enjoy outdoor recreation in all four seasons. Steamboat Springs—and Fish Creek Falls in particular—is no exception, with seemingly endless opportunities just steps from most residents' front doors. From hiking and biking to enjoying the Yampa River and winter sports, this neighborhood is a paradise for active outdoor enthusiasts.
One of the neighborhood's biggest (and closest) draws is the namesake waterfall, Fish Creek Falls. The impressive 283-foot-tall cascade is the second-tallest in the entire state! At peak flow during the late spring and early summer months, the falls are easily accessible from the neighborhood. A short, paved quarter-mile trail provides a fantastic view of the lower falls. This trail is level and accessible for both wheelchairs and strollers.
Hikers will likely want to continue 2.5 miles to the upper fall, and you can also make a bigger adventure of it and hike 6.5 miles to Long Lake. In the winter, you'll see people tackling the Fish Creek Falls hike in snowshoes and adventurers ice-climbing the frozen cascade.
Spring Creek Trail is another popular trail, spanning about 10 miles from the neighborhood into downtown Steamboat and including several small seasonal creeks. This is an extremely popular trail for people with dogs, as well as for trail runners and mountain bikers, so it's a wonderful way to get outside while also socializing with some of your neighbors.
Of course, these aren't the area's only hikes or outdoor activities. Trails abound throughout Steamboat, and there are countless places to paddle in a kayak or on a stand-up paddleboard— plus, you can explore the area's renowned natural hot springs.
Access to the Slopes
Perhaps one of the biggest reasons to purchase a home in the Fish Creek Falls area is its proximity to the Steamboat Springs Ski Resort. The neighborhood is less than five miles from the resort, world-famous for its distinct "champagne powder," snow with an ultra-low water content that makes it powdery and almost dry. Steamboat's unique snow creates ideal conditions on the slopes, equivalent to when many other resorts get fresh powder. Nearly every winter day is a fresh powder day at Steamboat!
If you're not convinced, consider a glowing endorsement: Steamboat Springs has produced more Olympic athletes than any other town in the United States. The Olympians undoubtedly come for the champagne powder, but there's an excellent chance they stay for Steamboat's notoriously laid-back, unpretentious vibe. Nestled in the Yampa Valley, an area with long-standing agricultural roots, Steamboat's atmosphere honors its friendly, helpful, and welcoming origins.
Living so close to the ski resort comes with perks—even in the summer. The slopes become epic hiking and mountain biking trails, and you can ride the gondola for a relaxing, incredibly scenic experience.
Downtown Steamboat: Right Next Door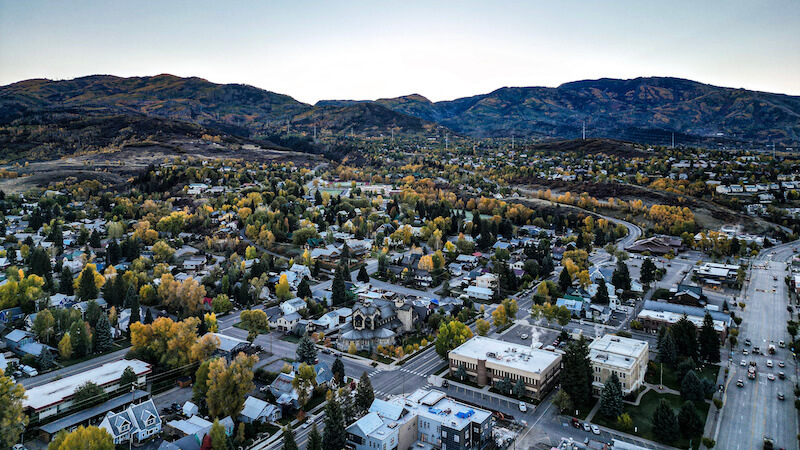 You already know that Fish Creek Falls is just a few miles from the Steamboat Springs ski resort, but there's more good news: the neighborhood is also less than three miles from downtown. Short of living in downtown Steamboat Springs, there are few places better to live for accessing its amenities. It's even on the Steamboat Springs Transit free route (note that service varies slightly between summer and winter)! Many residents choose to walk downtown and then hop on a bus back or vice-versa.
Wondering what exactly there is to see and do in downtown Steamboat? First, the downtown core is exceptionally walkable, with a riverside path running through everything. Take a soak at Old Town Hot Springs—one of the best hot springs in Steamboat—try local craft beers and specialty coffee on cozy patios with tremendous views, and do some shopping. You'll find everything: books, Old West souvenirs, outdoor gear, vintage clothing, fine art, hand-made candles and soaps, candy, and more.
In addition to all of that, downtown Steamboat hosts several seasonal and annual events. This includes the popular farmers' market, held on Saturday mornings from June through September, which features over 130 local makers, food vendors, and other creators. Residents also look forward to the late spring Chili Challenge, 4th of July events, Halloween Stroll, and fall Restaurant Week each year.
Spectacular Natural Beauty
Situated right on the edge of the Medicine Bow-Routt National Forests in northwest Colorado, there's no shortage of awe-inspiring natural beauty surrounding the Fish Creek Falls area. The neighborhood is surrounded by mountain ranges that seem to stretch on forever, lush green river valleys, and equally beautiful meadows, whether covered in winter snow or blanketed with wildflowers in the warmer months.
Even in the official neighborhood boundary, as you drive further into Fish Creek Falls (and up in elevation), you'll be treated to views of the Steamboat ski resort and several mountains nearby. This includes Howelsen Hill, Emerald Mountain, and the iconic Sleeping Giant. In the spring and early summer, peek-a-boo views of the waterfall present themselves, and in the fall, changing colors stretch out in every direction.
At any given time and location in this area—but especially on Steamboat's best hiking and biking trails—you're also likely to spot resident wildlife like moose, elk, deer, black bears, foxes, porcupines, and coyotes. While they're always amazing to see, give all wild animals plenty of space and drive carefully.
Fish Creek Falls: Experience it All
Living in Fish Creek Falls, one of the best neighborhoods in Steamboat Springs, offers an unparalleled living experience. The region's natural beauty, outdoor activities, and sense of community make it a unique and attractive place to call home. The area's extensive trail system, including the famous Fish Creek Falls, provides many opportunities for outdoor enthusiasts to explore and appreciate the region's natural beauty. The area's restaurants, shops, and cultural events offer a range of activities that make it a vibrant and exciting place to live. Whether you're looking for a quiet mountain retreat or an active lifestyle, the Fish Creek Falls area of Steamboat Springs is a beautiful place to live.
If you're looking for the best home in Steamboat Springs for you, contact The Steamboat Group at (970) 879-0879 to get in touch with local real estate agents who can help you find a Steamboat Springs home you'll fall in love with.
Buying or Selling
a
Steamboat Home?
Let the
Steamboat Group Help You!
Do you want to buy a home in Steamboat Springs? Let the Steamboat Group handle it all. Contact us now to schedule a consultation and take the first step towards a stress-free home buying experience with the best real estate team in Steamboat Springs, CO.