5 Most Affordable Places to Live in Routt County: Where to Find Routt County Homes For Less
Posted by Jon Wade on Wednesday, February 15, 2023 at 1:13:17 PM
By Jon Wade / February 15, 2023
Comment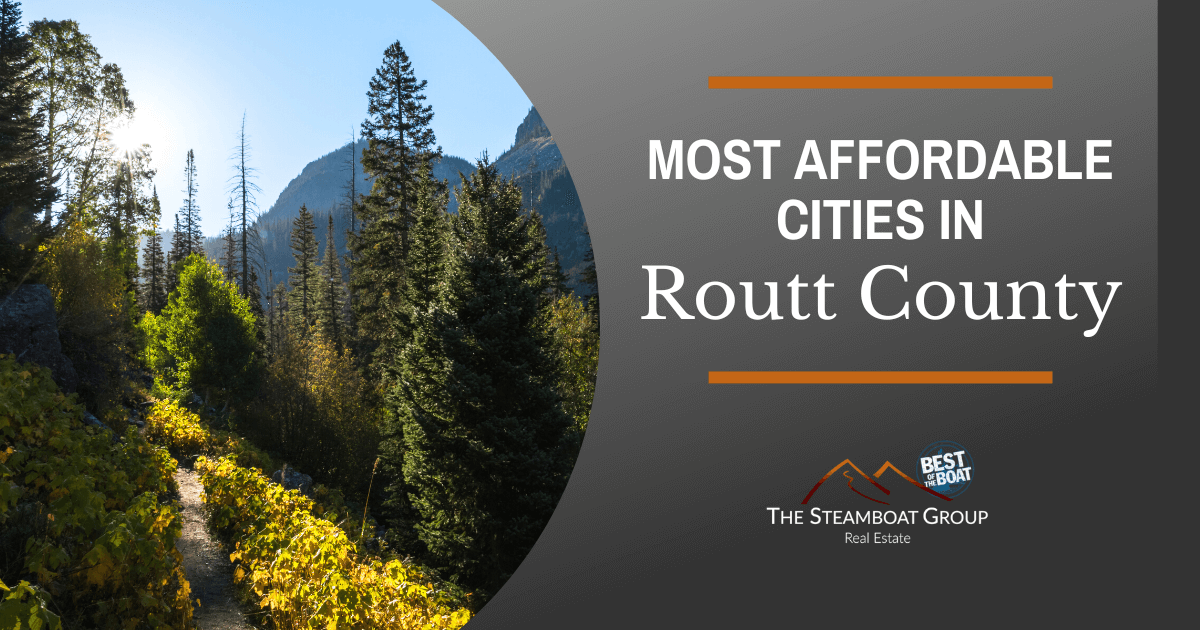 Routt County, Colorado, boasts a storied history of ranching and mining set among spectacular natural features, from breathtaking mountains and dense aspen forests to lush open meadows and relaxing hot springs.
While the county seat of Steamboat Springs is a major tourist attraction due to its ski resorts and hot springs, the region's smaller towns offer a tight-knit sense of community, privacy, and just as much access to northwestern Colorado's beautiful national forests and wilderness areas at more accessible prices.
The most affordable cities near Routt County allow residents to enjoy all the natural beauty, outdoor recreation, and privacy northwestern Colorado offers without breaking the bank.
Brown Ranch
Just west of Steamboat Springs' current city limits, Brown Ranch is a future development aiming to create sustainable, affordable housing options for the city's workforce.
The development's future site is 534 acres of former farmland, where the Brown family grew oats and wheat for over a century. Since the family moved into the city in the early 1980s, the property's rolling hills, meadows, and bluffs have been largely untouched. In 2021, the Yampa Valley Housing Authority acquired the land and quickly established a 20-member Steering Committee selected from the local community to plan Brown Ranch's development.
Brown Ranch will consist of four neighborhoods with a mix of multi-family apartments, single-family townhomes, and single-family detached homes. The community's gridded street design inspired by Old Town and downtown Steamboat Springs will feature alternating greenways closed to vehicles, putting park space within two blocks of most homes.
While the goal is to create a community that won't need to drive into town, Brown Ranch will still offer residents quick access to Steamboat Springs' many attractions, including the Howelsen Hill Ski Area, Steamboat Ski Resort, and Old Town Hot Springs.
Construction in Brown Ranch is aimed to begin in 2026, with the goal of the first homes available by the end of that year. The first phase of 1,200 condos in Brown Ranch is slated to be complete by mid-2029, and another 1,100 homes should be finished by 2040.
Brown Ranch Amenities
Yampa Valley Core Trail
Food Market
Medical Facilities
Daycare Center
Yampa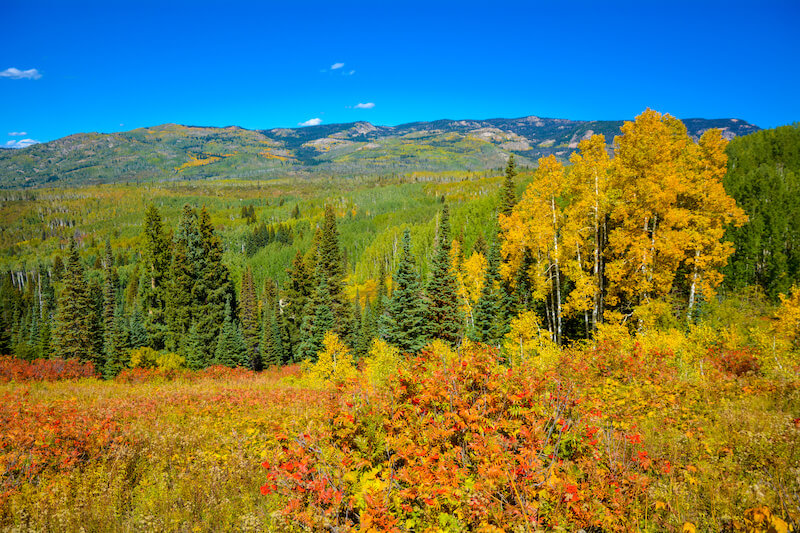 Nestled in the Routt National Forest, Yampa is a small agricultural town surrounded by excellent spaces for outdoor recreation.
Yampa began as a hunting camp named Egeria but was later renamed for the many yampa plants in the region. These flowering plants grow in the beautiful open meadows and rolling hills that are so common around Yampa. While the town's name changed, Yampa continues to be a popular location for hunting, with several local businesses supporting the practice.
Montgomery's General Merchandise sells groceries, hardware, and hunting supplies. The historic store is one of the oldest continually-operating general stores in the state and features an old-fashioned meat counter offering homemade sausage.
Meanwhile, Antlers Cafe & Bar provides a gathering spot for the community, serving comfort food like chicken fried steak and pork ramen bowls alongside draft beers, margaritas, and spirits.
The Routt National Forest, which includes the Flat Tops Wilderness Area to the town's west, is one of Yampa's star attractions. Over 160 miles of trails allow visitors to enjoy hiking, horseback riding, camping, hunting, and fishing throughout the area.
Homes for sale in Yampa start in the low $300s, although larger homes on more secluded properties can cost up to $3.8 million. However, most homes list from the $400s to the $800s.
Yampa Amenities
Yampa-Egeria Museum
South Routt Elementary School
Yampa Public Library
Stillwater Outdoor Sports
Flat Tops Scenic Byway
Hayden
Located on the banks of the Yampa River, the town of Hayden is a small community with a rich agricultural history and excellent opportunities for outdoor recreation.
Hayden's namesake comes from geologist Ferdinand V. Hayden, who surveyed the area in the early 1870s. Farmers began settling in the area in 1874, and a town was established 20 years later.
In 1913, the railroad finally reached Hayden, allowing farmers to export wheat, oats, barley, and sheep. The town held the Routt County Fair to celebrate this event, and it became an annual tradition that has continued for more than a century. Today, the fair features 4-H events, a rodeo, and amusement rides every August.
Although the railroad ceased livestock and passenger transport in 1968, Hayden remains a regional agricultural center with a few small businesses and restaurants. An ode to the town's history, Wild Goose Coffee at the Granary serves coffee and fresh-baked goods out of a repurposed granary.
Hayden is also an excellent location for outdoor recreation, with the Yampa River State Park just minutes from downtown. Spanning 134 miles of the Yampa River and encompassing the Elkhead Reservoir, the park offers camping, hiking, hunting, fishing, swimming, and river rafting.
The median value of homes in Hayden is $465,000. Some Hayden townhomes list for under $100,000, while expansive properties with luxury homes can cost up to $1.9 million.
Hayden Amenities
Yampa Valley Regional Airport
Hayden Heritage Center
Yampa Valley Brewing Company
Hayden Farmers Market
Phippsburg
Located between Yampa and Oak Creek on Highway 131, Phippsburg is a small rural community of about 200.
Phippsburg began as a coal company town in 1908 when its post office opened. Its name comes from Lawrence Phipps, a US Senator from Colorado who invested in the state's railroad.
By 1912, Phippsburg became a significant railroad yard for the Denver Northwestern & Pacific Railway and the Denver & Salt Lake Railroad. As in Hayden, the railroad stopped passenger service in 1968, but the town's railyard continues to serve the Union Pacific Railroad today.
Most businesses in Phippsburg help support ranching in the community. Flat Tops Ranch Supply sells hardware, seeds, chicks, and other farm supplies. Meanwhile, Mountain High Farrier Service provides hoof care for most horses in the area.
Homes for sale in Phippsburg list from the low $200s to $1.2 million, with most priced in the $300s and $400s. Most are medium to large, with three to five bedrooms and two bathrooms, but homes with one bedroom and bathroom are also available.
Phippsburg Amenities
Phippsburg Community Park
Stagecoach State Park
Historical Society of Oak Creek & Phippsburg
Flat Tops Storage
North Routt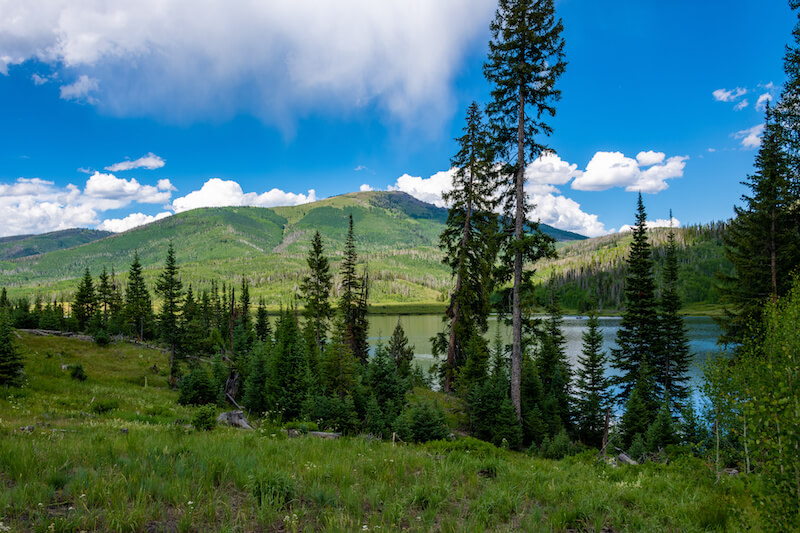 Located on County Road 129 between the town of Clark and the Hahns Peak community, North Routt is a small community tucked away in the Routt National Forest.
Gold miners, loggers, and ranchers were the primary pioneers of North Routt. The area made history when it was the first place to winter cattle in Routt County. Today, the community's main draw is the privacy afforded by an idyllic backdrop of dense forests and mountains.
Homes for sale in North Routt often feature large, secluded properties. While the largest and most luxurious houses can cost up to $7.4 million, some North Routt homes—mainly small log cabin-style dwellings—list for under $100,000. The average sale price in North Routt is about $290,000, making it easy to find affordable homes in the community.
North Routt is adjacent to the Routt National Forest's Mount Zirkel Wilderness, an excellent location for camping, hiking, fishing, hunting, and cross-country skiing. A short trip north to Hahns Peak offers access to Steamboat Lake, a beloved camping and boating spot.
Just four miles south in Clark, the Clark Store serves as a focal point for the community. This general store combines a grocery store, a full-service liquor store, and a deli to meet all of North Routt's culinary needs. The building also hosts a US Post Office.
North Routt Amenities
Pearl Lake State Park
North Routt Community Charter School
Hummingbird Quilt Studio
New Beginnings Interiors
Affordable Living Near Routt County, Colorado
Home to stunning mountains, beautiful national parks, and a compelling history of ranching and mining, Routt County offers excellent opportunities to enjoy life outdoors. Homebuyers thinking of moving to Steamboat Springs and the surrounding area can benefit from considering Routt County's most affordable cities. Activities like hiking, horseback riding, hunting, fishing, and skiing are often just minutes away from home, and local businesses and events help support these adventures. These six communities provide attractive housing that allows their residents to experience northwestern Colorado's beauty, history, and privacy at an affordable rate.
If you're looking for the best home in Routt County, contact The Steamboat Group at (970) 879-0879 to get in touch with local real estate agents who can help you find a Routt County home you'll fall in love with.