Looking back at 2011 and Forward to 2012 - Real Estate in Steamboat Springs
Posted by Erik Ramstad on Thursday, February 2, 2012 at 11:22:35 PM
By Erik Ramstad / February 2, 2012
Comment
Jon recently had the opportunity to present his analysis of the state of the local Real Estate Market to the Steamboat Chamber of Commerce. His presentation outlined events, notable sales and trends from 2011 and then looked forward to 2012 based on shifts we are seeing.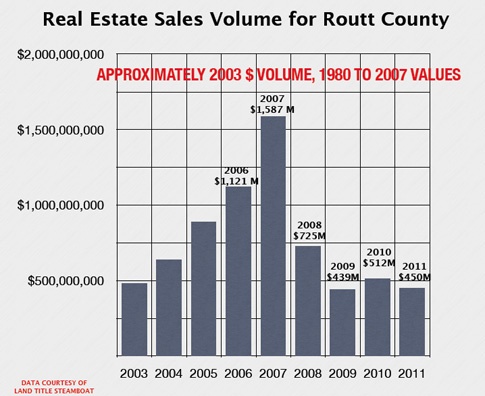 Jon's presentation began with an overview of the sales volume from the past 8 years in Steamboat. While overall sales volume of 2011 was 88% of the previous year, the shift can be accounted for in a few factors. A few notable reasons for the decrease vs. 2010 include:
The Large quantity of National Club/Timeshare sales in The Village.

$94M in 2010 down to $38M in 2011

The Lower average selling prices in much of the market

And fewer high-end distressed Single Family & Duplex homes were available for people to buy vs 2010 leaving many buyers unable to buy what they were looking for.
Continuing through the presentation Jon commented on how in a few notable areas in Steamboat - Chadwick Place, Eagle Ridge and The Villas the decrease in bank owned properties coupled with decreased inventory has led to price stabilization and in a few cases price increases in these developments. While these developments are not yet indicative of the market as a whole, it is encouraging to see this begin to show up in our market.
Looking forward to 2012 it is important to note that different neighborhoods and developments within Steamboat are markedly different not just in their attrributes and location but also in differ in history and status of distressed properties within the development. Prospective buyers should be watching the developments (sales as well as new listings and bank listings) and develop knowledge of these areas. If you are looking for insight into a particluar development, feel free to send Jon an email and he will give you a detailed market analysis on a specific development. You can call 970.879.0879 or send him an email at [email protected] .
If you are interested in learning more about specific neighborhoods or would like a copy of Jon's presentation, please feel free to send us an email at [email protected] or give us a call at 970.879.0879, Jon would also be more than happy to talk with you!
Just click to Search the Steamboat MLS via our IDX