Life in Steamboat: Are you Due for a Lifestyle Upgrade?
Posted by Erik Ramstad on Tuesday, January 13, 2015 at 10:47 AM
By Erik Ramstad / January 13, 2015
1 Comment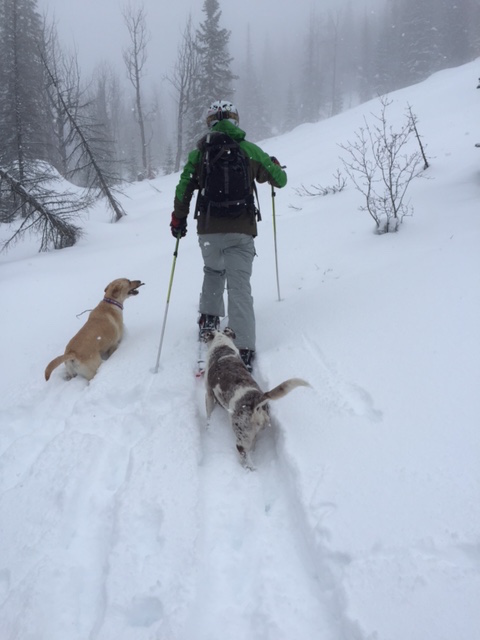 I'm not sure why this struck a chord but I got some great comments on this picture over the weekend from friends. Taking a couple of hours to skin up Buff Pass is a fairly normal part of life in Steamboat so I was a bit surprised.  One comment was from a friend in San Francisco who said "Why is it again that I don't live there Jon?"
 This made me think that we can all use a lifestyle upgrade from time to time.  I'm in the middle of one myself this week and make an effort to bring things up a notch every spring and fall. The holidays and beginning of the year were a bit crazy so I got off my game some and decided to do something fun everyday starting Saturday to get back to where I want to be fun and fitness wise.  I started with Fat Biking up Emerald on Saturday, Sunday I skied with Alden my 11yr old SSWSC racer then skinned up Buff Pass as pictured above, played in a fast hockey game last night and today I am skinning up Buff Pass again.
  I have had good success finding more time to spend with the family and do the sports I love. Getting in both together is even better. Granted it is a bit easier in Steamboat. We have a great variety of sports you can do in an hour or two out our backdoor but we can all benefit from striving to upgrade our lifestyle.  Finding more opportunities by going out before or after work with a headlamp or the moonlight, hiring the right person to enable more flexibility, meetings on skis or a bike, and of course the best one is having active friends that pull you out for more adventures.
  What would it take for you to upgrade your lifestyle?  Step above the fray and think a little, what is it you love to do and what tweaks could you make to do more of it. Sometimes it is as simple as having your gear ready to do in a bag, having a better bike rack or standing plans with friends.  All of these have been big for me since they make it easier to get out when you have a window and friends calling you out makes you figure out how.
it's easier than you think to upgrade your lifestyle wherever you are.  Why not spend a little time to figure out your priorities then get creative to shift how you spend your time to be a closer match to the lifestyle you are looking for? Would you life be better with an extra ski day, a hike or an improbable sport like fat biking or skinning up to ski in the backcountry?  If so what are you going to do about it?