How are Intrawest and the Steamboat Ski area doing?
Posted by Erik Ramstad on Sunday, February 5, 2012 at 1:29:01 AM
By Erik Ramstad / February 5, 2012
Comment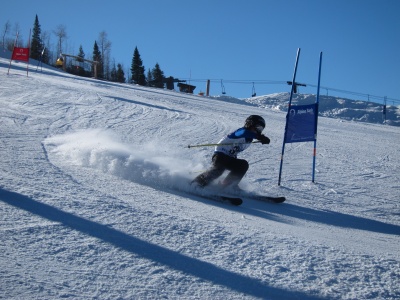 My son Alden in a SSWSC J6 race on Mt. Werner
I got a great question Saturday from someone on this blog and thought I would pass on some of what I know and or think. It's funny that I wrote myself some notes on Friday to do an update like this. Feel free to ask if you have a question and I will give you my thoughts.
Intrawest is a private company that is owned by Fortress Funds since 2006 so we can't review their financials. That said, I haven't seen negative news about them since they sold off interests in several resorts and took Whistler public and we can infer some things about their strength by their actions. These sales allowed them to retire their existing loans and put a new debt structure in place by April of 2010. The Fortress people are some of the best in the world at restructuring debt so I imagine they did a good job with this. They built their business in tough times like this. Intrawest has also right sized their organization and modernized their marketing systems over the last few years. I know a few people and some of the things they are doing are impressive.

They have stepped up investment in Steamboat a bit and top management here seems optimistic about their ability to do more going forward. Here is a an article from a meeting here this week that the Intrawest CEO spoke at. These are always worth going to. It is positive of course and doesn't speak to profitability, but I don't know anything that counters it and they have very strong backers in Fortress. It is hard to know further details, but I heard the previous issues before they were public and I haven't heard anything negative since early 2010 and that was resolved with the sales and new debt structure.

In regards to One Steamboat Place Fortress participated in the restructuring based on good sources and they have achieved a reasonable sales pace since they rationalized their debt. They are working hard to sell things but I haven't sensed continuing distress in my negotiations with them on whole ownership condos. My understanding is that Fortress also took over the Thunderhead and Ski Time Square sites from Cafritz Interests out of DC. Cafritz had bought them with Fortress in the capital stack so Fortress increased their interest and they are actively participating going forward. Seeing Intrawest add to their investments is the best sign of their capability and confidence in Steamboat for me.
One thing you show know is that Fortress has a series of funds involved. I haven't mapped out all of the entities involved but at the simplest level one fund did the Intrawest Purchase, one fund was part of the One Steamboat Place, Edgemont and Thunderhead projects as they started and one fund has stepped in to restructure these investments. It is surely more complex than this and the original funds may have done some of the restructuring but this should give you a feel for the basic structure. The way this process works, it is often the original owners that say I have no more to put in then to bring the lenders to the table. Then new money steps in at a much lower basis that makes sense today. Fortresses' structure allows them to step in with new money to bring the debt on projects down to levels they believe make sense today.
I hope that this was useful. Feel free to give me a call or send an email if you have questions or additional insights. If you are considering buying or selling real estate in Steamboat and would like this level of insight to help you achieve your goals, I would be happy to share what I know and help you make the best decision for you. You can contact me at 970-879-0879. Just click if you would like to Search Steamboat Listings .