Hot Springs & Health in Steamboat
Posted by Erik Ramstad on Friday, September 3, 2021 at 9:23 AM
By Erik Ramstad / September 3, 2021
Comment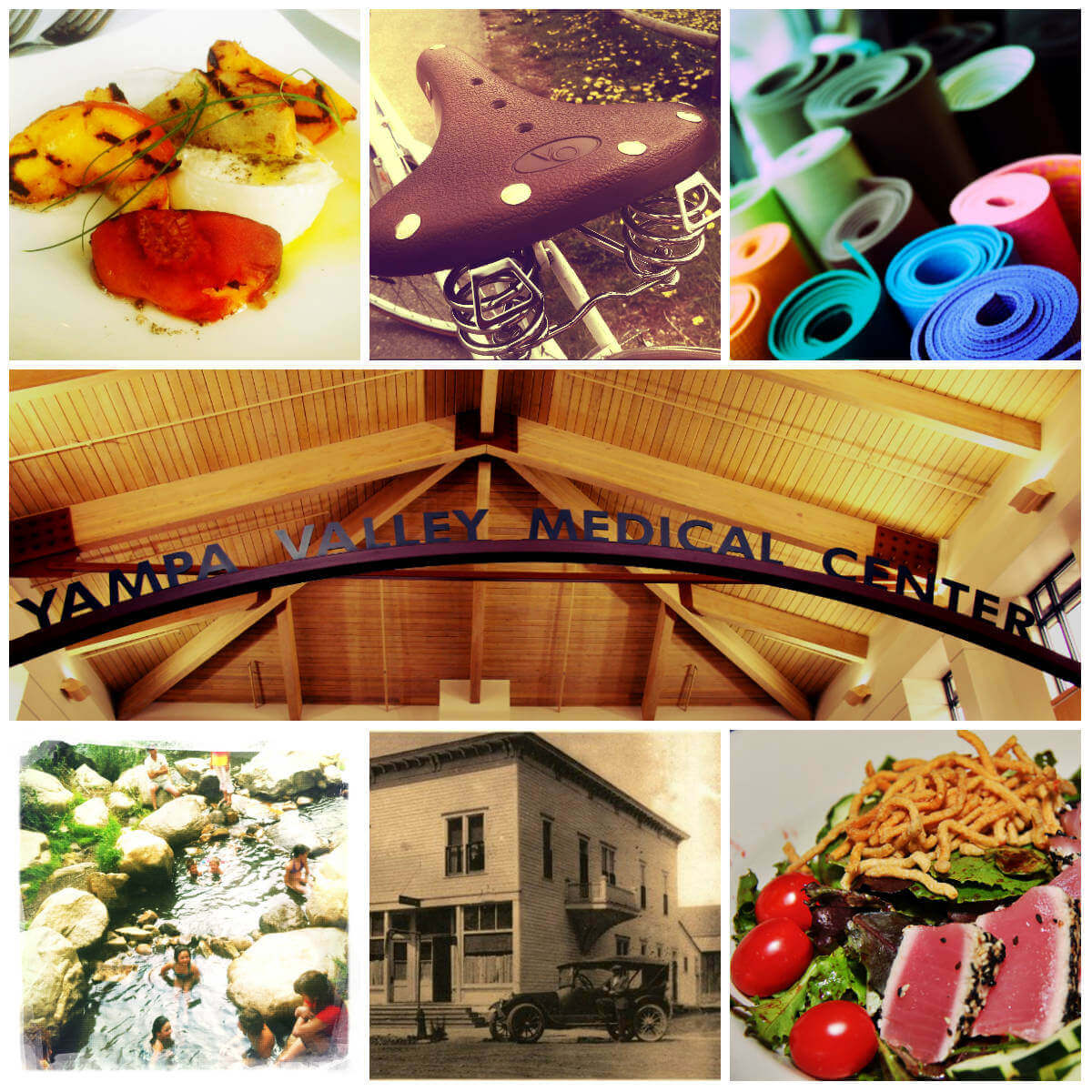 PHOTOS: Grilled Palisade peaches, cruiser bike on the Yampa Valley Core Trail, Yoga Mats inspired by the scenic riverside Yoga Center of Steamboat, Hot springs pools in Wagner Park, Steamboat's first hospital & "Doc" Willett, Ahi Tuna salad at Old Town Pub (town's historic first hospital building)
Wellness & Health in Steamboat Springs
A healthy lifestyle is nearly synonymous with living in Steamboat Springs, Colorado. Our locals spend their days mountain biking, soaking in the springs, and enjoying organic foods at in-town eateries. We invite you to get a little taste of our mountain air and see how fantastic you feel while spending time in our valley.
A commitment to wellness in Steamboat Springs goes back long before the term was fashionable all around the nation. One could say that Steamboat locals were pioneers of relaxation and rejuvenation.
Learn more about our history of relaxation and the best activities to de-stress below:
Hot Springs & The Steamboat Springs Name
The history of Steamboat Springs is fascinating. Early settlers named our town after the "chug chug chugging" sounds that the flow of the many hot springs make as they pour into rock pools throughout town. The sound of the springs reminded them of a "Steamboat" and hence the name, "Steamboat Springs" was born.
But the French fur trappers weren't the first to discover the healing powers of the Yampa Valley. The Ute Indians, who hunted here, considered the natural hot springs to have extraordinary medicinal properties and soaked often to restore their weary selves.
History of Steamboat's Health & Wellness
The town's most famous doctor, "Doc Willett", started Steamboat's first hospital in 1914, in the historic building at 6th & Lincoln (now the Old Town Pub). Doc still traveled far and wide to treat patients who couldn't trudge through the snow to make it into his care.
And his legacy and dedication lives on with the high-quality health professionals who have built our current hospital campus at the base of Mt. Werner. The "Doc Willett Awards," are a past event, sponsored by the Healthcare Foundation for the Yampa Valley, that celebrates individuals who keep us in tip-top shape here in Steamboat.
Health & Wellness Activities in Steamboat Springs
Get your "om" on while taking a yoga class overlooking the Yampa River, taste juicy Colorado produce from Steamboat's Farmer's Market or a local farm like Elkstone Farm or Bee Grateful Farm, try a mountain bike ride on Emerald Mountain, enjoy miles of road biking or just cruise to your destination along the bike path. And then be sure to soak your muscles at one of the many hot springs outposts (Strawberry Park Hot Springs, the Old Town Hot Springs Pool and Wagner Park along the Yampa River are a few of our favorites).
For a more natural experience, and if you don't mind a bit of a drive, plan an excursion to Mount Princeton, a historic landmark that dates to the 1860s. Go for a soak surrounded by boulders in their creekside hot spring pools. Take a hike through the adjacent San Isabel National Forest beforehand, and follow it all up with a spa treatment. A little over three hours from Steamboat, it's worth the trip, and you can book a cabin for an overnight stay.
Back in Steamboat, there are two distinctive experiences available to help ease aching muscles and get you in shape for a new adventure. Check out the unique offerings at Energetic Health Steamboat, where you'll be introduced to a new dimension of well-being, using tuning forks and gongs. Intrigued? Sign up for either a group session or a private experience. As an option, schedule a therapeutic massage with Kneading Hands with an appointment.
And, of course, please visit our office at Colorado Group Realty downtown and ask for Jon. We can show you how life in Steamboat Springs really is THE best medicine.
Steamboat is all about fun, but with a powerful focus on health!