Happy Halloween from the Steamboat Group
Posted by Erik Ramstad on Wednesday, October 31, 2012 at 7:53 PM
By Erik Ramstad / October 31, 2012
Comment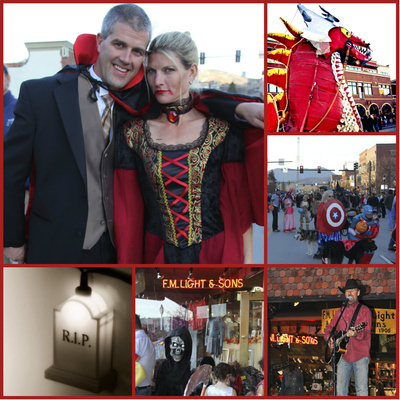 Happy Halloween and ghoulish greetings from Jon Wade and The Steamboat Group!
The Mainstreet Steamboat downtown Halloween stroll was in full spooky swing tonight with an entire community dressed in costume.  Halloween is one of our most favorite reaasons for relocating to Steamboat, and it's absolutey one of the best Steamboat get togethers of the year.  The ghosts and goblins (and in our case, vampires), take over Mainstreet. The cars are redirected off of the main drag and trick or treating pedestrians get full priority.  Shopkeepers, restaurant owners, bankers and Colorado Group Realty offer up cauldrons full of candy, haunted houses and even free French Fries for the kids and adults (thank you Johnny B. Good's!) 
Live country music performances and a fire breathing dragon took center stage for this annual community Halloween TREAT.  We don't think any other town can even come close to  the incredible fun of the annual Mainstreet Stteamboat Downtown Halloween Stroll.  All we can say is that it's all treat, no tricks and we are incredibly lucky to call Steamboat home.