Fractional Ownership: The Porches vs. One Steamboat Place
Posted by Erik Ramstad on Wednesday, September 29, 2021 at 3:15 PM
By Erik Ramstad / September 29, 2021
Comment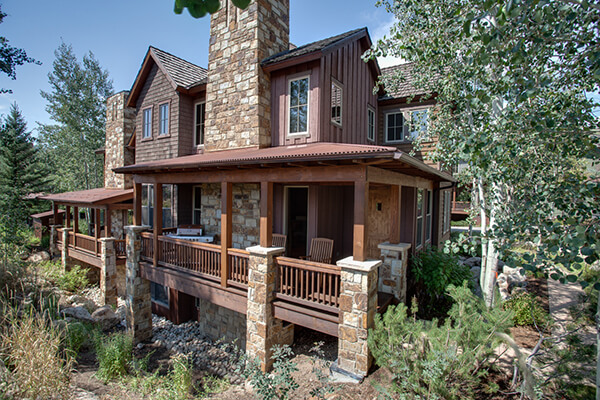 What is Fractional Ownership?
Fractional ownership is a term used to describe the shared ownership of a property. It can be a single home, condo, apartment, or another type of vacation property. In a nutshell, the property is owned by multiple individuals, and each owner has usage rights based on time. This equates to one owner using the home at a time.
How Does Fractional Ownership Differ From Timeshares?
There are many similarities between fractional ownership and timeshares in the purest definition since many people share the same property at different times. Conceptually, the idea is the same. However, the major difference lies within the plan's execution and actual ownership.
The seller of timeshares retains ownership, not the buyer, but in fractional ownership, properties are structured differently, and ownership is transferred to buyers.
With timeshares, a buyer purchases "time" to use a vacation property. In contrast, in a fractional ownership agreement, buyers are actually purchasing real estate. The buyer receives a deed for a portion of the property, which is shared with other buyers. Furthermore, instead of sharing the property with 52 or 26 other buyers like traditional timeshares, fractional ownership typically involves just 2-12 owners per unit.
Why Do People Invest in Fractional Ownership?
Fractional ownership makes coveted—yet expensive—vacation properties more affordable. For instance, rather than buy a $1 million oceanfront property, individuals reduce these costs by splitting the desired property with other buyers. A fractional share grants owners use privileges which, due to fewer individuals involved in the purchase, means more use time throughout the year. It also feels more like a "home" rather than a hotel space that owners use once a year. Because they can use it more frequently, owners have more control over the property yet still enjoy lower costs. As a result, many people find fractional properties appealing.
Timeshares depreciate quickly and experience high wear and tear due to so many people moving in and out of the property every week. Over time, these properties tend to degrade. Owners with a personal stake in the property tend to care more about maintenance and quality, which equates to a better investment over the long term.
How Much Control Do Owners Have?
Under a well-structured fractional ownership agreement, owners have equal rights and responsibilities. In many ways, they operate much like an HOA. Owners have decision-making abilities, can hire or fire property managers, and, ultimately, enjoy better control over their vacation property. Property managers typically operate the home according to owner directives.
Fractional properties are similar to buying a single-owner home. Unlike timeshares, which never increase in value, fractionals are viewed more favorably because the property is an appreciable asset that can be bought and sold.
Benefits for Fractional Ownership
In addition to enjoying the ability to have longer and more frequent vacations at the property, owners also realize other benefits.
Since buyers own equity, they eventually get an ROI since properties appreciate.
Lenders recognize fractional properties as owning equity (unlike timeshares where no equity is realized), which means they view these properties more positively and are more willing to approve a mortgage or loan.
Properties usually offer larger living space when compared to hotels and timeshare resorts.
Owners spread expenses and risks with other owners, decreasing their financial obligations.
Essentially, buyers who want to invest in a vacation home but can't afford the space they want typically find fractional ownership to be a great alternative.
As with any vacation or other property purchase, buyers should always weigh the pros and cons to help them make the best decision that aligns with their financial health and preferred lifestyle.
The Porches and One Steamboat Place are two communities in Steamboat Springs where fractional ownership is possible.
Take a look at the differences between the two and see where you might benefit the most when looking into fractional ownership for yourself:
Cost of Ownership
The Porches: 4 Bedroom/4 Bathroom - $170,000
One Steamboat Place: 4 Bedroom/4 Bathroom - $330,000
HOA Dues
The Porches: 4 Bedroom/4 Bathroom - $15,703/Annually
One Steamboat Place:4 Bedroom/4 Bathroom - $17,147/Annually
Usage Weeks
The Porches: 6 Weeks + Space Available + Ability to Rent Up To 4 Weeks
One Steamboat Place:4 Weeks + Space Available (No Rental Ability)
Square Footage
The Porches: 4 bedroom/4 bathroom - 4,026 SF
One Steamboat Place:4 bedroom/4 bathroom - 2,279 SF
Car Storage
The Porches: Finished & Heated 2-Car Attached Garage
One Steamboat Place: Parking Garage - 1 Assigned Spot
Access
The Porches: Exterior Access through Front Door of Home or Private Garage
One Steamboat Place: Hallway Access and Elevator to get to Room
Amenities
The Porches: Amenity Community Barn, Pool, Hot Tub, Gym, Shuttle, Game Room, On-Mountain Ski Valet, On-Site Concierge
One Steamboat Place: Owners Lounge, Pool, Gym, Hot Tub, Spa, Golf Club Membership, Restaurant, Shuttle
Pets
Owners Only at Both Properties