Fly Fishing in Steamboat Springs
Posted by Erik Ramstad on Thursday, July 22, 2021 at 7:02 AM
By Erik Ramstad / July 22, 2021
Comment
We created this video to showcase the beauty and serenity of Steamboat's landscape and its fantastic fishing waters. If you are a fly fisherman, this video gives you a great overview of what the Yampa & Elk Rivers in Steamboat have to offer.
Interviews with fishing guides and local fly fishing enthusiasts continue throughout the video, giving you a deeper insight into the fishing that Steamboat has to offer.
And even if you are not a fisherman, the video does a great job capturing a bit of the Steamboat lifestyle and the beautiful landscapes around town. This video is a great resource for anyone curious about Steamboat Springs.
Learn more about fly fishing in and around Steamboat Springs below:
Colorado Rivers Best For Fly Fishing
Any sports fisherman will tell you that Colorado rivers and streams are some of the best in the nation. Summer fly-fishing for trout near Steamboat Springs has become almost as popular as winter skiing. Visitors find lots to love and tons of things to do in Steamboat Springs.
Our authentic Rocky Mountain town is situated at an elevation of 6,700 feet. It is known not only for stunning mountain topography but also for its clear water and the many rivers, streams, creeks, and nearby lakes.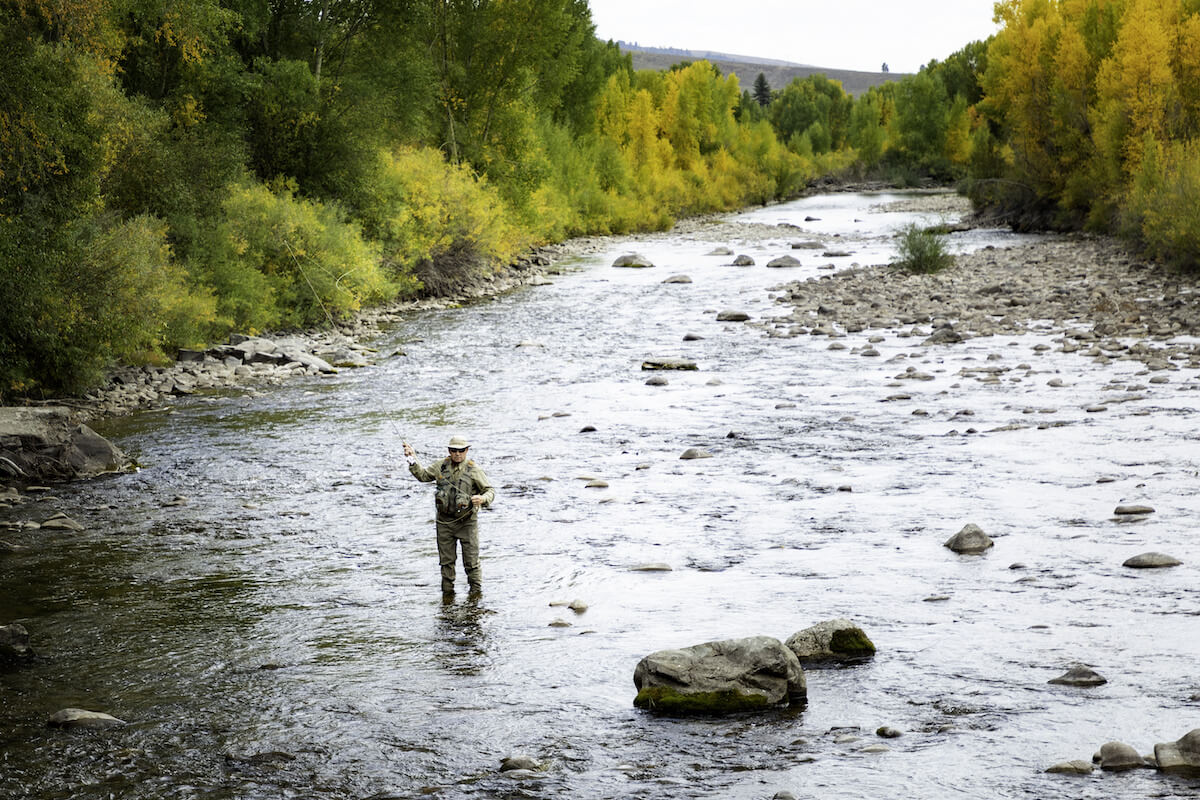 Best Places to Fly Fish in Steamboat Springs, CO
Yampa River
The Yampa River snakes its way right through Steamboat Springs, and the Yampa is where the locals head to catch the Rainbow and Browns that live in its clear, fast-flowing water. Fishing is a year-round pastime, even when the snow is falling!
Elk River
Cast a line right in town from a public-access fishing area, or head a short distance out of town, to the Elk River or a state park, for a great fishing experience. You'll have stories to tell the folks back home, no matter which option you choose.
Stagecoach State Park
Catch rainbow trout and northern pike at Stagecoach State Park, the closest to town. The state record pike was caught in the reservoir here. But a catch-and-release-only stretch of the Yampa, known as The Tailwater, is the prime place to snag rainbow, brown, and brook trout.
Steamboat or Pearl Lake State Parks
Steamboat Lake and Pearl Lake State Parks are about 45 minutes north of Steamboat and offer varied experiences. Fish from the shore or rent a boat; well-stocked marinas offer gear, bait, and supplies as well as licenses. Pearl Lake is known for its arctic grayling, a rare, hard-fighting sportfish.
Several other fine fishing holes are easily accessible as well. The western Yampa River is where you'll find trout, northern pike, smallmouth bass, and perhaps even catfish.
Fly Fishing Gear You'll Need
As for any outdoor experience, proper gear is essential. Colorado water is cold, even in mid-summer, so you'll want quality waders that give you sure footing on slippery shores and rocky river bottoms.
Other than the basics, you can bring your own hats, vests, rods, nets, and lure, or get what you need locally. Just be prepared for weather and temperature fluctuations in the Colorado mountains. Guides and outfitters are readily available in Steamboat.
Fly Fishing Tips & Regulations
Non-resident licenses for one-day or five-day duration are available, and you can purchase licenses online, over the phone by calling 1-800-244-5613, or in-person from Colorado Parks and Wildlife or authorized agents (including at state park marinas).
You'll want to check regulations for the specific areas you intend to fish, and you'll definitely want to order a habitat stamp if you want to fly-fish for trout and other species that have limits.
Interested in learning more about fly-fishing in Steamboat? Ask Jon at [email protected] or 970-819-0879 for his recommendations on where to go and who to meet up with if you are interested in a tour.