Fall Colors in Steamboat Springs
Posted by Erik Ramstad on Thursday, September 9, 2021 at 3:57 PM
By Erik Ramstad / September 9, 2021
Comment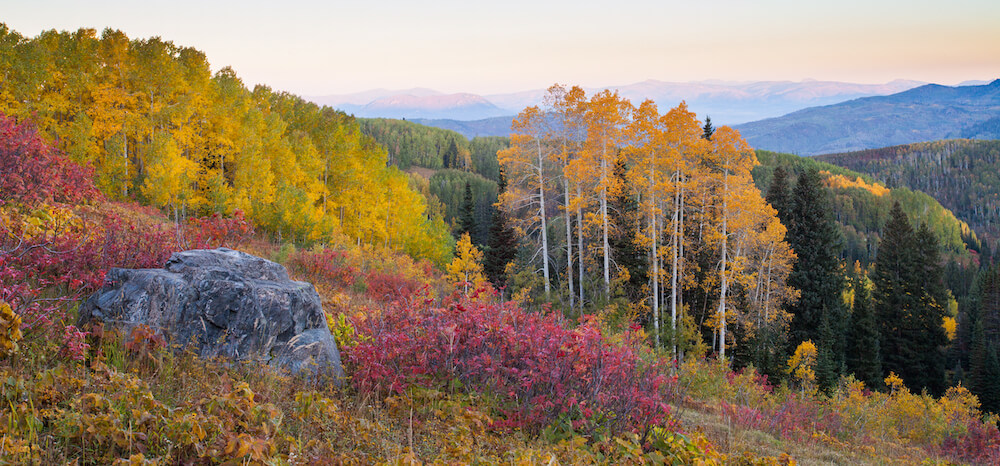 Fall in Steamboat: A Local's Paradise
Fall is unforgettable in Steamboat Springs. As the sun starts to set a little earlier over the Yampa Valley and the crisp morning air breaks to beautiful afternoons, the peaks and valleys surrounding Steamboat Springs transform into one of the most beautiful spots in the state.
Parents love it because school starts again, and kids love it because it means ski season will start soon. Locals love it because the trees and landscape shift into beautiful shades of yellow, orange, and green, and businesses love it because local fall happy hours can begin!
Spectacular Fall Colors
From mid-September through mid-October, the mountains and valleys surrounding Routt county start their amazing transformation. It begins in the highs peaks, then quickly makes its way to the river bottoms.
Fall Activities
During fall in Steamboat Springs, our favorite fall activities range from riding the golden stands of Aspens on Emerald Mountain, hiking the trails around Hahn's Peak and Steamboat Lake, playing a round of golf in the stunning scenery, or just cruising around town.
Scenic Autumn Drives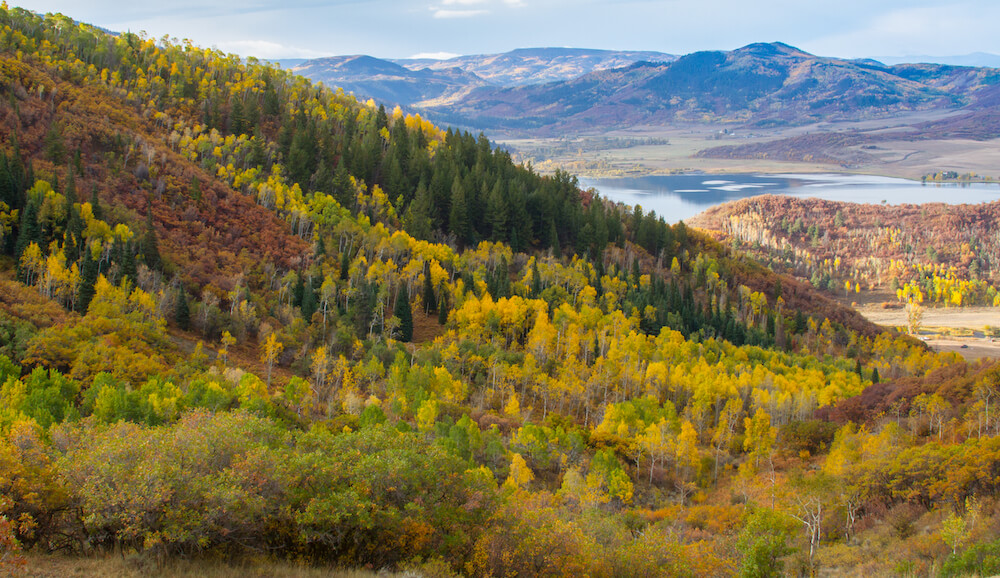 If you are looking for a quick weekend getaway or an afternoon drive, here are a few scenic drives to make color hunting more enjoyable and leave you breathless:
Leaving the town of Steamboat Springs, heading North on County Road 129, brings you to the sleepy mining town of Hanh's Peak village. Enjoy stunning views from the top of Hanh's Peak or enjoy an afternoon of fly fishing in one of several lakes surrounding the area.
Alternative Route near North Routt
One of our more popular drives, the Elk River Valley, is one of the prettiest spots in the state. This area has a unique blend of agriculture, river bottoms, and high peaks, and the colors are as diverse as the landscape.

Drive north on county road 129, making sure to stops at the Clark Store for coffee and a snack. This charming spot is the gateway to the Mount Zirkel Wilderness.
Taking a left at the Clark Store will bring you to County Road 62. Traveled by few but loved by many, this drive will not only leave you breathless, but you will quickly run out of room on your camera with the number of pictures you will take.
The roads bring you around the south side of Steamboat Lake and have amazing views of the Zirkel Wilderness area, Sand Mountain and Hahns Peak. There are several side trips you can take once you are back on County Rd 129. Adventures can continue north to Wyoming, through Big Red Park, or drive to the end of Seedhouse Road and take a hike in the Zirkel.
Buffalo Pass Road
Located a stone's throw from downtown Steamboat Springs, Buffalo Pass Road is a local favorite and one of the easiest places to find spectacular fall colors. Early morning risers have a great chance of seeing elk and moose roaming the open parks between the grandstands of pines and aspen. Ridges and Valleys dominate the skyline, with photo ops around each turn.
Spring Creek trail is located off this road, so riders and hikers can enjoy the scenery as well. Don't miss an area know as "Rainbow Ridge." Just five miles up from the base of the pass, viewers will get wonderful views of Rocky and Crystal Peak. Topping out at 11,000 feet, this is usually the first place in the area to start changing. Take County Road 36 towards the Strawberry Park Hot Springs and, one mile out, make a right onto Buffalo Pass Road.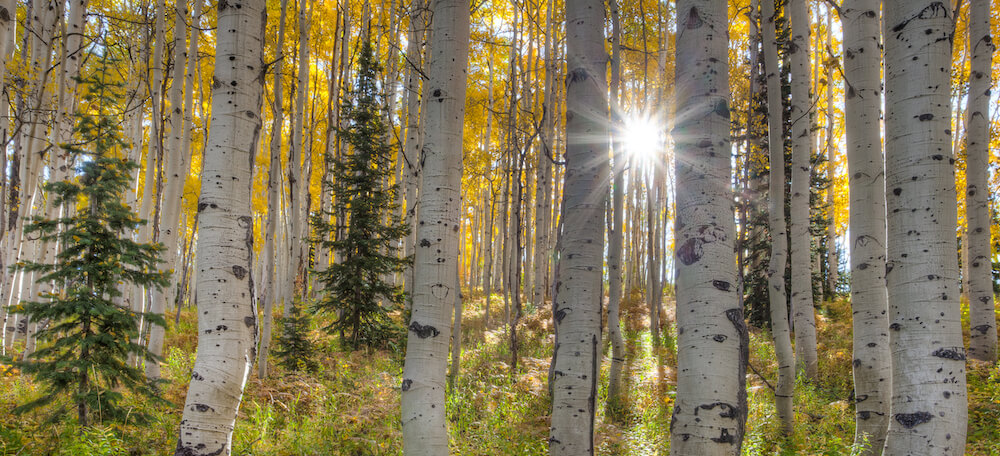 Flattops Scenic Byway
Located just outside the sleepy town of Yampa, the Flattops area is one of our nation's largest wilderness areas. Known for the state's largest herd of elk, grand aspen stands, and broad alpine vistas, this area is truly one of our Nation's treasures. Driving out early increases your chances of seeing elk, deer, moose, and other wildlife.
There are many places to stop and stretch your legs, and don't forget to bring your fly rod. Yamcola, Upper Stillwater, and Stillwater all have populations of Rainbow and Cutthroat Trout. Take Highway 131, located just south of Steamboat Springs, all the way to the town of Yampa. Head down the main street and follow the signs. Don't forget to stop at the famous Antlers Bar and Grill for a cold one.
Steamboat Springs Fall Activities
Steamboat Springs is generally one of the first spots in the state to change colors. If you don't like driving, there are many good spots right in town to enjoy the fall colors.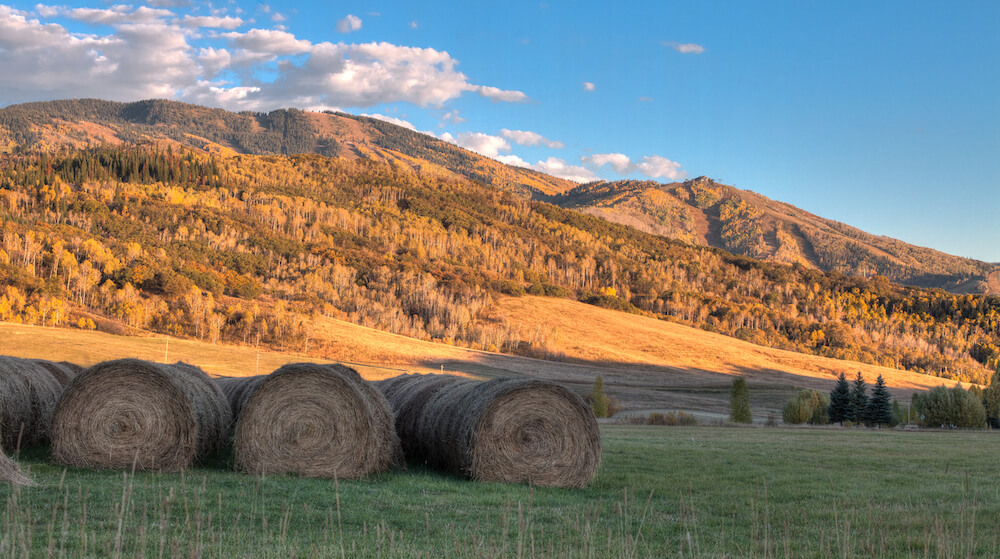 Simply renting a bike and taking a leisure stroll down the Yampa Core trail will lead you to wonderful photo opportunities. Spring Creek Trail, one of our most popular local trails, is located within the city limits and can be accessed a short distance from Downtown.
Here are events that make fall special in Steamboat:
Restaurant Week
Steamboat Restaurant Week begins September 24 to October 2. This event features local restaurants that serve specials to foodies and casual eaters alike. With this opportunity, you'll be able to explore local restaurants and their favorite meals!
Fall Hiking
When else can you enjoy all of Steamboat's colors? My favorite hikes in the fall are Spring Creek Trail (a classic, and a trail that I hike every week with my family) and Mad Creek Trail. Of course, though, any hike is a good hike in the fall or anytime in Steamboat.
Warm Brew Season
Trying all the different fall coffees and teas is always a good time, especially a good pumpkin spice latte. Routt County hosts a variety of good coffee shops that you can try out. Each of them is also a good place to sit and get some work done or talk to friends!
Fishing
You can fish before it gets too cold, allowing you the chance to catch a trout while also not freezing your waders off.
Drink beer, join a cook-off at Gondola Plaza and watch some hockey. What more could you want?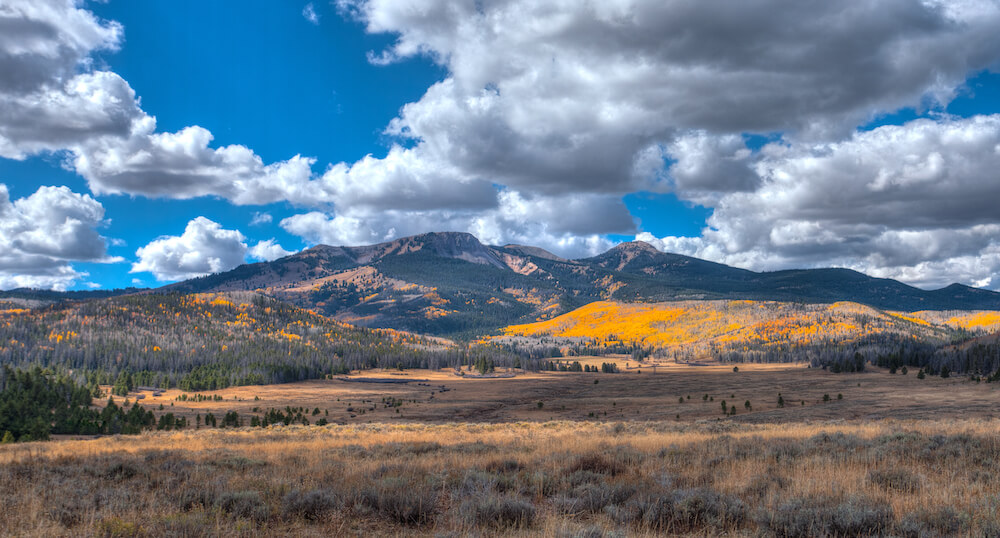 Go Shopping
Every summer item is on clearance! Go rummaging and shop 'til you drop!
Fall in Love with Fall in Steamboat
Fall is a local's time to shine in Steamboat. Be aware it's easy to fall in love with Steamboat Springs. One trip might be all it takes, but I can think of worse things that could happen to you.
So come visit us and introduce yourself! Who knows, soon you might be a local too. There is no better time than Autumn to enjoy this wonderful place we call home.