Steamboat Springs 5 Best Wildflower Hikes
Posted by Erik Ramstad on Friday, August 6, 2021 at 12:58 PM
By Erik Ramstad / August 6, 2021
Comment

Colorado's summers may be short, but for a few weeks, starting in mid-July and running until the end of August, we are treated to a wildflower extravaganza. As the last snowdrifts melt and the sun reaches its pinnacle, the high country surrounding Steamboat Springs, Colorado, is transformed into a rainbow of colors.
This site is to hard to explain and must be seen for yourself. Fields of green suddenly burst alive with splashes of reds, yellows, and purples. Behind every rock, growing out of old stumps and sprouting up from the seemingly barren ground, there seems to be a flower growing.
Across the Yampa Valley, there are more than 100 species of colorful wildflowers. From iconic columbines to vibrant yellow mule's ears and Indian paintbrushes, the hues, shapes, and sizes to be discovered seem limitless. Finding a field or roadside filled with lupines, geraniums, larkspur, and wild sweet peas can create treasured photos.
Fortunately, there are several wildflower hikes around Steamboat Springs that draw locals and visitors in the spring and summer. Here are a few of the best places to go to see nature's floral shows free of charge:
Summer Wildflower Walks in Steamboat Ski Area
Viewing wildflowers in early summer is best at lower elevations, while one should go higher in the peaks in late summer. One of the top areas for mid to late summer is the Steamboat Ski Area.
The staff there offers free guided hikes on Tuesdays and Thursdays from mid-July to late August. Popular sightings include the glacier lily, buttercups, Jacob's ladder, and Lady's slipper.
Rabbit Ears Pass: A Colorful Dumont Lake Destination
There are many places around Colorado to witness this brief miracle, but Rabbit Ears Pass is one of the most popular destinations. Located a short drive from Steamboat Springs, the drive is quick, and the rewards are great.
Just off U.S. Highway 40 at Rabbit Ears Pass, hikers will discover large beautiful wildflower fields all around the water. Hit the 6-mile loop and hike across to the iconic rock formations near the pass, where the lush meadows are colorful and inviting. Common flowers include blue-purple Colorado columbines, brilliant Indian paintbrush, orange wild buckwheat, Geyer's larkspur, and reddish-orange agroseris.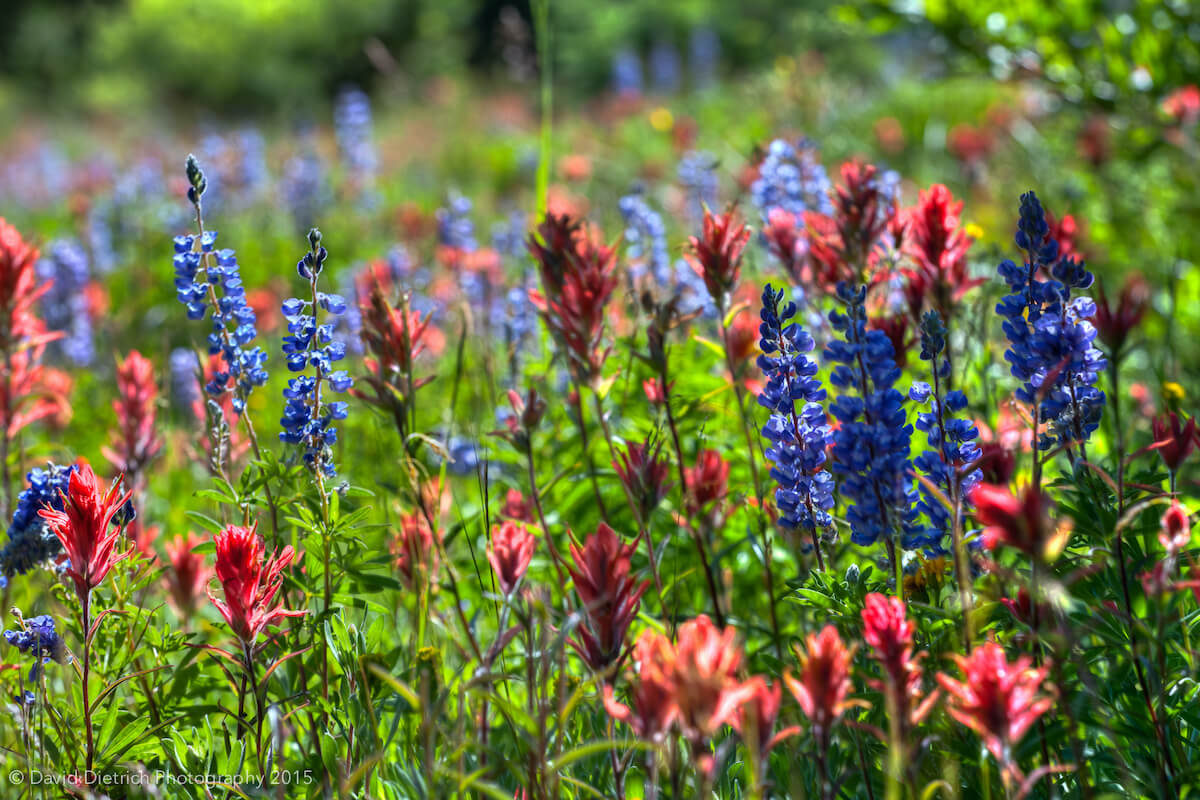 As Highway 40 winds through this high mountain plateau and makes its way back to Denver, you quickly realize that you are in wildflower heaven. Immediately upon reaching the summit, the red colors of the Paintbrush begin to dot the roadside. The surrounding fields are dotted with purple Lupine mixed with yellow Alpine Sunflowers. Make sure to bring your camera along because there is a photo waiting around each corner.
This pass has always been named one of Colorado's most popular wildflower destinations, not only for the beauty but for the ease of access. There are plenty of places to pull off and explore, or you can simply stay in your car and enjoy the ride. For the adventurous type, try hiking to the top of the famous Rabbit Ears. This 6-mile round trip is a great adventure, and the rewards at the summit are well worth the hike. The trailhead is located just beyond the Dumont Lake campgrounds. This is a Forest Service Campground with a picnic area and restrooms. It's a great place to spend the weekend hiking, fishing, or just relaxing.
Colorful Mad Creek Trail
Mad Creek Trail is likely one of the most diverse paths. Filled with deep canyon views and Aspen groves, the trail is only 1.5 miles long, yet it offers dozens of varieties of wildflowers from late spring through mid-August. The best viewings are in mid-July.
Late Summer Wildflower Hikes
Later in the season, higher elevations are the place to spot the brightest colors. Within the Mount Zirkel Wilderness Area, stunning wildflower fields around Coulton Creek feature species including:
Lousewort
Red Gilias
Waterleaf
Purple Vetch
Spearmint
Columbines
Whipple's Penstemon
Aspen Sunflowers
The Flat Tops Wilderness Area provides a vivid display of lupine and columbines. Other notable blooms that crop up include Indian paintbrushes, pine grosbeaks, wood nymphs, chiming bells in blue, elephant heads, and pink queens crown and white bog orchids.
Go Wild for Wildflowers in Steamboat Springs
The vibrant hues of wildflowers abound in spring and summer in Steamboat Springs. Make time to soak in the beauty of these natural wonders before the cool weather sets in this year.