The Steamboat Group Fund | How We Give Back to Steamboat Springs
Posted by Jon Wade on Tuesday, December 7, 2021 at 12:59 PM
By Jon Wade / December 7, 2021
Comment
How The Steamboat Group Gives Back to Steamboat Springs
We love Steamboat and are proud to have the opportunity to live here. Our mission is to give you an unmatched experience and give back generously to keep Steamboat the special place we all love.
We are an independent, family-owned real estate brokerage that believes in putting your interests first and working hard to help you realize your dreams in Steamboat Springs. Interested in learning more about our approach? Keep reading to learn more about what we do for our community.
What is The Steamboat Group Fund?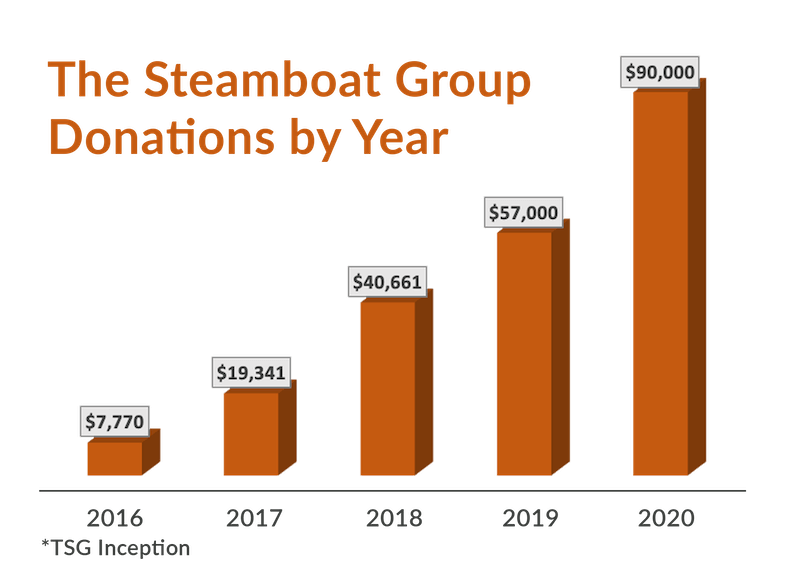 ??By choosing to work with The Steamboat Group, you are supporting our mission of Helping Keep Steamboat Special. Every month we make a donation to the TSG Fund held at The Yampa Valley Community Foundation. Throughout the year, our group then partners with YVCF to allocate money from The TSG Fund to local nonprofits and events with needs that align with our group's mission.??
In 2020, The Steamboat Group Fund raised over $90,000 in contributions to 34 local nonprofits in order to meet the increased needs of our community. "We continue to be touched by the generosity of this community," said Wendy and Jon Wade, owners of The Steamboat Group. "Thank you to everyone who donated during this difficult time to help those in need."
??When locals are struggling, local nonprofits develop programs and resources to support those in times of need. We want to support those nonprofits because sometimes, we all need a little help.??
We also want to support programs that promote adventure and the active Steamboat lifestyle so many people move here for. From trail maintenance to gravel bike rides to the high school ski team, we want to help others of all ages have the opportunity to fall in love with the great outdoors.
LiftUp of Routt County Produce Drive
Every year, the community of Steamboat Springs shows how caring it is while raising produce for the LiftUp of Routt County Produce Drive. Twice per year, we volunteer at City Market to collect produce for our local food bank.
Literally A Whole Ton Of Produce For Our Local Food Bank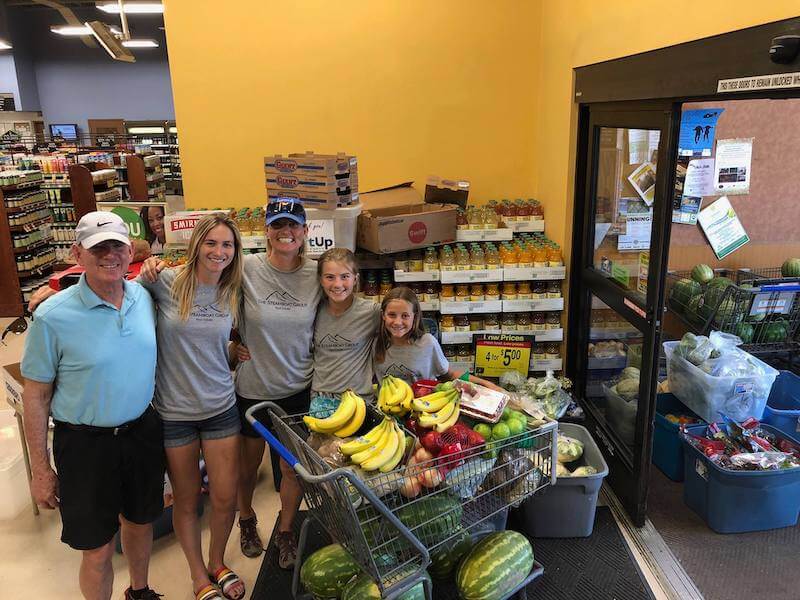 In summer 2018, our real estate group met at City Market, along with Bridget and Paul Ferguson volunteering from Lift Up, and began asking the community to grab an extra item or two to donate while they did their Saturday shopping. Everyone was so receptive! The Steamboat community is one big family. Our little community always seems to come together, surround these big issues and figure out how to resolve them or help alleviate hardship. After handing out hundreds of shopping lists, reusable bags, and even answering a few questions about other Lift Up programs, it was time to weigh the produce. The total came in at 2,156 pounds and $895!
The following summer, Steamboat did it again—2,770 pounds of fresh produce and $4,000 raised for LiftUp of Routt County! Every year, it never ceases to amaze us how caring a community Steamboat Springs is.
Thought that was a lot of food? In 2019, one of our drives brought in donations of over 3,000 pounds of fresh produce for community members and families in need in Routt County. We then raised the bar, and the community met the challenge; at our next drive, our generous community donated just over $5,000, and we matched $5,000 to deliver $10,000 to LiftUp. Their Director Sue Fagelin said that would allow them to provide fresh produce all fall. Thank you, Steamboat!
It was heart-warming to see firsthand how many people stopped to grab a list and shop for a good cause. Families, visitors, realtors, business owners, City Market employees, and many young adults all donated anything they could. It's so easy for the members of The Steamboat Group to continue to invest in our mission of Keeping Steamboat Special because the love for our neighbors and our town is shared community-wide by so many.
United Way Day of Caring
The United Way Day of Caring is a well-known way to give back in Routt County. This half-day event brings volunteers together to help work on projects for nonprofits and individuals in need, hosted by Routt County United Way since 1998.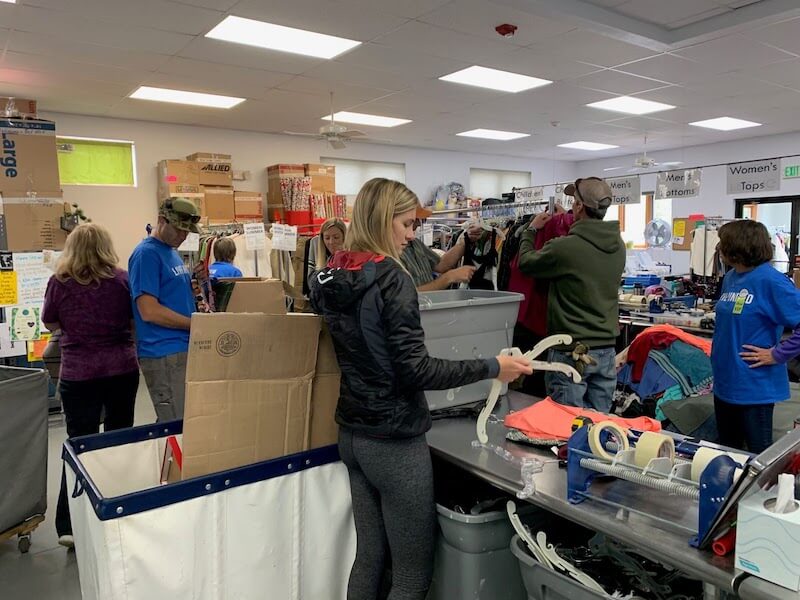 In 2019 our staff participated in the United Way Day of Caring at Routt County LiftUp by cleaning the store, shelves, and windows and sorting through donations.
As a part of The Steamboat Group's goal to "Keep Steamboat Special," we often donate our time to assist in projects around town. In the past, we have painted the "kitty land" of the Routt County Humane Society and also donate to The Yampa Valley Community Foundation every time we close a home sale.
Yampa Valley Gives: A Day to Help Keep Steamboat Special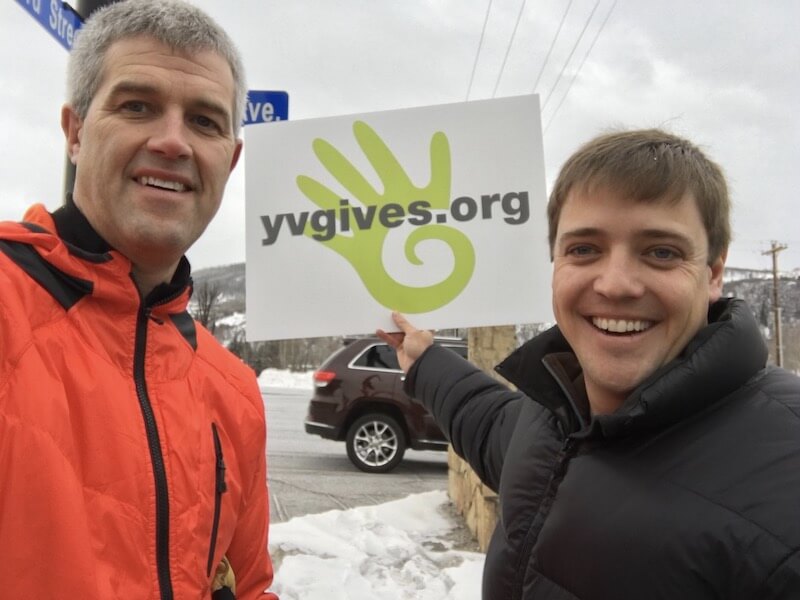 This is an excellent chance for people who love Steamboat Springs to make many local nonprofits' holiday season a little brighter. In a community that gives so much back, Yampa Valley Gives is an event that is important to us all.
Yampa Valley Gives is a localized part of Colorado Gives Day. This statewide event takes place the first Tuesday in December every year, raising funds for more than 50 vetted and verified nonprofits in the community. Glen Traylor of Ski Butlers brought this program to our valley, and it has made a huge impact already.
Reflecting on the event, Jon Wade stated, "There are so many wonderful non-profits in our community. This is a way for the community to give back to programs that touch all our lives. This money is important to help keep the lights on and the door open. We are giving to programs we truly believe in, and it's a great way to help them out." Our whole group supports Yampa Valley Gives, and we hope that you will too.
Statewide, there is also a $1 million incentive fund sponsored by Community First Foundation and FirstBank, distributed to all participating nonprofits according to the overall share of funds raised by the event. Please check it out and consider giving to the organizations that mean the most to you. For more information or to make donations, visit the Yampa Valley Gives website.
As an Office of Mountain Bikers, We Support Our Community's Trails
The Routt County Riders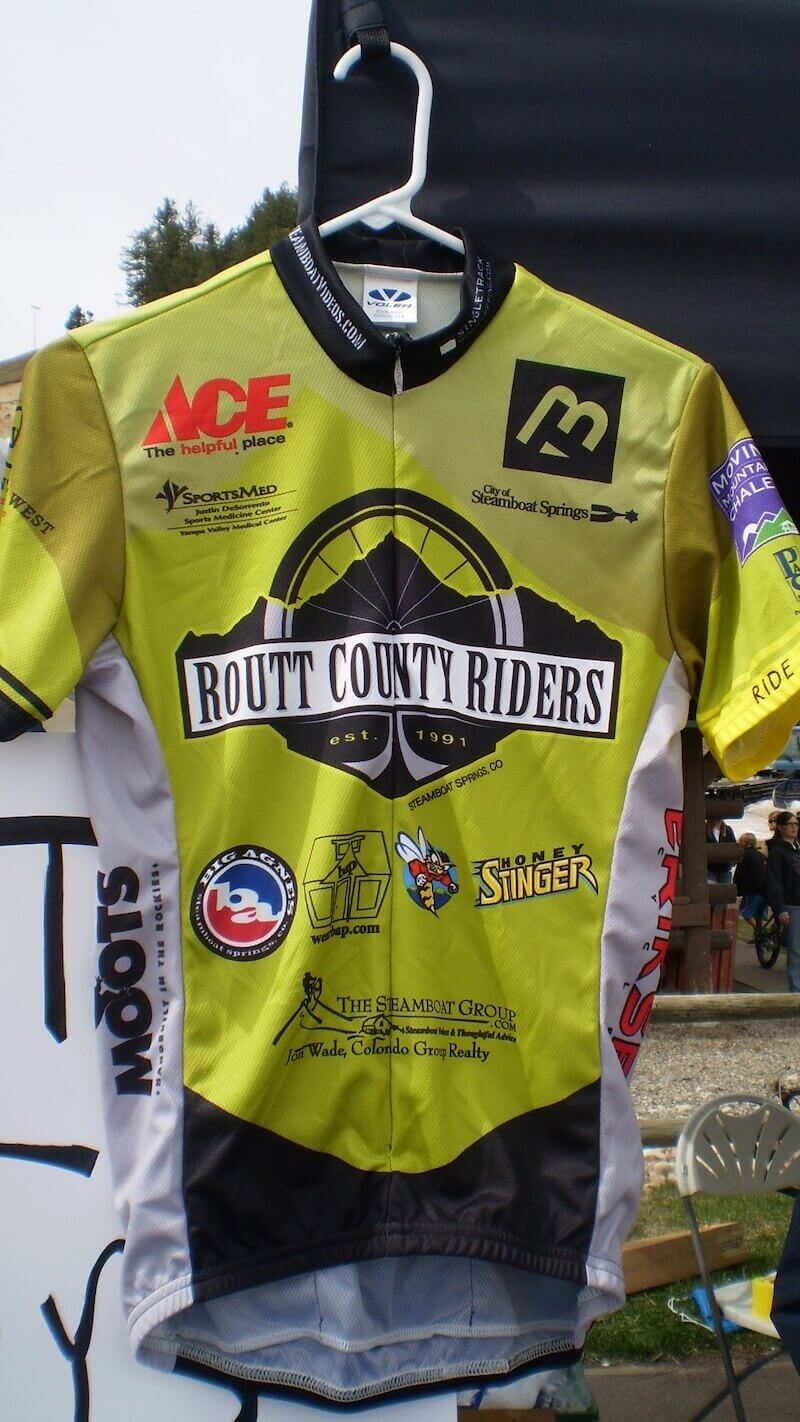 We're big supporters of cycling and ride a lot ourselves. In 2010, we were proud to sponsor the 2010 Routt County Riders jersey. Steamboat is a huge biking town and has a great network of trails. Steamboat has also been designated as a bicycle-friendly community.
If you're a biker and like having a group look out for your interests and stage events along with actively building and supporting trails, we highly recommend joining Routt County Riders. The club is focused on the following areas: development and maintenance of sustainable mountain bike trails; grant writing for trail projects; the annual Steamboat Bike Swap; Bike To Work Week; the Bicycle Friendly Community Initiative; the Steamboat Springs Stage Race; junior cyclist development; promotion of group rides for roads and mountains; cycling advocacy; the Bicycle Friendly Community advisory group; the Safe Routes to School advisory group; the County Pedestrian/Bikes Commitee advisory group; and Share the Road campaigns.
We can give you ideas of where to ride, bike-related activities in the area, and current club activities.
Tokens for Trails
In 2018, The Steamboat Group participated in another successful Token Tuesday at Mountain Tap Brewery, located just below our offices at 910 Yampa St. The Trail Maintenance Endowment Fund was one of the four beneficiaries, and we decided as a group to match the funds raised for The Trail Maintenance Endowment Fund from our TSG Fund.
The community and Mountain Tap Brewery were able to help raise $461 for The Trail Maintenance Endowment Fund that month, so we matched every dollar, totaling $922 raised just by coming out and enjoying a local brew. We are so grateful for Steamboat's love for its local nonprofits and this amazing event Mountain Tap created that has become a staple on Tuesdays after work. We are also thankful for all the work YVCF does to maintain the Trail Maintenance Endowment Fund and the volunteers who selflessly give their time to work on the numerous trails' projects.
Run Rabbit Run
Bikers aren't the only people who love to use the trails. In the past, the Wade family has volunteered by helping aid runners of the Run Rabbit Run Race along the trails on Emerald Mountain with food and water throughout the night. In 2018, when the race ran into trouble, it wasn't even a second thought for The Steamboat Group to come together and make a donation to help the race achieve its charity goals. Run Rabbit Run donates to local nonprofits and trail maintenance organizations that make the race possible and help so many community members in our town. With the community's help, they were able to raise and give around $35,000.
The Steamboat Group Awarded Business Philanthropist of the Year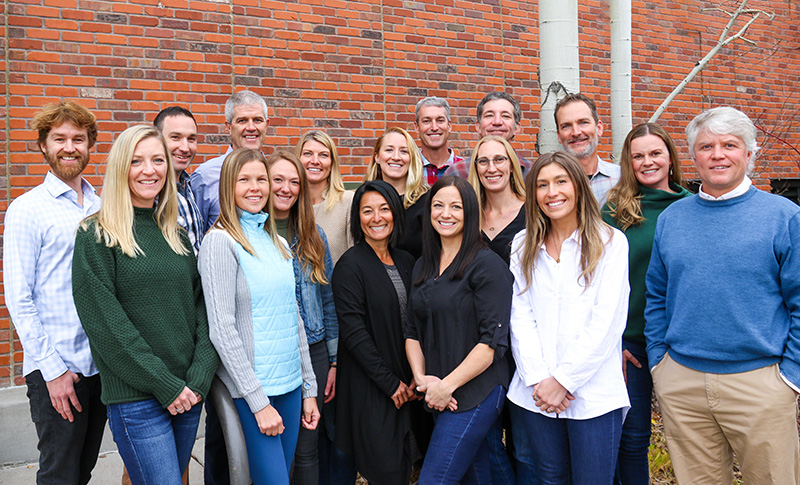 In 2019, The Steamboat Group was given the Yampa Valley Community Foundation's Business Philanthropist of the Year award. This award is truly an honor to receive in Steamboat, where charity and philanthropic work is a value that locals hold dear.
If you want to read more about The Steamboat Group working with philanthropy, check out our TSG Fund!
The Steamboat Group: Serving Steamboat by Taking Care of Our Community
Steamboat locals work together every day to better the community and preserve our amazing town. Our group actively works to help that cause, as each of us are so grateful for the community that we call home.
Thank you to everyone who helps with our vision, including the Yampa Valley Community Foundation and our amazing clients. We are excited to continue to build the TSG Fund and support programs that will help Steamboat remain the special place we all love.