Chasing Winter Rainbows
Posted by Erik Ramstad on Friday, March 6, 2015 at 3:25 PM
By Erik Ramstad / March 6, 2015
Comment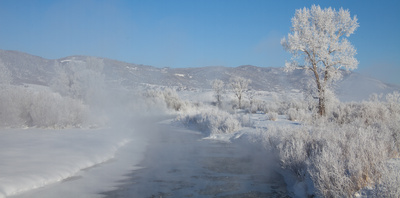 My fly line goes tight as my strike indicator disappears under the surface, "Fish on" I yell. The large rainbow trout breaches the icy waters of the Yampa River and starts a frantic run upstream. Scrambling to keep him close, I make a mad dash after him, stumbling over the ice covered rocks and trying to keep myself upright. The snow covered slopes of the Steamboat Ski Resort are my backdrop and the beautiful waters of the Yampa take center stage on this beautiful blue bird sunny day.
 Today, I take a welcome break from skiing the mountain to survey the local waters throughout downtown Steamboat Springs. Fly fishing the winter season can be some of the most rewarding times of the year. The quiet banks of the river see very few anglers during these months and those who have brave the chilly waters know the fishing can be some of the best of the year. Generally portions of the Yampa River remain ice free throughout the year. On colder months, the tailwaters of the Stagecoach Reservoir always remains ice free and for the adventure seeker, a cross country ski journey into this area will provide one with solitude and breathtaking scenery. It's not uncommon to share the river with a resident moose or even cross tracks with some of our wintering elk herd.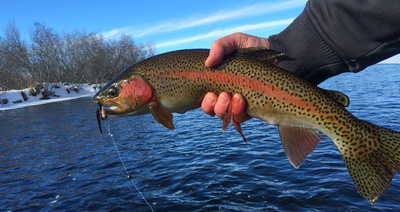 Tiny flies are the key to success during the winter months, midges hatch on warmer days and there is always a chance to catch a fish or two rising. Generally a double nymph rig works the best. Fish will hold in deeper water where they expend less energy. Going deep and fishing slow water is the key to success. 
  The Yampa river is a magical place, it shows it's mighty roar during runoff as it captures the spring's melting snow from high peaks of the Mount Zirkel and Flattops wilderness areas, but it's the calming flows during the winter that shows it true beauty. This river is the lifeblood of this valley and it's no surprise that many people have dedicated years of hard work to maintain it's natural free flowing state.
  The Yampa River faces many obstacles over the next several years.  Water is the hot topic in the western states and water rights have become a big debate.
I gently slide my net under the water and ease the fish into it. Laying my rod on the bank, I remove the tiny hook and take a moment to admire my catch. The bright reds and greens sparkle in the sunshine, resembling a handful of emerald and ruby gems. I release the fish back into the water and in an instant he disappears into the depths of the river.