Buying a Steamboat Springs Condo vs. Renting: What's Best For You?
Posted by Jon Wade on Tuesday, December 21, 2021 at 8:19 AM
By Jon Wade / December 21, 2021
Comment
Steamboat Springs is a beautiful alpine city about three hours from Denver. As one of Colorado's best ski towns, Steamboat Springs offers its residents nearly 3,000 acres of skiable land and world-class resorts. The town of Steamboat Springs also boasts beautifully diverse terrain, ranging from waterscapes like lakes, rivers, and hot springs to mountain landscapes and valleys.
It has urban, natural, and historical charm in equal measure, and simply put, it's one of the best places to live in Colorado. But is it better to buy or rent a Steamboat Springs condo? Read on to learn more about a few factors that can help those in the market for a condo make an informed decision.
Consider Rent Costs vs. Mortgage Payments
As one of Colorado's most popular skiing cities, Steamboat Springs attracts over 500,000 winter ski enthusiasts each year. The city also boasts nearly all types of natural attractions, including unique but stunning geographical attractions in the ski mountain village area, valleys, hot springs, and beautiful river landscapes. Steamboat Springs also has a slew of cultural and historical attractions in the historic downtown neighborhood, meaning it attracts not only just avid skiers but also countless adventure-seekers, nature lovers, and history buffs throughout the year.
As a result, condo and vacation rentals are pretty popular here, driving the costs of renting up significantly. On average, a single-bedroom apartment might go for $2,100 per month, while rent for a three-bedroom apartment usually ranges between $5,000 all the way up to $17,000 per month. Rented for six months or less, vacation condos generally rent for $80 to $1,300 and higher per night. Take a moment to calculate your estimated mortgage payment; some renters and buyers might find that the difference in monthly payments isn't as much as they thought.
If You Own a Condo, You Can Rent it Out
While renting has definite perks, buying a condo in Steamboat Springs is undoubtedly the way to go if investing in a secondary residence or a vacation home. Owners can always rent it out and earn passive income whenever they're not using it. And it's likely to earn superb returns because, as noted, this ski town hosts over half a million people each year just for Steamboat Springs' winter activities.
Come summer, Steamboat Springs pulls in crowds of adventure-seekers and nature lovers who come here to pursue warm-weather activities like hiking, camping, and bike riding through its scenic mountain landscapes and countless nature trails. Also, Steamboat Springs is directly accessible from 10 cities via the Yampa Valley Regional Airport, meaning visitors have an easier time coming and going.
All these factors make it attractive to tourists all year round, facilitating a flow of potential vacation condo renters every season and, as a result, fantastic profits for rental condo owners. What's better is that owners still get to enjoy the condo whenever they need it. To make it even more attractive to renters, consider the condo's location, amenities offered, size, and condition; several Steamboat condos have fantastic apres-ski amenities, and vacation renters love ski-in, ski-out condos near the gondola. Since it's essentially an investment property when it's rented out, review the rental income history (if any) to evaluate potential profitability.
Love the idea of living in a Steamboat condo? View all Steamboat Springs condos for sale.
If You Own a Condo, You Can Build Equity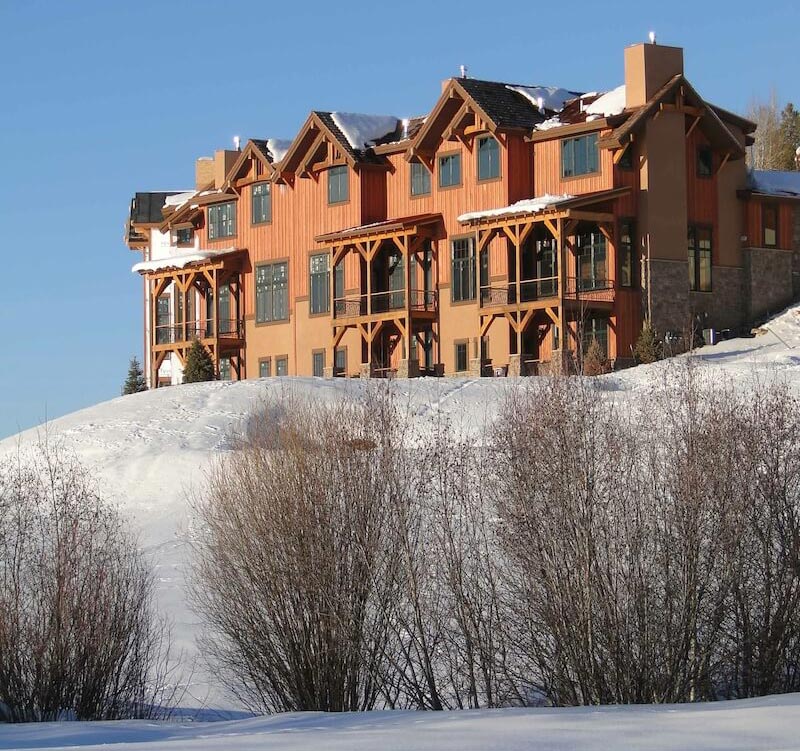 Unlike renting, buying a condo in Steamboat Springs allows the owner to build equity. In addition, in high-demand areas, owners may be able to grow home equity much faster than they would in other areas. That means with consistency in mortgage payments, a condo buyer in Steamboat Springs can soon use their equity to refinance and complete their current mortgage, gaining complete ownership over the unit. For those renting out their condo, renters are essentially paying the owner's mortgage payments.
One can also use the funds to remodel or make upgrades that make the condo more attractive to renters and increase profitability, or buy a second investment property. Owning rather than renting also allows more personalization of a space; for example, building a sports gear closet to maximize space in the condo. In a nutshell, there are plenty of perks in building equity in a home, and buying a condo in Steamboat Springs is a great first step to start enjoying them.
If You Rent a Condo, You Can Avoid Homeownership Costs
While buying has its benefits, renting a condo in Steamboat Springs has its share of advantages, too, one being that renters don't have to worry about homeownership costs. Since most condos in the area are part of an HOA or condo-owner community, owners are often expected to pay an annual HOA fee to cover condo maintenance responsibilities and ongoing community projects. The fees might also cover waste pickup, water, and sewage management services.
While the exact monthly fee varies depending on the community and the condo, HOA fees in Steamboat generally range between $200 and $300 per month. Besides HOA fees, owning a condo also makes one responsible for homeowner's insurance and ongoing indoor maintenance expenses. When renting a condo, renters can avoid such costs.
So, Should You Buy or Rent a Condo in Steamboat Springs?
Even though the better option between buying or renting a condo in Steamboat Springs typically comes down to individual needs and situations, buying often offers excellent benefits over renting. For instance, while the upfront costs might seem high, owners stand to save more in the long run when they buy a condo since long-term renting in a ski town is quite expensive. Also, although buying comes with homeownership costs, renting the unit out and using part of the profits to cover HOA fees and other similar expenses is a popular method to offset them.