Horse Shelters Explained: Pros & Cons of Barn Stalls vs. Run-In Sheds
Posted by Jon Wade on Friday, January 28, 2022 at 7:30 AM
By Jon Wade / January 28, 2022
Comment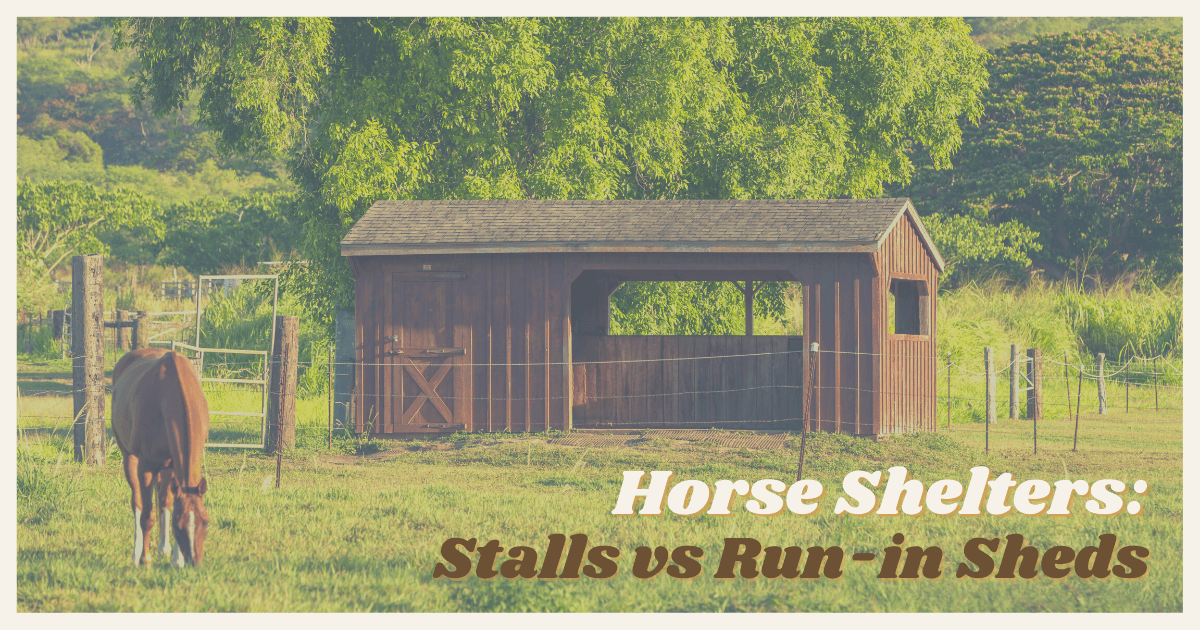 Those who wish to keep horses may be debating whether to build a run-in shed or a barn with stalls for their animals—or both. The best option for horse owners often depends on factors like individual horse needs and temperaments and the owner's desired level of maintenance responsibility, so there's not a one-size-fits-all answer. Keep reading for an overview of the pros and cons of stalls and run-in sheds to help decide what kind of shelter to build on your horse property when preparing your property for horses.
Why Run-In Sheds are Great
There are quite a few benefits to building a run-in shed that range from having healthier livestock to allowing them to get exercise unmanned. Staying in motion is not only natural for equines, but it's a must to ensure they remain healthy.
Standing around all day in an individual stall can have repercussions. According to a University of Nottingham study about the effects on horses kept in stalls versus pastures, restrictions on a horse's ability to move around at will can make it more prone to gastric ulcer syndrome and colic. Also, as with humans, running is excellent for a horse's respiratory system, so one that is given a chance to run free will have healthier lungs and typically feel better and happier as a whole from the exercise. Sheds allow owners and caretakers a break from routine exercise with their horses because they can go outside anytime the shed door is open.
Overall, run-in sheds establish an environment that requires much less work than a stable does. After all, the animals will likely leave less mess in the shed if they spend less time in it. If daily cleaning isn't desired or possible, then run-in stalls are a great option. Another benefit to this setup for equines is that if a fire or other emergency breaks out, they can safely escape without depending on the owner's arrival.
Last but not least, one of the benefits of having run-in sheds for horses is that these installations typically cost much less and are much easier to move from one location to another when necessary.
Disadvantages of Run-In Sheds
Despite all those positives, there are a few potential disadvantages to choosing run-in sheds for horses. For starters, severe weather can pose a threat to animals in an open shed, while a barn with stalls keeps them safe from the elements.
Another reason that some horse lovers avoid sheds is that it's easier to separate horses with a stalled barn setup. Sometimes, horses just don't get along, and they'll be safer and happier when separated. It may also be more challenging to isolate a specific horse in a shed setup if necessary for a specialized diet or health care concerns.
Reasons to Favor Horse Stalls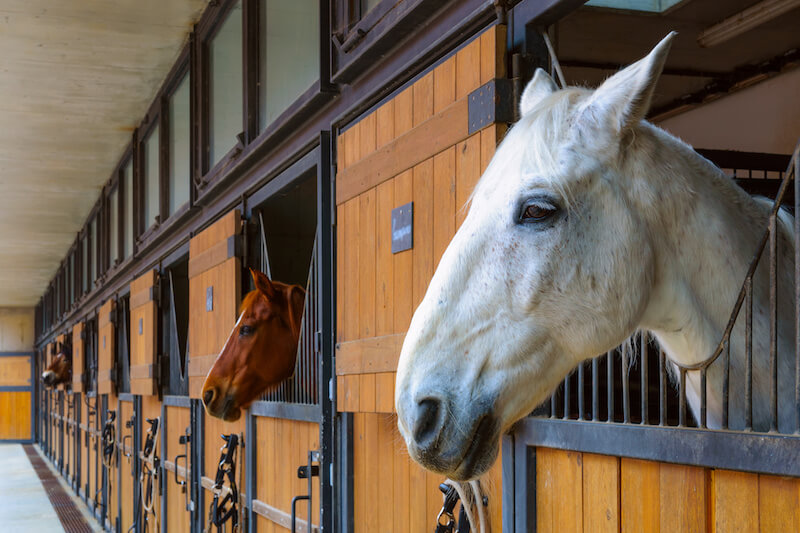 Choosing to install a barn with stalls that separate the horses to some degree has a number of benefits. First, it enables owners and caretakers to regulate and monitor horse feed consumption. This can be highly important for those who have animals with special dietary needs, as well as those who show horses or compete with them in races. Being able to customize each horse's diet can have various benefits, especially when keeping horses of differing breeds, sizes, ages, and more.
Stalls keep horses insulated from the elements because the doors can be closed off, keeping off the wind, rain, and cold. Some horses don't like being kept indoors, even when the weather is rough outside, but having a stall to keep them warm can sometimes be in their best interest.
Furthermore, these spaces typically have enough room for feed zones, washing stalls, tack rooms, and haylofts. This keeps horses and their home base much cleaner overall. Another advantage is in situations where one horse gets sick and needs to be separated from the other animals to prevent the spread of illness or disease until they recover.
Disadvantages of Horse Stalls
When animals are in a stall all day, they naturally do their "business" there. Even with hay, chips, or absorbent materials in place, horses are notorious for having messy stalls that require daily cleaning of the flooring and bedding to prevent contracting illnesses such as white line disease. Ventilation may also be more of a health concern with stalls than open sheds.
Beyond letting the horses run free for health and cleanliness reasons, equines tend to be less troublesome and happier overall when they aren't pent up all day. Bored horses may act out, so letting them run amuck in the field and soak in the fresh air can be an essential daily task.
Decision Time: Is a Run-In Shed or a Stall Better For Your Horses?
In seasonal climates like those in Colorado, horse owners might opt to have a small version of both a shed and a stalled barn. However, those looking for an optimal year-round solution with one installation will need to evaluate the mannerisms of their herd and the temperament of currently sheltered equines. Ultimately, both options serve most horses' needs well, but these tips should get equestrian owners on the right path to making a solid decision.