Best Water Activities in Steamboat Springs
Posted by Jon Wade on Monday, January 18, 2021 at 10:55 AM
By Jon Wade / January 18, 2021
Comment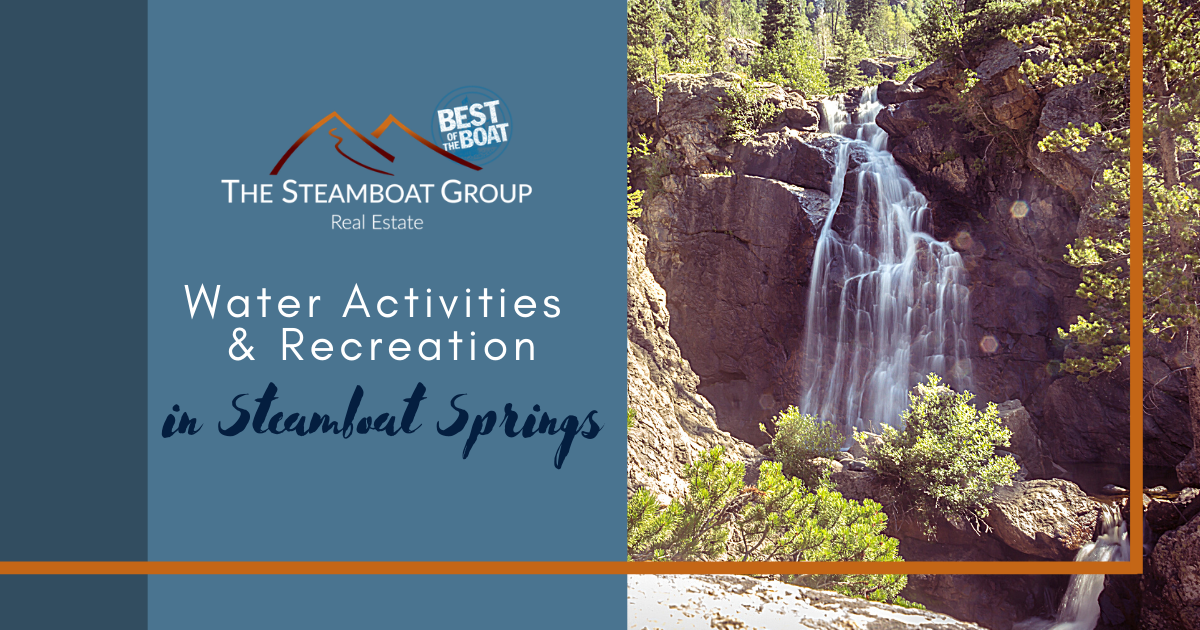 Situated 160 miles northwest of Denver, Steamboat Springs is the epitome of a Colorado mountain town. Steamboat sits on the banks of the Yampa River at an elevation of 6,695 feet, completely surrounded by mountains and forestland.
This small town of just under 13,000 people packs a tremendous punch, especially for outdoor enthusiasts with a penchant for water activities. In addition to two ski resorts and countless miles of hiking and biking trails, Steamboat Springs has hundreds of natural hot springs, access to several rivers, and three state parks, each centered around a lake and offering endless opportunities for fishing, boating, and water sports. Here are some of the most popular water activities in Steamboat Springs for you to enjoy.
Search
Steamboat Homes for Sale.
Moving to Steamboat Springs? Let the Steamboat Group help! When it comes to insider information on the Steamboat market, no one is better equipped to help you buy your next Steamboat Springs home.
Steamboat Springs' Hot Springs
Hot Springs in Steamboat Springs
Old Town Hot Springs
Strawberry Park Natural Hot Springs
Steamboat Spring
Heart Spring
Sweetwater Spring
Interesting fact: Steamboat Springs is named after a natural mineral spring. In the 1820s, three French trappers traveled through this area following the Yampa River and thought they heard a steamboat's engine. It was, of course, not a steamboat, but instead a natural mineral spring — the first of many to be discovered around town. There are still natural hot springs in Steamboat, and soaking in them any time of year is an iconic Colorado mountain town experience.
Old Town Hot Springs: Situated in the heart of downtown, Old Town Hot Springs has been open for over 140 years. The all-natural Heart Spring is a mineral spring, once referred to as a "medicine spring" by Native American Ute Indians. It feeds Old Town's eight pools, varying from 80 °F to 103 °F. Pools include a kiddie pool, a lap pool, a waterfall pool, and the waterslide pool, home to two 230-foot-long waterslides.
Strawberry Park Hot Springs: Literally nestled in the forest about seven miles from town, Strawberry Park Hot Springs offers visitors a laid-back, authentic, and absolutely beautiful experience. There are cabin rentals and campsites on the property, and there's even a Forest Service trailhead that brings hikers directly to the park.
Fish Creek Falls
Fish Creek Falls Trail Features
Leashed dogs allowed
4.7-mile trail
Snowshoeing during winter
Paved, wheelchair-accessible trail
Fish Creek Falls is undoubtedly one of the most popular and iconic attractions in Steamboat Springs. At 280 feet tall, it's Colorado's second-tallest waterfall, behind only Bridal Veil Falls near Telluride.
No matter what time of year it is, Fish Creek Falls has plenty to offer. It's perhaps at its most impressive in the spring, but the summer affords the best views of the crystal-clear waters and picturesque scenery—plus the chance to go for a swim. In autumn, Fish Creek Falls shows everyone why the state is called "Colorful Colorado," and in the winter, the frozen falls serve as a challenge for ice climbers from all over the world.
The falls are easily accessible from anywhere in Steamboat Springs, just 10 minutes from downtown. There are two trailheads near the parking lot. The first and by far more popular is a short quarter-mile gravel path to the roaring lower falls, as well as several viewpoints. The other takes visitors on a moderate five-mile hike to Upper Fish Creek Falls and scenic Long Lake. Fish Creek Falls is open every day of the year, and there is a $5 parking fee.
Whitewater Rafting in Steamboat Springs
Whitewater Rafting Services in Steamboat Springs
Colorado River Guides
Bucking Rainbow Outfitters
Backdoor Sports Ltd
Breckenridge Whitewater Rafting
Adventures in Whitewater
For the adventurous, there is perhaps no better way to experience Colorado's natural beauty than whitewater rafting. This is a wonderful activity for all ages and experience levels, as there are Steamboat Springs rafting trips tailored to everyone.
The Arkansas and Colorado Rivers, as well as the Yampa River, a tributary of the Colorado, all run through or very close to Steamboat and offer varying classes of rapids. With mostly calm Class II and III rapids, the Yampa River is ideal for beginners and groups with children. The river winds directly through downtown Steamboat, offering rafters a totally new perspective and scenery. This is also by far the most accessible whitewater rafting from Steamboat Springs.
A bit further out of town (but still ideal for a day or weekend trip), the Colorado River has Class II and III rapids suitable for beginners and intermediate rafters. For more experienced intermediate and advanced rafters, the Arkansas River offers exciting Class III through Class V rapids. There are several river outfitters in the Steamboat area that offer a variety of whitewater rafting trips. From one-hour long trips on the Yampa through Steamboat Springs to heart-racing, day-long trips on stretches of the Colorado, there's something for everyone to enjoy.
Fishing in Steamboat Springs
Fishing Locations in Steamboat Springs
Yampa River
Sarvis Creek Wildlife Area
Christina State Wildlife Area
Chuck Lewis State Wildlife Area
Summit & Jones Lakes
Fishing is more than a hobby in Steamboat Springs; it's truly a lifestyle. Local anglers take to the water frequently year-round, having several options no matter the season. Summer and fishing in Steamboat Springs are synonymous, but the lakes and other flat-water provide opportunities for ice fishing in the winter.
The Yampa River has a stretch of several miles that consistently produces prize rainbow and brown trout. It's also easily accessible with multiple access points in town, including parks where you can cast from the shore. Pearl Lake and Stagecoach State Park, both a short drive outside of town, are home to large native cutthroat trout.
Steamboat Lake is one of only three lakes in Colorado that offers Gold Medal-designated fishing. The Colorado Parks & Wildlife Commission assigns this designation to bodies of water that "are the highest quality cold water habitats and have the capability to produce many quality-size (14 inches or longer) trout." Just 322 miles of the state's 9,000+ carry this designation, so Steamboat Lake is truly special.
Kayaking and Paddleboarding in Steamboat Springs
Where to Go Boating in Steamboat Springs
Pearl Lake
Yampa River
Stagecoach State Park
Steamboat Lake
Paddling some form of watercraft on the Yampa River is a major way of life in Steamboat Springs. Groups go on raft trips together, children here grow up kayaking, and many people take their boats or boards out almost daily for exercise.
With Class II rapids, the stretch of the Yampa River that runs right through downtown Steamboat is perfect for kayaking. It's not quite as ideal for stand up paddleboarding, but there are several areas within easy driving distance that have calmer, flatter waters. Rich Weiss Park, River Creek Park, and Fetcher Pond are excellent options, or people can drive about 40 minutes to Pearl or Steamboat Lake. All of these locations are also well-suited to kayaking in a more relaxed setting.
Those who need kayak or stand-up paddleboard rentals, lessons, or tours can check out the outfitters in Steamboat. Family-owned and -operated Backdoor Sports offers rental equipment at unbeatable prices. The staff also knows the area better than anyone, so visitors should be sure to ask for tips on where they should head with their paddleboard or kayak. For a one-stop-shop, outdoor enthusiasts can check out Mountain Sports Kayak School. The company offers rentals, tours, and lessons for all experience levels.
Discover Steamboat Springs' Best Water Recreation Activities
Those looking for a small community centered around The Great Outdoors should consider Steamboat Springs. The town enjoys excellent weather year-round with seemingly perpetual sunshine, inviting visitors and residents alike to get outside and on the water, no matter the season. With the riverfront homes and stream properties available, the water might be just outside your front door. If you're interested in one of these homes, contact The Steamboat Group with Steamboat Springs Real Estate at 970-879-0879 and discover your dream Steamboat Springs home today.
Buying or Selling
a
Steamboat Home?
Let the
Steamboat Group Help You!
Do you want to buy a home in Steamboat Springs? Let the Steamboat Group handle it all. Contact us now to schedule a consultation and take the first step towards a stress-free home buying experience with the best real estate team in Steamboat Springs, CO.