Imagine Your Life on the Yampa River: 8 Best Communities Near the River in Steamboat Springs
Posted by Jon Wade on Tuesday, May 23, 2023 at 10:14:34 AM
By Jon Wade / May 23, 2023
Comment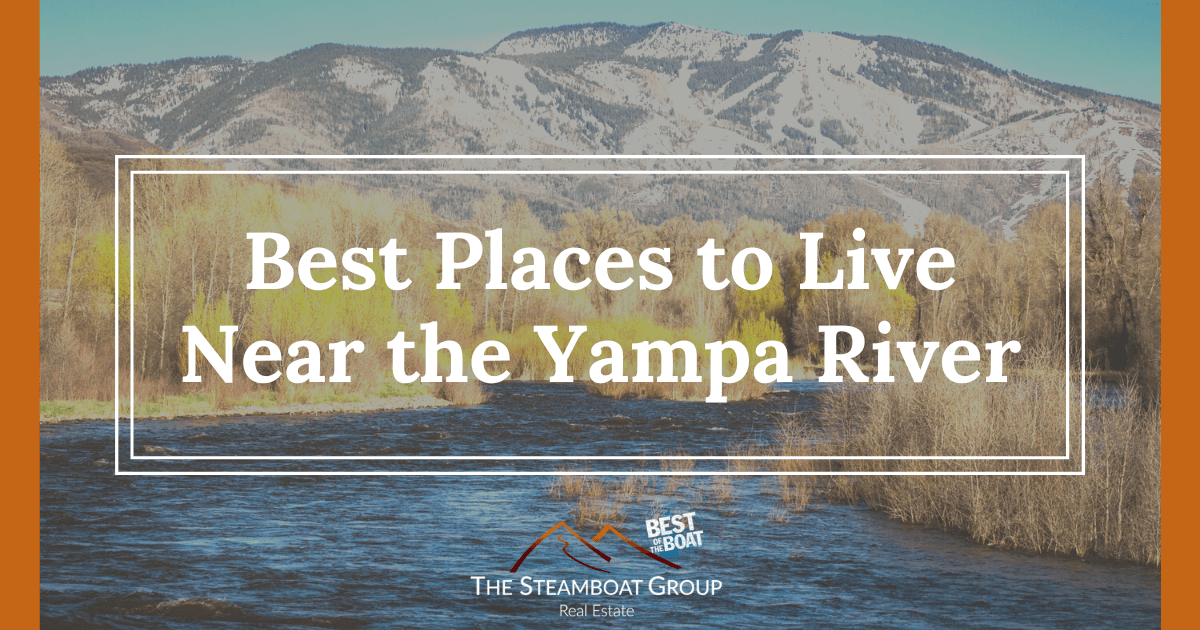 Nestled amidst the breathtaking beauty of the Yampa Valley, the town of Steamboat Springs and the Routt County area offer an idyllic retreat for those seeking a serene place to call home. Along the winding Yampa River, you'll find many of the best neighborhoods in Steamboat Springs. Living on the banks of the Yampa River means easy access to fun things to do, scenic views, and rustic charm. Embark on a journey through these exciting neighborhoods and towns that make up the best places to live near the Yampa River.
Search
Steamboat Homes for Sale.
Moving to Steamboat Springs? Let the Steamboat Group help! When it comes to insider information on the Steamboat market, no one is better equipped to help you buy your next Steamboat Springs home.
Fish Creek Falls
Fish Creek Falls features homes built from the 1980s onward, with many property types. You'll find everything from ranch-style single-family homes to modern mountain luxury homes here. Homes near Fish Creek Falls come at a varied range of prices, starting at $400,000 and topping over $13.5 million.
Regardless of the property type, endless outdoor activities lie beyond the doorstep. As the neighborhood's name states, the area's most well-known attraction is mesmerizing 280-foot Fish Creek Falls. The cascade thunders uphill from the neighborhood's streets, particularly in the spring. The lower falls are easily accessible, and a scenic trail lets you hike from The Sanctuary to Upper Falls.
It would be remiss not to mention that living in Fish Creek Falls provides an excellent location for skiing. Only a 10-minute drive to the ski resort, the neighborhood is another ideal base for winter sports enthusiasts. At the same time, charming spots in downtown Steamboat are also just minutes away. Some residents may even be able to walk to Mahogany Ridge Brewery for a cold beer or MountainBrew for morning coffee. Despite its convenient-to-everything location, homes in Fish Creek Falls are secluded from the bustle of Highway 40.
Fish Creek Falls Amenities
Old Town Hot Springs
5.2-mile, dog-friendly Spring Creek Trail, multi-use for hikers and bikers
Natural Grocers
Local Rakta Hot Yoga Infrared Studio
Elk River
A 15-minute drive north of Steamboat Springs, properties in Elk River make the most of outdoor recreation. From adrenaline-inducing whitewater rafting and kayaking to peaceful fly fishing and leisurely walks, this neighborhood offers quick access to the stunning Elk River.
Expect lots of solitude, tranquility, and stunning views, matched with abundant wildlife sightings—deer and elk, but don't be surprised to spot moose or black bears, too. The valley gets blanketed with snow in winter, making it ideal for cross-country skiing, snowshoeing, and sledding fans. Meanwhile, in the summer, beloved hiking trails Mad Creek and Red Dirt are just up the road.
Homes in Elk River lean larger, with houses interspersed between working ranches. The generous size extends to indoor areas, too, and many interiors have upwards of 2,500 square feet with three or more bedrooms. Similarly to Dakota Ridge, Elk Ridge is ideal for offering a genuine escape and hosting large groups of people without worrying about disturbing neighbors.
The area is well-suited to those looking for room to spread out, and a few local hotspots are within a quick 10-minute drive. Play a game of bowling and enjoy delicious food at Snow Bowl, or sample local brews at Storm Peak.
Elk River Amenities
Arctic Liquors for one of the most extensive selections locally
Colorado Sled Rentals (snowmobile rentals)
Big House Burgers
Summertime productions at Opera Steamboat
Hayden
The town of Hayden offers the best of small-town mountain life right alongside the Yampa River. Homes here average about 2,000 square feet of space; most have three to four bedrooms and a garage, which is especially handy in wintertime. The majority of Hayden properties for sale are located within the town's official boundaries, making it feasible to walk to get dinner or coffee.
Like many other Steamboat Springs neighborhoods, Hayden offers residents many outdoor activities just steps from their doors. There are plenty of excellent fishing spots on the river just outside town, and Yampa River State Park, which has popular summer swimming spots, is a five-minute drive down the road.
Hayden's year-round population is just over 2,000 people, but the town's numerous happenings make it seem more significant. There's coffee in a granary at Wild Goose and excellent pizza at Franciosi Brothers Tap and Table. The weekly farmer's market takes place from May to September, along with a county fair complete with rides, food, and fun. And when you want to go "into town" (Steamboat proper), it's just a 30-minute drive.
Hayden Amenities
Hayden Mercantile
Yampa Valley Brewing Company
Dry Creek Park
Creek View Grill for hearty, comforting breakfasts
The Sanctuary
The Sanctuary offers residents luxury homes and condos with quick access to snow sports and golf. Rollingstone Ranch Golf Club is interwoven into the neighborhood, with many properties overlooking the course. Steamboat Ski Resort is also less than a five-minute drive or, from some homes, even within walking distance of the lifts.
Enjoy the numerous trails tucked away nearby in the summer, including one that leads to Fish Creek Falls. This unmatched proximity to several popular Steamboat attractions means that The Sanctuary is ideal for short-term vacation properties.
The neighborhood was developed on 25 acres of beautiful birch forest, which surrounds many properties. Most of the homes for sale in the Sanctuary were built from 1986 onwards. Many incorporate European architectural styles, lending an atmosphere like a Swiss chalet.
One of the best things about The Sanctuary is that it feels very secluded, but the town's best attractions are within easy reach. Beyond the ski resort's proximity, Steamboat's center is less than a 10-minute drive. Even closer, there's a shopping center with a City Grocery, Walmart, and other stores less than five minutes away. As you may expect, this also means The Sanctuary is close to some of the town's best restaurants—specifically, Café Diva, known for refined American dishes in elegant surroundings.
The Sanctuary Amenities
Routtie's Barbecue
Rocky Mountain Day Spa & Luxe Boutique
Colorado Bagel Company
Rita Valentine Dog Park
Dakota Ridge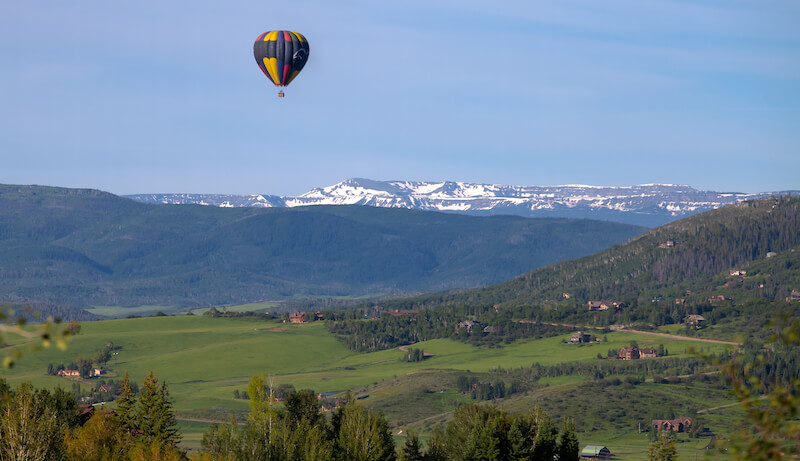 While less than a fifteen-minute drive from Downtown Steamboat Springs, Dakota Ridge offers residents the best rural life. Most of the real estate in Dakota Ridge is made up of new construction homes. Many sit on large lots of up to 12 acres, allowing homeowners to appreciate Steamboat's natural beauty with expansive views.
When exploring the neighborhood, expect more significant properties. Most homes have at least four bedrooms, while square footage is 5,000 to 10,000 square feet. Its large homes and lots make Dakota Ridge an ideal location for hosting holidays and lively group getaways. There's enough room to light a fire pit outside and gaze at the abundant stars!
Mountain bikers, hikers, and snow sports enthusiasts can immerse in outdoor pursuits on the trail system around Quarry Mountain, located just behind the neighborhood. Steamboat Ski Resort is also close, with the lifts just a 10-minute drive from Dakota Ridge.
This proximity to the slopes has a second, slightly more subtle benefit: it grants convenient access to the resort's dining and nightlife hotspots, like the beloved watering hole T Bar at Steamboat. Just down the road, shopping hubs, including Walmart, Safeway, and City Mart, are convenient stopovers en route to the slopes.
Dakota Ridge Amenities
Fetcher Park for fishing and stand-up paddleboarding
Dusky Grouse Coffee
Haymaker Golf Course
Blue Sage Pizza
Oak Creek
The ranching town of Oak Creek offers residents numerous amenities amidst quiet, rural surroundings. Homes for sale in Oak Creek cover the full spectrum of options, from one-bedroom cottages to classic ranch houses and stately luxury homes. Some are located in town, within easy walking distance of neighborhood staple Colorado Bar & Grill, while others sit on substantial acreage just outside. For folks interested in a night out on the bigger town, or skiing opportunities, Steamboat Springs lies 30 minutes away.
The Yampa River flows just a few miles from Oak Creek, with several banks accessible to fishermen and paddlers. A 15-minute drive away, the river expands to the stunning Stagecoach Reservoir. In this stunning state park, you'll find numerous opportunities for swimming, kayaking, fishing, and hunting.
Oak Creek has a historic feel, with a relaxed atmosphere far from the hustle and bustle of other Colorado towns. The town organizes several cultural activities throughout the year, including a Winterfest with sledding and skating, a local arts and music festival, and community events on most major holidays. Like Hayden, Oak Creek has a happening atmosphere, despite its small size.
Oak Creek Amenities
Burgers and pizza at Franciosi Brothers
Antique shopping at the Railtown Gallery
Select Super Market
Lupita's Cantina for outdoor Mexican dining
Life Is Good on The Yampa River
The picturesque Yampa River in Steamboat Springs and the Routt County area provide the perfect backdrop for many exceptional neighborhoods, each with unique character and charm. From the serene splendor of Dakota Ridge to the laid-back vibes of Oak Creek, there's a haven for everyone seeking to embrace the natural beauty, recreational opportunities, and tight-knit community this region offers. As you explore these communities, you'll find the perfect home awaits, promising a life enriched by the breathtaking landscapes, endless things to do on the Yampa River, and warm connections that define the Yampa Valley experience.
If you're looking for the best home in Steamboat Springs for you, contact The Steamboat Group at (970) 879-0879 to get in touch with local real estate agents who can help you find a Steamboat Springs home you'll fall in love with.
Buying or Selling
a
Steamboat Home?
Let the
Steamboat Group Help You!
Do you want to buy a home in Steamboat Springs? Let the Steamboat Group handle it all. Contact us now to schedule a consultation and take the first step towards a stress-free home buying experience with the best real estate team in Steamboat Springs, CO.