Best Parks in Steamboat Springs
Posted by Jon Wade on Friday, January 15, 2021 at 9:05 AM
By Jon Wade / January 15, 2021
Comment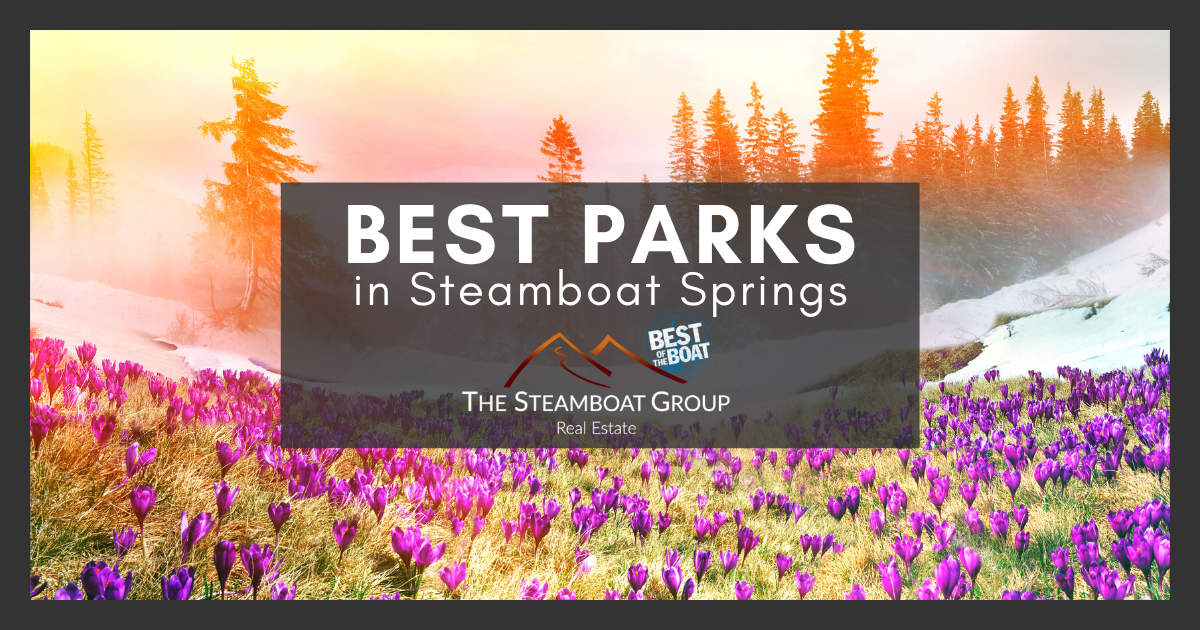 The state of Colorado has several outdoor activities that make city folk and nature lovers alike excited to get out into nature. While Steamboat Springs may be known as Ski Town, USA, that is not all this area has to offer residents and tourists. In fact, Steamboat Springs can keep individuals outside and breathing that fresh Colorado mountain area all year long due to the number of parks in the area.
Anyone looking to find the best hiking, picnicking, viewing experiences in the state doesn't need to look any further than Steamboat Springs. Grab a pair of comfortable shoes, pack a few snacks, and bring plenty of water on an adventure to discover the following best parks in Steamboat Springs.
Take a look at the list of the best parks around Steamboat Springs below:
Search
Steamboat Homes for Sale.
Moving to Steamboat Springs? Let the Steamboat Group help! When it comes to insider information on the Steamboat market, no one is better equipped to help you buy your next Steamboat Springs home.
Yampa River Botanic Park
Yampa River Botanic Park Amenities
Over 50 gardens
Art installations
Free admission
ID placards for every plant
Those who enjoy history and nature will feel an overwhelming sense of delight as they enter Yampa River Botanic Park. This historic and well-maintained scenic area opened in 1995. Though this park had humble beginnings as a flat horse pasture, the area has grown to over six acres.
Throughout the lands, visitors will find many bonds and berms in addition to over 50 gardens. Paths are clearly marked and accessible for all guests. The authenticity of nature is prevalent at every corner of the Yampa River Botanic Park.
Visitors can take in the trees, shrubs, perennials, and annuals. Children, teens, adults, and seniors alike can enjoy the stroll and learn new facts about nature that were previously undisclosed to them. In addition to beautiful flowers and trees, visitors can view sculptures throughout the park.
Weather does drive the ability for Yampa River Botanic Park to remain open. When it is open, the park can be enjoyed from dawn to dusk. On average, the park can be enjoyed by residents and travelers from early May to the end of October. Those who wish to visit the park should check the website or call to see if the park is open at the beginning or end of the season.
Fortunately, the park remains free and open to the public. However, the park is run on donations. Guests who enjoyed their time are encouraged to make a small donation after their visit or at the beginning of their next one.
Little Toots Park
Little Toots Park Amenities
Free admission
Public BBQ grills
Kayaking, canoeing, and paddleboarding
Picnic tables
Dogs allowed
Just as adorable as the name, Little Toots Park is the perfect place to spend an afternoon. The park is easily one of the best areas for parents to take their children to for a day of fun. However, this park is not only for children. Adults can also enjoy spending time with family and friends.
Admission to Little Toots Park is free throughout the year. It is open to the public from dawn to dusk. Parking is readily available and is also free for visitors. No matter the time of year, Little Toots Park can make for an incredible day.
During the summer, visitors can enjoy shade trees that block the sun's harsh rays. Picnic areas, children's playgrounds, and BBQ grills can be found throughout the park. Everything in the park is open on a first-come-first-serve basis. River access is also available for those who wish to paddleboard, kayak, or canoe. Parents are advised to supervise their children if they will be spending time in the river.
During the winter, the park is still a fun place to visit! The horseshoe pit is open throughout the year along with the shelters, playgrounds, BBQ grills, and picnic tables. Pets are also always welcome in the park; however, they must be on a leash at all times. The Leash Law is heavily enforced.
Whistler Park
Whistler Park Amenities
BBQ grills
Children's play area
Picnic area
Soccer fields
Those who wish to stretch their legs in spring, summer, autumn, and winter should keep direction to Whistler Park handy at all times. This public park is free 365 days a year. Between the open play area for children, BBQ grills, picnic tables, and drinking fountains, everyone has what they need to create a day of fun for the whole family.
In addition, Whistler Park also offers pet pick-up stations. Four-legged friends are always welcome to the park, so long as they are properly leashed. The Leash Law is enforced, and pet owners are subject to a ticket for each unleashed pet.
Whistler Park is home to some of the area's best public soccer fields. However, these fields do require a reservation. In order to make this reservation, a small fee is required. Guests should be happy to know that this fee goes directly toward the maintenance of these public fields.
Stehley Park
Stehley Park Amenities
Picnic tables
Play area
Hiking trails
Free admission
Residents and tourists to Steamboat Springs who want a quick escape into nature will find exactly what they are looking for at Stehley Park. This small park offers the exact amenities required to enjoy a few hours in Colorado's great outdoors.
The shade trees, picnic tables, play area, and hiking trails are all anyone needs to disconnect from daily stress and reconnect with nature. The park is free and open to the public every day of the year from sunrise to sunset.
Dr. Rich Weiss Park
Dr. Rich Weiss Park Amenities
Free admission
Picnic tables
Natural spring
BBQ grills
Last but certainly not least is Dr. Rich Weiss Park, a beautiful park that evokes the feel of a classic Steamboat ranch. This park is dedicated to Dr. Weiss, a Steamboat Springs resident who competed twice in the Olympics.
The City of Steamboat Springs decided that dedicating a park on the river to him would be the best way to honor this Olympian. As such, this park is most renowned for its river access. Everyone who enters the river is encouraged to take extra precautions and always watch any nearby children.
This park is open 365 days a year for the public to enjoy. No entry fee is required to enjoy time at this park. A natural spring is readily available for all guests to enjoy. In addition, picnic tables, shade trees, and pet pick-up stations are scattered throughout the park.
As a kind reminder to visitors, the Leash Law is strictly enforced. All pets must be leashed and under the control of their owners at all times.
Explore the Parks of Steamboat Springs Today!
The best parks in Steamboat Springs are difficult to beat and easily capture the luxury of Steamboat Springs. These parks are open for public use throughout the year and offer anyone of any age the ability to reconnect with nature. Other cities and their parks will be hard-pressed to offer the vast amenities and exceptional views that can be found at parks in Steamboat Springs. Aside from snacks, water, and sunblock in the summer or warm clothes and gloves in the winter, guests only need to bring their excitement for nature to any of these public parks.
If you're looking for a great home in Steamboat Springs from which to enjoy one or more of these parks, contact The Steamboat Group with Steamboat Springs Real Estate at 970-879-0879 to get in touch with a local real estate agent and get started finding a Steamboat Springs home that's a perfect fit.
Buying or Selling
a
Steamboat Home?
Let the
Steamboat Group Help You!
Do you want to buy a home in Steamboat Springs? Let the Steamboat Group handle it all. Contact us now to schedule a consultation and take the first step towards a stress-free home buying experience with the best real estate team in Steamboat Springs, CO.