Best Outdoor Activities in Steamboat Springs
Posted by Jon Wade on Tuesday, January 19, 2021 at 8:22 AM
By Jon Wade / January 19, 2021
Comment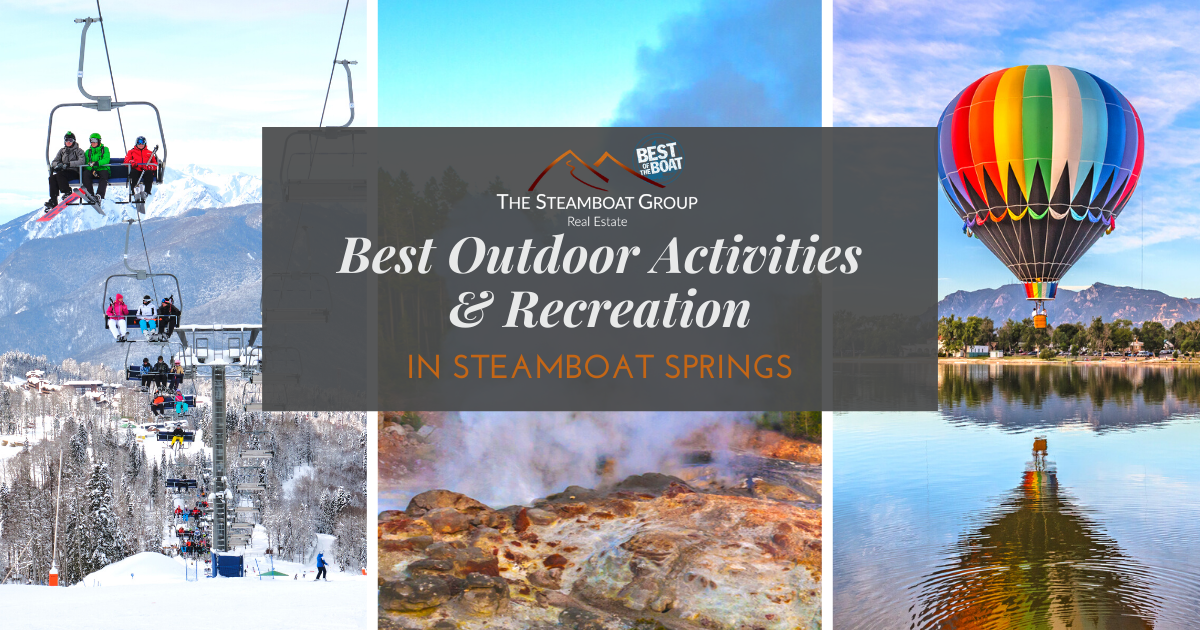 For established residents as well as those planning to relocate to Steamboat Springs, getting to know the area and all that it has to offer is an important part of the moving process. Steamboat Springs is an all-in-one package for those interested in an upbeat community with plenty to offer.
When choosing this city in Colorado, one part of the package that residents and potential residents have access to is a variety of home styles, sizes, and prices, business and work opportunities, and a quality school system. The other part of the package is the city's abundance of available outdoor activities. From panoramic mountain views and snow-powdered ski slopes to sparkling rivers and cascading waterfalls, there is no shortage of things to do and places to explore when living in Ski Town USA. Here are some of the most popular outdoor activities to enjoy in Steamboat Springs.
Search
Steamboat Homes for Sale.
Moving to Steamboat Springs? Let the Steamboat Group help! When it comes to insider information on the Steamboat market, no one is better equipped to help you buy your next Steamboat Springs home.
Water Recreation in Steamboat Springs
Water Sources in Steamboat Springs
Yampa River
Steamboat Spring
Strawberry Park Hot Springs
Elk River
Lake Catamount
Fish Creek
When enjoying water activities is the plan for the day, there are several recreational opportunities available in and around Steamboat Springs for a memorable experience. Whether it is casting a line to snag a fish or appreciating the area's scenic beauty while meandering down a waterway in a kayak, residents of all ages have plenty of options for fun in and on the water.
A refreshing way to spend the afternoon or evening is with an invigorating dip at Strawberry Park Hot Springs. During the day, the springs are open to everyone. In the evening, they are available to adults only.
Several nearby lakes provide fishing excursions for individuals or with a guide and a boating party in search of rainbow and cutthroat trout and pike. The Christina Wildlife Refuge Area is a popular location for people to show off their fly-fishing techniques along the Elk River, or to just be lazy and grab a tube or paddleboard and take a leisurely adventure down the Yampa River. Kayaks and canoes are available to rent while people explore the area at a leisurely pace or spend their day boating or swimming at Steamboat Lake State Park.
Steamboat Springs Hiking and Biking Trails
Trails in Steamboat Springs
Fish Creek Falls Trail
Thunderhead Hiking Trail
Emerald Mountain Trail
Blackmere Trailhead
Rotary Park Board Walk
Mad Creek Trailhead
Colorado is known for its mountain ranges, waterfalls, lakes and rivers, and picturesque landscape. Outdoor enthusiasts who want to enjoy all the state has to offer while exploring, discovering, and navigating the environment will find an abundance of hiking and biking trails in and around Steamboat Springs.
For a short hike to a beautiful location, people can enjoy the quarter-mile walk to the lower area of the 280-feet Fish Creek Falls. The upper-level of the falls is a more advanced hike through forested landscape. Less than 15 miles from the city, Sarvis Creek State Wildlife Area offers hiking and wildlife viewing. More advanced hikers will be challenged when traversing through the wildflowers and steep slopes of the Devil's Causeway, located about 47 miles away in White River National Forest.
A summer favorite in Steamboat Springs is a hike along wildflower-laden Rabbits Ear Peak, where the hike offers a moderate climb for most of the way to the top. The trail can also be driven via an off-road vehicle. Another choice is the trail that leads up to Strawberry Hot Springs. Hikers enjoy an easy journey along Hot Springs Trail through a landscape filled with statuesque aspens, evergreens, willowy ferns, and grasses gently bending in the breeze.
Parks in Steamboat Springs
Steamboat Springs Parks
Little Toots Park
Yampa River Botanic Park
Whistler Park
Dr. Rich Weiss Park
Rita Valentine Dog Park
Stehley Park
When enjoying a pleasant day outdoors near home is preferred, Steamboat Springs offers its residents a wide variety of parks with assorted activities.
Visitors of Little Toots Park can fire up the barbecue grill and have a picnic, hike the trail, and walk the dog. The park also features a playground, horseshoe pits, play area, and access to the river.
For a relaxing respite while strolling through lush landscape and well-maintained gardens, observing assorted bird species and wildlife, or sitting on one of the benches to meditate, Yampa River Botanic Park provides the ideal setting. Visitors can also enjoy scheduled events during the spring such as guided tours of the gardens, Story Time, and musical performances.
Dr. Rich Weiss Park provides several surprises not apparent at first glance. The hidden gem has picnic tables, barbecue grills, hiking trails, river access, a scenic bridge, and a hot spring.
For an outing with the pup, pet parents can take their canines to Rita Valentine Dog Park. Surrounded by mountains, the off-leash park is an expansive open range. Grassy fields with trails provide ample space for exploring, running, walking, socializing, and playing.
Steamboat Springs Winter Activities
Winter Activities in Steamboat Springs
Skiing
Snowboarding
Sledding
Ice skating
Snow shoeing
Winter in Colorado is a sight to behold, and residents in Steamboat Springs have a front-row seat to all the winter snow activities the state has to offer.
Fish Creek Falls provides scenic views year-round, including winter when plunging temperatures turn the vibrant falls into a crystal-clear sculpture and the surrounding area into a frozen, snow-packed wonderland. People can get a birds-eye view of Steamboat Springs and the Yampa Valley with an early-morning ride in a hot air balloon. For skiing enthusiasts, there's plenty of powder to maneuver on the slopes during the day and even at night.
People have the opportunity to plan a weekend getaway at one of Steamboat Springs' nearby resorts and experience world-class skiing, show off their snowboarding techniques, or have a cross-country skiing adventure. Residents can stay close to home and head downtown by spending the day at Howelsen Hill, where free skiing is available on Sundays.
For the adventurous, there's backcountry skiing and snowshoeing guided tours. Participants can also take control and lead the team with a scenic dog sledding tour through Yampa Valley.
Additional Outdoor Activities in Steamboat Springs
Other Outdoor Activities
First Friday Artwalk
Alpine Slide
Steamboat Marathon
Winter Carnival
Hot Air Balloon Rodeo
While snow-covered slopes, rejuvenating hot springs, and miles of scenic hiking trails are all part of the allure of Steamboat Springs, there are many additional things to do and points of interest to experience.
A local annual free event is the First Friday Artwalk, where residents take a self-guided tour of the downtown museums and art galleries. Businesses stay open later, so visitors can enjoy a variety of exhibits and refreshments.
Also available in downtown is Old Town Hot Springs. The center is an oasis for those interested in fitness, health, and relaxation. At Old Town, visitors can relax and refresh in naturally fed hot spring pools, or they can swim a lap or two after working out in the full-service center, dedicated to fitness via classes, weights, and cardio workouts. For total relaxation, people can schedule a massage before heading to the pool. The center also offers a schedule of ongoing programs, classes, and events.
Enjoy the Benefits of Living in Steamboat Springs
When looking for a home base in a modern location that offers a quality lifestyle, welcoming atmosphere, and country area properties to choose from, consider making Steamboat Springs the next place to call home. The city offers its residents a tasty menu of activities to delve into and savor throughout the seasons. From dining and shopping venues to enjoying spectacular scenery and soothing hot springs, when residents choose from the options available on the city's buffet of things to do, they can be assured of a pleasing and satisfying experience. If the great outdoors around Steamboat Springs is calling you, contact The Steamboat Group with Steamboat Springs Real Estate at 970-879-0879 to get in touch with a local real estate agent who can help you find a Steamboat Springs home that lets the outside in.
Buying or Selling
a
Steamboat Home?
Let the
Steamboat Group Help You!
Do you want to buy a home in Steamboat Springs? Let the Steamboat Group handle it all. Contact us now to schedule a consultation and take the first step towards a stress-free home buying experience with the best real estate team in Steamboat Springs, CO.