8 Best Neighborhoods in Steamboat Springs
Posted by Jon Wade on Monday, December 5, 2022 at 1:00 PM
By Jon Wade / December 5, 2022
Comment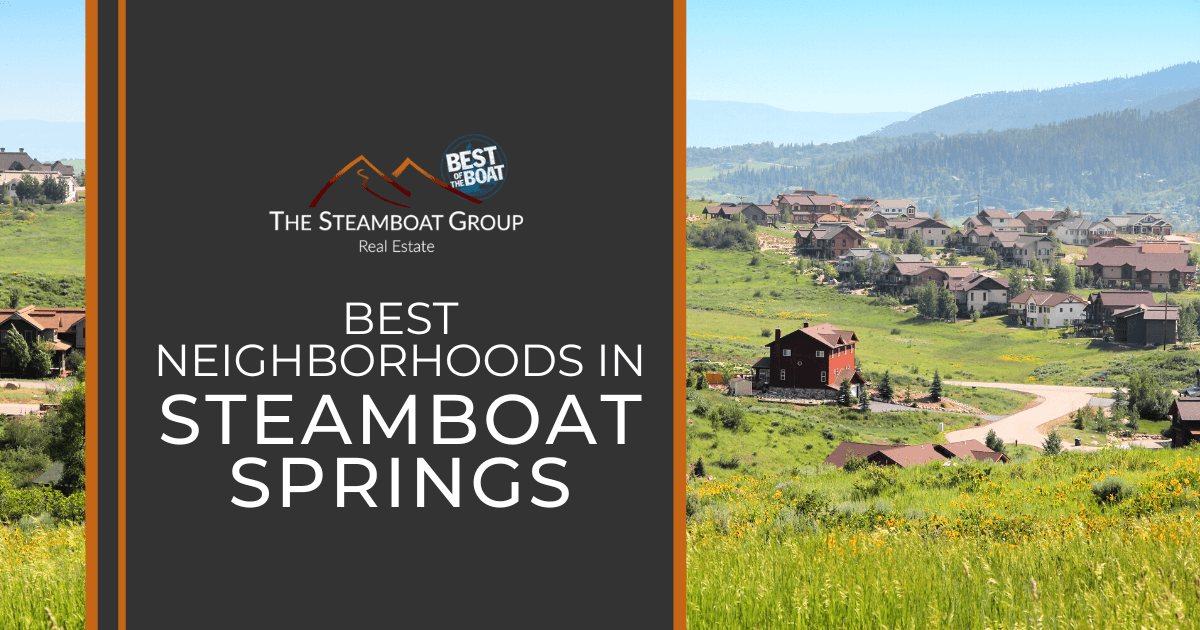 Steamboats Springs is a picturesque mountain town and a top destination for outdoor enthusiasts. As such, it's no surprise that Steamboat Springs real estate is some of the most desirable in Routt County. If you're considering moving to Steamboat Springs, you'll need to know where to find Steamboat's best neighborhoods to start your home buying search. Whether you live near the slopes in the resort area or surround yourself with downtown shops, you're sure to love living in The Boat.
Search
Steamboat Homes for Sale.
Moving to Steamboat Springs? Let the Steamboat Group help! When it comes to insider information on the Steamboat market, no one is better equipped to help you buy your next Steamboat Springs home.
Fish Creek Falls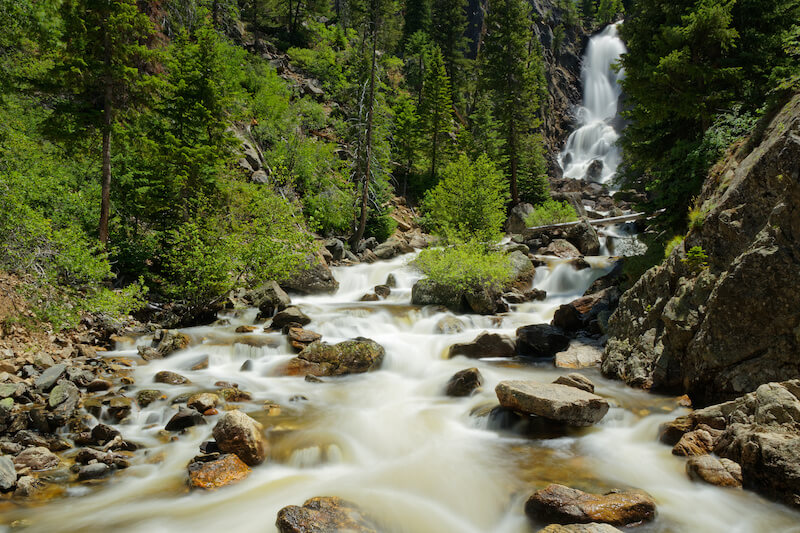 The most notable feature in this neighborhood is, of course, Fish Creek Falls, a 283-foot waterfall that's especially beautiful in the springtime when the snowmelt is at its peak. The area surrounding the falls is higher than the rest of Steamboat Springs, so those who live here enjoy gorgeous views of Emerald Mountain, Howelsen Hill, and the Yampa River Valley.
In addition to its natural beauty, Fish Creek Falls is close to the Steamboat Ski Resort, making it an ideal location for winter sports enthusiasts. Another neighborhood mainstay is the Rollingstone Ranch Golf Club, an 18-hole championship course surrounded by incredible mountain scenery. Rita Valentine Dog Park, Spring Creek Trail Head, and Fetcher Park are nearby, offering residents ample opportunities to get outside and enjoy the fresh mountain air.
Homes for sale in Fish Creek Falls are primarily single-family properties, with some townhomes and condos mixed in. Many were built in the '80s and '90s, though a few new construction homes exist. Prices vary widely depending on the property type and location, with homes typically ranging from the low $600,000s to over $4 million.
Fish Creek Falls Amenities
Fish Creek Falls is named after the towering waterfall located in the neighborhood.
Route County Road (RCR) 40 provides quick and easy access to the rest of Steamboat Springs.
Popular restaurants in the neighborhood include Freshies, The Egg, and Fiesta Jalisco.
Schools serving the community include Soda Creek Elementary and Steamboat Springs Middle School.
The Sanctuary
Nestled in the foothills east of Mount Werner, The Sanctuary is one of Steamboat Springs' newest subdivisions. The neighborhood is known for its grand homes in various architectural styles, from mountain chalets and rustic lodges to modern residences with floor-to-ceiling windows.
An eclectic dining scene can be found just south of The Sanctuary, featuring everything from upscale steakhouse fare to casual Mexican cuisine. Favorites include top-rated restaurants like Timber & Torch, Slopeside Grill, Truffle Pig, and Los Locos. There's also a grocery store and several cafes in the area.
Entertainment, shopping, and dining opportunities in The Sanctuary include the Yampa River Botanic Park, a 42-acre oasis filled with gardens, ponds, and walking trails, and Central Park Plaza, a shopping center with a gym, bagel shop, and several department stores.
Homes for sale in The Sanctuary typically range in price from $1 million to $5 million. Most of the homes have at least four bedrooms, two full bathrooms, and over 3,000 square feet.
The Sanctuary Amenities
The Sanctuary is a newer neighborhood in Steamboat Springs with grand homes and sweeping views.
The Steamboat Springs School District Re-2 serves public schools in The Sanctuary.
Trendy cafes include The Paramount, Cafe Diva, and Dusky Grouse Coffee.
The Sanctuary is near UCHealth Yampa Valley Medical Center, a top-rated hospital in the county.
Stagecoach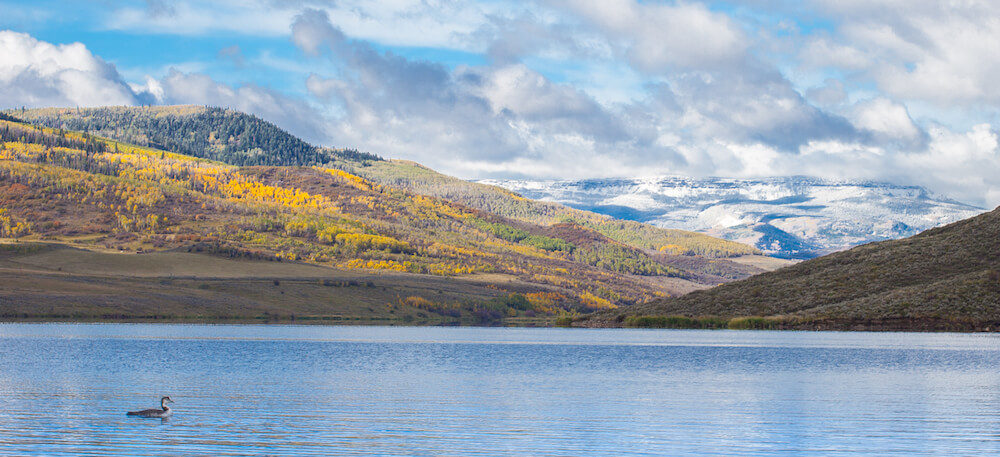 Stagecoach was initially intended as a ski resort in the '70s, but it grew into a residential neighborhood over the following decades. Located about 30 minutes south of Steamboat Springs' Downtown neighborhood, this serene community is an excellent option for those who want to be close to the action but prefer a little more quiet.
The neighborhood is home to Stagecoach State Park, an 820-acre reservoir with boating, fishing, swimming, and camping activities. Trails in the area, including the famous Elk Run Trail, provide breathtaking views of the reservoir and surrounding mountains. In the winter, the area is transformed into a haven for cross-country skiing and snowshoeing.
Stagecoach real estate includes single-family properties, townhouses, and condos in rustic lodge and mountain chalet styles. Many homes near the reservoir have their addresses drawn from the Oak Creek community, a small town located just west of Stagecoach. Home prices usually range from the low $400,000s for a 1,500-square-foot townhome to $2 million for a 5,000-square-foot home on generous acreage.
Stagecoach Amenities
Stagecoach State Park offers year-round recreation such as camping, swimming, snowshoeing, and more.
Homes in Stagecoach vary from rustic lodges to mountain chalets, and many offer scenic views of the reservoir.
RCRs 14, 16, and 131 are the main roads in and around Stagecoach, connecting the community to the rest of Steamboat Springs.
Popular eateries in nearby Oak Creek include Lupita's Cantina, The Colorado Bar & Grill, and Franciosi Brothers.
Steamboat Lake
The sparsely populated community of Steamboat Lake is about 30 minutes north of Downtown Steamboat Springs. It's situated at the base of Hahn's Peak, a prominent 10,000-foot summit in the Elkhead mountains. The community is named for its centerpiece: the artificial Steamboat Lake, a 1,100-acre clearwater reservoir with fishing, boating, swimming, and wildlife viewing.
The community is home to the Steamboat Lake Marina, where visitors can rent pontoons, paddleboards, and kayaks. Cozy cabins are also available for rent year-round. Additional lodging and opportunities for snowmobiling and horseback riding can be found at the nearby Steamboat Lake Outpost, a pet-friendly guest ranch with a restaurant and general store.
Steamboat Lake homes for sale consist of log cabins, ranch homes, and A-frames typically priced between $300,000 and $900,000, with larger luxury homes costing more than $2 million. Buyers may also find vacant land and lots, ranging in price from $25,000 for half an acre to $350,000 for five acres.
Steamboat Lake Amenities
RCR 44 runs through the community, providing access to Hahn's Peak and other points of interest in Routt National Forest.
Vacant lots in Steamboat Lake are affordably priced and offer opportunities to build a custom home.
The Steamboat Lake reservoir is a popular spot for ice fishing, paddle boarding, water skiing, and more.
Hahn's Peak Cafe is a local favorite for breakfast, lunch, and dinner, with panoramic views of the Elkhead Mountains.
Storm Mountain Ranch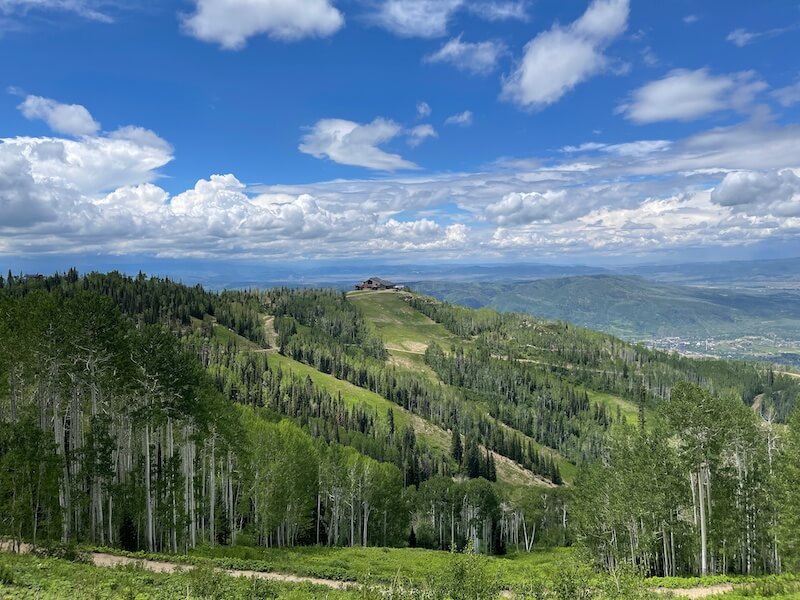 Storm Mountain Ranch is a luxury gated subdivision about 10 minutes south of Steamboat Springs's downtown core. The community is situated on approximately 1,000 acres of ranchland, offering residents privacy, seclusion, and plenty of wide-open space. A homeowner's association maintains the grounds and common areas, which include access to a luxurious clubhouse lodge, equestrian facilities, miles of horse trails, and snow tubing hills in the winter.
Homes in Storm Mountain Ranch are considered "legacy ranches" for their size, amenities, and historical significance. The land was originally homesteaded in the late 1800s and is located at the base of Rabbit Ears Pass, a major thoroughfare in the Rocky Mountains. In recent years, the ranch has been developed into a world-class subdivision, with 14 parcels of land dedicated to conserving its natural beauty and ecosystems.
Due to its sprawling size and suite of amenities, property values are higher in Storm Mountain Ranch compared to other neighborhoods in Steamboat Springs. Individual parcels and homes often go for more than $10 million. Additional amenities within minutes of the subdivision include ski resorts, golf courses, hot springs, and lakes.
Storm Mountain Ranch Amenities
Storm Mountain Ranch is a gated community with 1,000 acres of stunning ranchland.
The subdivision is known for its legacy ranch homes, many of which offer over 10,000 square feet of living space.
Golf courses near Storm Mountain Ranch include Haymaker, Rollingstone, and Catamount golf clubs.
Homeowners have private access to the Hideout Cabin, June Falls, and other local attractions.
Wildhorse Meadows
The luxury community known as Wildhorse Meadows is a stone's throw away from the Steamboat Ski Resort. It's home to the Wildhorse Gondola, which provides direct access to the snow-covered slopes. In addition to being a prime location for avid skiers, the neighborhood is also adjacent to several hiking and biking trails, making it a great year-round location for outdoor enthusiasts.
Wildhorse Meadows is one of the newest communities on this list, with most of its development in the early 2000s. As a result, the homes are sleek and modern, with many featuring mountain views. Property values are often some of the highest in Steamboat Springs, with most Wildhorse Meadows homes for sale going for between $1 million and $5 million.
Many homes include all the bells and whistles, such as high-end finishes, multiple fireplaces, private hot tubs, saunas, and outdoor space. Residents may also access state-of-the-art facilities at the Trailhead Lodge, including a fitness center, an outdoor pool and hot tub, and a game room.
Wildhorse Meadows Amenities
Wildhorse Meadows is adjacent to RCR 40, connecting residents to downtown Steamboat Springs in 10 minutes.
The community is home to the Wildhorse Gondola, providing residents with direct access to the Steamboat Ski Resort.
The Brick, Three Peaks Grill, and other local restaurants are a short walk or drive from Wildhorse Meadows.
Steamboat Tennis and Pickleball Club is nearby and has both indoor and outdoor courts.
Barn Village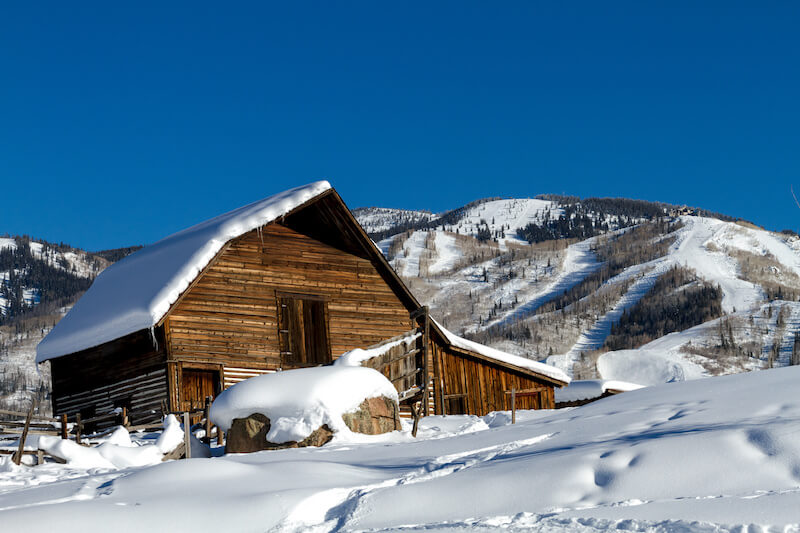 The More Barn, locally known as the Steamboat Barn, is one of Steamboat Springs' most beloved historical landmarks. Completed in 1926, the structure is also one of the oldest remaining pioneer-era barns in the area known today as Barn Village. This quaint little neighborhood is situated just north of the Yampa Valley Medical Center and south of Fish Creek. Its namesake barn can be found near the community's entrance on Angels View Way.
Barn Village is a reasonably walkable community with various businesses and restaurants nearby. These include a Walmart, pet store, fitness center, and a selection of casual eateries. Residents also have quick access to a vast trail system that leads to Fish Creek Falls and other popular Steamboat Springs attractions.
Homes in Barn Village generally range in price from $1 million to $5 million. Vacant lots may be available for custom builds, starting in the low $400,000s for approximately one-third of an acre. Homes that have already been built typically offer between 3,000 and 5,000 square feet of living space and feature modern Ranch, Craftsman, and Cabin architectural styles with industrial touches.
Barn Village Amenities
The Steamboat Barn, one of Steamboat Springs' most iconic landmarks, is located in Barn Village.
Residents can quickly access everyday needs, including a Safeway grocery store and Walgreens.
A swimming pool, hot tub, fitness center, and recreation area are among the facilities available in the neighborhood.
New custom homes are being built in Barn Village, with lots starting in the low $400,000s.
Downtown Steamboat Springs
Downtown Steamboat Springs is the beating heart of this vibrant mountain town. The pedestrian-friendly area has Lincoln Avenue as its main thoroughfare and the Yampa River as its scenic backdrop.
Here, locals enjoy an eclectic mix of businesses, including art galleries, boutiques, restaurants, and cafes. It's not uncommon to see locals and visitors strolling down the street with a cup of coffee or shopping bag. The area is also home to many popular annual events, such as the Winter Carnival, Hot Air Balloon Rodeo, and Oktoberfest.
The housing market in Downtown Steamboat Springs consists primarily of single-family homes and townhomes, with more affordable condo options also available. A modern 1-bedroom condo measuring 500 square feet can be found starting in the low $300,000s. By contrast, larger single-family homes and townhomes typically range in price from $700,000 to $4 million.
Downtown Steamboat Springs Amenities
The Steamboat Farmers Market is held on Saturdays from June to October in Downtown Steamboat Springs.
The nearby Old Town Hot Springs has eight hot-fed spring pools, rock climbing, and fitness facilities.
The neighborhood is home to the Yampa River Core Trail, a popular spot for walking, running, and biking.
Downtown Steamboat Springs has two museums, several parks, and the best nightlife.
Your New Home Awaits In Steamboat's Best Neighborhoods
Ski culture is strong in Steamboat Springs, but there's so much more to this charming mountain town than just hitting the slopes. The neighborhoods in Steamboat Springs offer something unique for everyone. And with easy access to amenities, outdoor activities, and year-round events, it's no wonder this Rocky Mountain gem is a desirable place to call home.
If you're looking for the best home in Steamboat Springs for you, contact The Steamboat Group at (970) 879-0879 to get in touch with local real estate agents who can help you find a Steamboat Springs home you'll fall in love with.
Buying or Selling
a
Steamboat Home?
Let the
Steamboat Group Help You!
Do you want to buy a home in Steamboat Springs? Let the Steamboat Group handle it all. Contact us now to schedule a consultation and take the first step towards a stress-free home buying experience with the best real estate team in Steamboat Springs, CO.