Best Lakes Near Steamboat Springs
Posted by Jon Wade on Wednesday, January 13, 2021 at 9:37 AM
By Jon Wade / January 13, 2021
Comment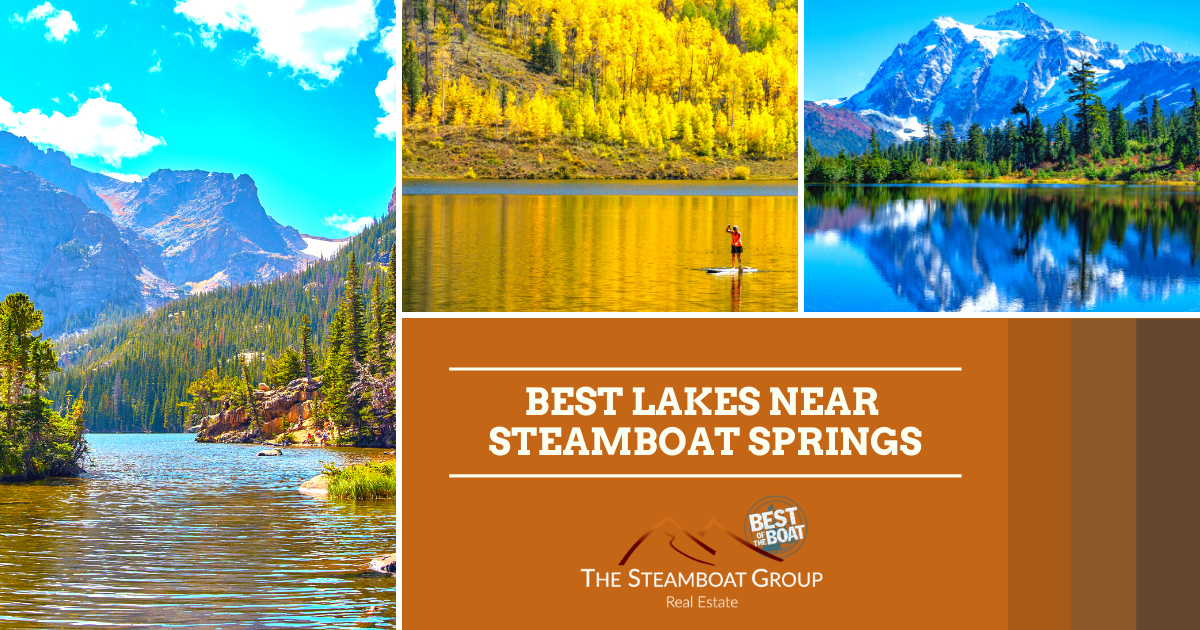 Many individuals across the country know Steamboat Springs, Colorado, for its famed champagne powder snow, but the area has far more to offer than just winter fun. In fact, Steamboat Springs is home to numerous lakes that are open throughout the year. These lakes offer a number of activities, including fishing, camping, bird watching, and boating. Anyone who is looking to explore new areas or impress their guests can trust this list to provide the best lakes to visit near Steamboat Springs.
Search
Steamboat Homes for Sale.
Moving to Steamboat Springs? Let the Steamboat Group help! When it comes to insider information on the Steamboat market, no one is better equipped to help you buy your next Steamboat Springs home.
Fish Creek Reservoir
Fish Creek Reservoir Activities
Bird watching
Hiking
Horseback riding
Biking
Boating
Camping
It is well known that many areas in Colorado sit high above sea level. Nearly 10,000 feet in elevation, Fish Creek Reservoir offers guests an exciting day on the lake. However, the trek to reach this body of water is half the fun. In order to access this alpine lake, visitors must first travel over Buffalo Pass. Due to the nature of the pass, a high-clearance vehicle is required. Visitors who are not familiar with crossing such terrain are encouraged to hire a guide or take a tour in order to visit Fish Creek Reservoir.
Upon arriving at Fish Creek Reservoir, guests will find a number of activities waiting for them. The most notable of these activities include birding, boating, camping, hiking, fishing, biking, and horseback riding. The area is remote, which means visitors can expect to lose cell service. However, the ability to unplug and enjoy nature is a large attraction for many visitors.
Some of the wildlife that visitors can expect to see (and may encounter) include moose, deer, and elk. Those who enjoy birdwatching will find a number of owls, woodpeckers, and other inhabitants of the spruce-fir forest.
In addition to viewing wildlife, guests can hike well-defined trails and enjoy the lake. Non-motorized boats are encouraged on the water. Those who like kayaking, paddle boating, and canoeing must bring their own vessel to Fish Creek Reservoir.
If visitors do not want the fun to end early, they can stay overnight at the Granite Campground, which is maintained by the U.S. Forest Service. A nominal fee is required to stay overnight. However, that fee is used to help maintain the forest. The eight campgrounds are open on a first-come, first-serve basis.
Jonah Lake
Jonah Lake is one of the best lakes in the area for those who wish to keep their round-trip drive from Steamboat Springs under 20 miles. This impressive lake offers fishermen the ability to catch cutthroat trout and brook trout. However, getting to this lake requires a pair of sturdy hiking boots.
Beginning from Summit Lake, visitors must hike through an easy yet uneven terrain trail. The trail is clearly marked, so visitors should not have an issue making their way to Jonah Lake. The hike itself is only one-quarter of a mile. However, rocks and roots are present on the trail, so it is best to watch one's step to prevent any injuries.
Pearl Lake
Pearl Lake Activities
Boating
Camping
Hiking
Fishing
Just north of Steamboat Springs is Pearl Lake. Despite being just a few miles from the road, this lake feels like it is buried deep in Colorado's backcountry. Those who enjoy fly fishing and lure fishing find it difficult to leave. Native cutthroat trout can easily be found and caught in Pearl Lake's waters. The lake itself is over 166 acres, which makes it perfect for those on non-motorized vessels to enjoy the day.
Those who wish to escape their normal day-to-day routine can opt to camp overnight. With 36 campsites available, everyone has an ample opportunity to enjoy camping under the stars. Better still, wildlife viewing docks and an impressive view of Farewell Mountain add to the blissful escape from everyday life. However, these campsites do fill up fast.
Steamboat Lake
Steamboat Lake Activities
Skiing
Fishing
Snowmobiling
Hiking
Steamboat Lake is revered as one of Colorado's true jewels. This lake is well-established to cater to one's needs. So long as an individual is seeking out a day of outdoor recreation or relaxation, Steamboat Lake will deliver. Between the crystal-clear water, the sound of the wind cutting through the leaves, and an abundance of fresh air, one will be hard-pressed to find a reason to dislike their visit.
The lake is perfectly positioned to offer summer and winter activities. From fishing and hiking to snowmobiling, ice fishing, and cross-country skiing, Steamboat Lake has it all. This lake has been highly photographed by world-renowned photographers and those looking to grab a selfie for their social media accounts.
However, the fun doesn't have to be completed all in one day. Steamboat Lake offers camping (when acclimate weather is present) along with rental cabins (available throughout the year). Regardless if one is visiting for the day or staying overnight, each individual is required to pay a $7 daily fee. An annual visitor's pass is available for $70. Those who are camping are subject to a $14+ daily fee. Cabin rentals begin at $80 per night.
Dumont Lake
Dumont Lake Activities
Camping
Fishing
Hiking and biking
Boating
Those who desire an outdoor escape can end their search with Dumont Lake, a destination where one can guarantee everyone in their party can securely and safely reach their campsite. Nearly every campsite offers exceptional views of the alpine meadow around the lake. Furthermore, the lake's campground offers three bathrooms and hand pumps for drinking water.
Dumont Lake offers a number of activities for visitors. Spin fishing and fly fishing are incredibly popular. Those who wish to explore the surrounding area may hike, backpack, or mountain bike along neighboring dirt roads and trails. The lake itself only allows electric motors or hand-propelled boats. Of course, canoes, kayaks, paddleboards, and other non-motorized vessels are welcome throughout the year at Dumont Lake.
Spend a Day at One of Steamboat Springs' Best Lakes
The number of lakes surrounding Steamboat Springs simply adds to the fun and activities that residents and tourists alike can enjoy in the area. Whether someone is looking for a new activity in the summer or winter, the lakes in this region offer excitement throughout the year. It is important for those who will be fishing to keep their Colorado fishing license updated and current. Otherwise, individuals can enjoy a number of activities and escape the reality of everyday life at one of Steamboat Springs' best lakes.
If you'd like the water to be a little closer to home, you might consider one of Steamboat Springs' riverfront or stream properties. Contact The Steamboat Group with Steamboat Springs Real Estate at 970-879-0879 to find the best homes near the water available in the area.
Buying or Selling
a
Steamboat Home?
Let the
Steamboat Group Help You!
Do you want to buy a home in Steamboat Springs? Let the Steamboat Group handle it all. Contact us now to schedule a consultation and take the first step towards a stress-free home buying experience with the best real estate team in Steamboat Springs, CO.