5 Best Hot Springs Near Steamboat Springs: Soak Up the Fun!
Posted by Jon Wade on Wednesday, March 29, 2023 at 11:04:55 AM
By Jon Wade / March 29, 2023
Comment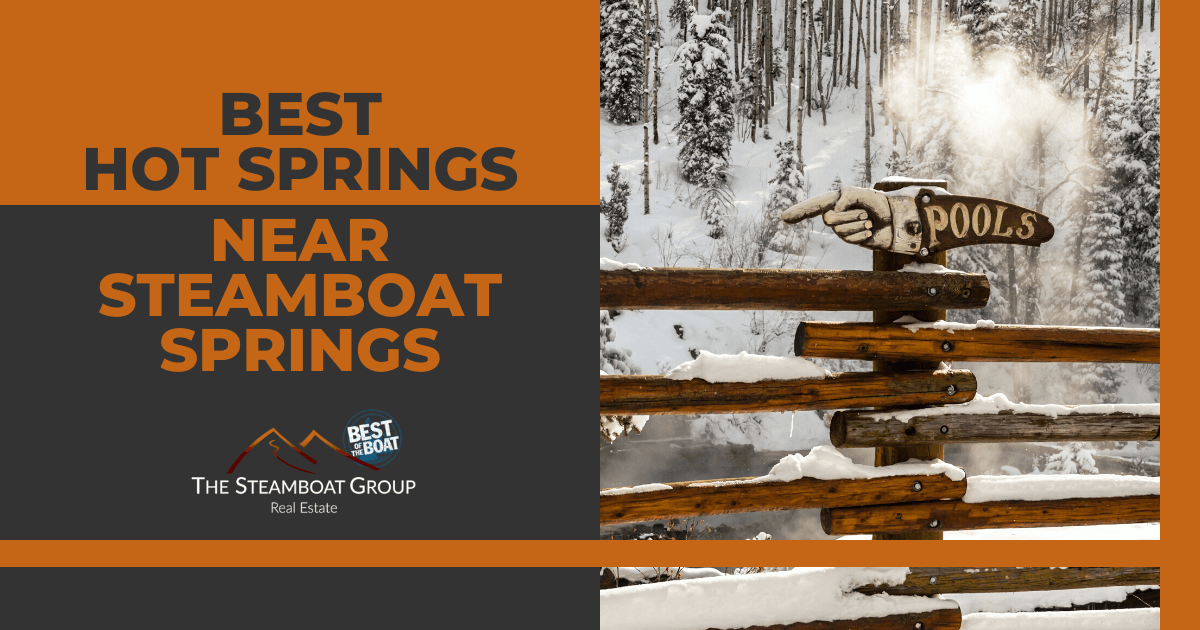 It's no secret that the town of Steamboat Springs is a highly sought-after place to live and play. With a world-renowned ski resort, stunning Rocky Mountain views, loads of rich history, four-season outdoor recreation, and a nice variety of gorgeous new construction homes and luxury condos, this Colorado mountain town has something for everyone.
One of the most unique things about moving to Steamboat Springs is the easy access to its abundance of natural hot springs, some right in town and others close by. The town was established in the middle of 150 geothermal springs and is part of the historic 720-mile Colorado Historic Hot Springs Loop. Pack your swimsuit and some road trip snacks, and get ready to check out the best hot springs in and around Steamboat Springs!
Search
Steamboat Homes for Sale.
Moving to Steamboat Springs? Let the Steamboat Group help! When it comes to insider information on the Steamboat market, no one is better equipped to help you buy your next Steamboat Springs home.
Old Town Hot Springs
Dating back to the 1880s, Old Town Hot Springs is Colorado's oldest original natural hot springs spa! Over the last 140-plus years, the resort has continuously upgraded its facilities and added many amenities. Today, it features so much more to enjoy than hot springs!
In addition to soaking in one of the four spring-fed pools, guests can check out the 230-foot waterslide, try their luck on the challenging floating obstacle course, or break a different kind of sweat in the fitness center on the rock climbing wall. For folks visiting Old Town Hot Springs with children, it's one of the best things to do with kids in Steamboat Springs—there's even childcare on-site so you can soak in peace for an hour or two.
Old Town Hot Springs is located conveniently in downtown Steamboat Springs, making spending a few hours here very convenient. For Routt and Moffat County residents, memberships offer unlimited access to amenities and special discounts on services, including massage and childcare.
Old Town Hot Springs Additional Information
Address: 136 Lincoln Avenue, Steamboat Springs, CO 80477
Cost: $29 (adults 15+), $23 (youth 3–15), $26 (seniors 65+); discounted 5-pack passes are available
Hours: Monday–Friday 6:00 a.m.–9:00 p.m., Saturday and Sunday 7:00 a.m.–9:00 p.m.
Strawberry Park Hot Springs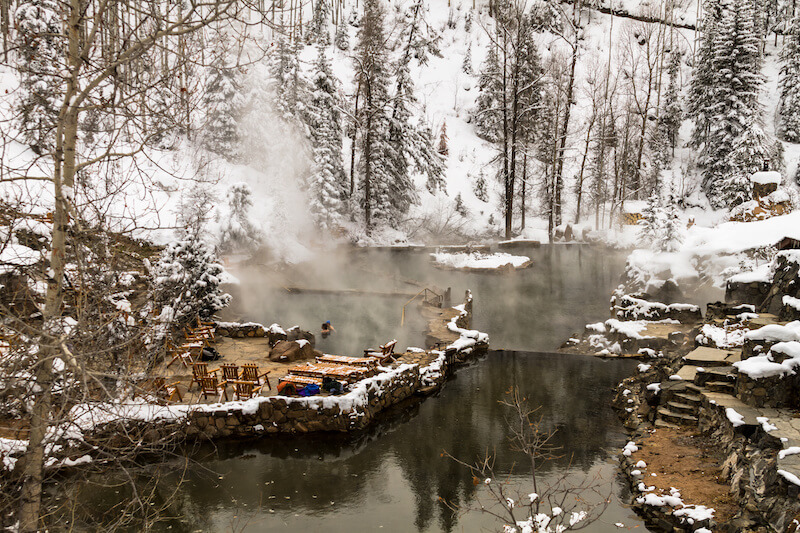 For those looking for undeveloped hot springs with more of an immersion into nature, head to Strawberry Park Hot Springs. Located just seven miles north of downtown Steamboat in the pristine Medicine Bow-Routt National Forest, these picturesque springs offer an unforgettable experience that'll make you feel like you're far removed from civilization.
The springs in the Strawberry Park community are made up of five natural hot spring pools that vary in temperature. They overlook chilly Hot Springs Creek, which makes for the perfect place to jump in for a quick cool-down after your soak.
To prevent pool overcrowding, all visitors need to reserve a time in advance. Reservations open 25–30 days out, and weekends and holidays often book out quickly. You'll pay the $20 per person admission fee once you arrive at the springs, though visitors should note that only cash is accepted.
It's also important to note that the hot springs become clothing-optional after sundown, and no minors are allowed in the pools after that time. The property also has campsites and rustic cabins available on-site for those who want to make a getaway out of it.
After your soak, be sure to explore the gorgeous surrounding forest. You can take a leisurely drive in search of wildlife (moose and fox frequent the area) or check out one of the many hikes in Medicine Bow-Routt National Forest.
Strawberry Park Hot Springs Additional Information
Address: 44200 County Road 36, Steamboat Springs, CO 80487
Cost: $20 per person (all ages)
Hours: Every day from 10:00 a.m.–10:00 p.m.
Hippie Hot Springs
Directly across the street from Old Town Hot Springs and in the heart of downtown Steamboat Springs, you'll find Hippie Hot Springs. Although the name may give it away, these hot springs are about as natural as it gets and completely undeveloped.
Unique among other Steamboat Springs hot springs, Hippie Hot Springs' pools are situated on the banks of the Yampa River and are free to visit! Although they're not nearly as hot as the other springs on this list (they rarely reach 100 degrees), they're the perfect spot to relax in the spring, fall, or even summer after a tubing trip down the river.
Because these are undeveloped hot springs, the experience is very different from a resort's. The pools are formed by rock barriers that visitors maintain, and they can get quite crowded on weekends and particularly nice days. However, they offer a unique, only-in-Colorado experience you'll remember forever. The 360-degree mountain views alone are unforgettable!
Because of their proximity to one another, it's also easy to visit both Hippie Hot Springs and Old Town Hot Springs at the same time. You can make a day of it and check out some of Steamboat's best hiking trails, taste-test your way through local breweries and restaurants, or challenge your adventurous side at the Steamboat Ski Resort.
Hippie Hot Springs Additional Information
Address: 125 Lincoln Avenue, Steamboat Springs, CO 80477
Cost: Free
Hours: Always open
Hot Sulphur Springs Resort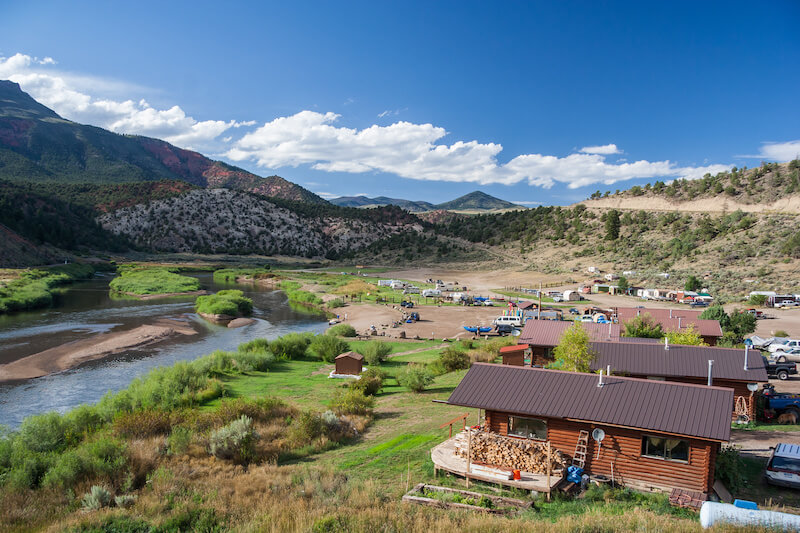 Located just over an hour southwest of Steamboat Springs, near Granby, you'll find another unique hot springs resort. Hot Sulphur Springs Resort has 15 man-made pools filled with natural hot spring water—no filters, chemicals, or pumps here.
The temperatures of the pools range from 95-112 degrees Fahrenheit, and there are eight kid-friendly pools and seven for adults only. Everyone is sure to find a pool that's perfectly comfortable for them! The resort is open 365 days a year, and except for the two private pools, reservations aren't required.
Hot Sulphur Springs Resort also offers lodging and massages (Deep Tissue and Swedish) on-site for those hoping to make their trip into a weekend getaway from Steamboat Springs. Nearby, there's also the interesting Pioneer Village Museum, beautiful Byers Canyon, and even an old-fashioned candy shop.
Hot Sulphur Springs Resort Additional Information
Address: 5609 Spring Road, Hot Sulphur Springs, 80451
Cost: $26.00 (adults 12+), $14.00 (children 4–11), $20.00 (seniors 65+)
Hours: Open daily from 8:00 a.m.–10:00 p.m.
Glenwood Hot Springs Pool
Glenwood Hot Springs Pool, known as the world's largest hot springs pool, is also part of the renowned Colorado Hot Springs Historic Loop.
Living in Steamboat Springs provides easy access to this 720-mile loop filled with several bucket list-worthy hot springs, as it's just two hours away in the White River National Forest.
Glenwood Hot Springs Resort has pristine hot spring pools, an exciting river tube ride, a fitness center, a children's zone with waterslides and interactive water toys, and a poolside grill. And if you're looking to extend your getaway, there's even a lodge on-site.
Historic downtown Glenwood Springs is within easy walking distance, and another nearby highlight is the exciting Glenwood Caverns Adventure Park. It has several rides, including a gondola, alpine coaster, and giant canyon swing. Plus, it offers cave tours, laser tag, and more. The famous Hanging Lake Trail, which leads to a breathtakingly beautiful waterfall, is also nearby, but note that the hike is strenuous and requires a permit.
Glenwood Hot Springs Pool Additional Information
Address: 401 N River Street, Glenwood Springs, CO 81601
Cost: $29 (adults 12+), $20 (children)
Hours: 9:00 a.m.–9:00 p.m.
Ready to Explore the Hot Springs Around Steamboat Springs?
As part of the abundance of things to do in Steamboat Springs, visiting area hot springs is a must-do for residents and visitors. From relaxing riverside in the rustic Hippie Hot Springs to checking out the largest hot springs pool in the entire world, Steamboat Springs is the perfect place to experience the long-beloved tradition of soaking in mineral springs. It's also an excellent way to get refreshed and ready to check out everything else Steamboat Springs has to offer!
If you're looking for the best home in Steamboat Springs for you, contact The Steamboat Group at (970) 879-0879 to get in touch with local real estate agents who can help you find a Steamboat Springs home you'll fall in love with.
Buying or Selling
a
Steamboat Home?
Let the
Steamboat Group Help You!
Do you want to buy a home in Steamboat Springs? Let the Steamboat Group handle it all. Contact us now to schedule a consultation and take the first step towards a stress-free home buying experience with the best real estate team in Steamboat Springs, CO.