Best Coffee Shops in Steamboat Springs [Updated 2022]
Posted by Erik Ramstad on Wednesday, July 20, 2022 at 7:15 AM
By Erik Ramstad / July 20, 2022
Comment
The Steamboat Springs community is blessed when it comes to delicious coffee and breakfast shops. While there aren't too many fast food options in town, it's nice to know that plenty of little "Mom and Pop" shops can make your morning brighter. If you take the time to stop and sample some of these fine establishments, you'll never know what hidden gem you might find. Here are eight great coffee shops or places you'll find in Steamboat Springs to purchase a cup of coffee or buy beans by the bag.
Big Iron Coffee
Big Iron Coffee serves several high-quality coffee and various pastries with a smile. With locations in downtown Steamboat Springs, mountainside, and on the west end, Big Iron Coffee is the perfect place to take in the local ambiance and enjoy a cup of java - or to get your caffeine fix.
MountainBrew
MountainBrew has been in Steamboat Springs for over 10 years and gained new ownership in 2019. Aside from its fair trade coffee features, this shop offers homemade baked goods and some breakfast and lunch menu items with local ingredients – so come in for a cup of joe or a meal! All coffee is roasted in Portland, Oregon.
Off the Beaten Path Bookstore and Coffeehouse
Off the Beaten Path Bookstore and Coffeehouse is an independent bookstore serving coffee and locally baked pastries, wine, and other specialty drinks. Here, it's all about ambiance and quality.
Established in 1990, locals come here to socialize, read, and enjoy a good cup of coffee. If you're looking for a quiet respite from the day's hustle or want to experience what this locally owned business offers, come on in and curl up in a corner and read while you sip your drink and enjoy a sweet treat.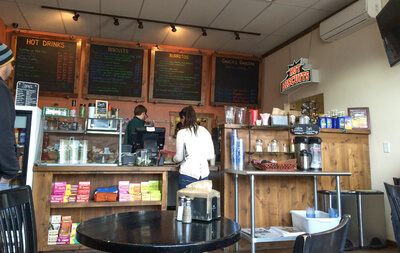 Lil' House Country Biscuits & Coffee
In Curve Plaza on the west end of Steamboat Springs, a quaint little breakfast joint sits between a liquor store and a gas station. Hidden in the shadows of its bigger brother, Big House Burgers, visitors will find Lil' House Country Biscuits and Coffee, which serves up some of the best biscuit sandwiches and coffee outside the state of North Carolina.
The sweet smell of freshly cooked biscuits greets customers at the door. Along with coffee, the shop serves a vast array of breakfast goodies, including biscuits and breakfast burritos, with creative flavor combinations.
Beard and Braid
Opened in the spring of 2022, Beard and Braid is the perfect place to have a business meeting, catch up with a friend, or read a book in the ambiance of this thoughtfully designed shop. In addition to their expertly crafted lattes, one of the Beard and Braid owners is a pastry chef – their treats are delicious!
Emerald
This newly established restaurant in Steamboat Springs encourages its visitors to "wake up, recharge, and celebrate." Serving hot and cold drinks, healthy pastries, sandwiches, salads, and snacks, Emerald offers something for everyone. Stop by between 7 a.m. and 3 p.m. Monday through Friday or from 9 a.m. to 3 p.m. on weekends.
Dusky Grouse
All Dusky Grouse's beans are from Victrola Coffee, a Seattle coffee roaster. Grab one of their signature lattes, the lavender-flavored Pretty Bird, and a breakfast burrito on your way into town. While serving tasty coffee, Dusky also takes care of the Steamboat Springs community by hosting seasonal book clubs and supporting KEXP, a Seattle-based non-profit arts organization.
Discover a New Favorite Steamboat Coffee Shop Today
If you are looking for a great cup of coffee, Steamboat Springs has no shortage of fantastic coffee shops. There is something for everyone in this charming ski town, from small local businesses to chains. Whether you are an espresso fan or prefer something with more flavor, these Steamboat Springs coffee shops will not disappoint. Stop by one of these fantastic establishments today to enjoy tasty food and a delicious cup of joe.