A Look at the Steamboat Springs Real Estate Market in 2010 and going forward.
Posted by Erik Ramstad on Friday, February 4, 2011 at 4:48:02 PM
By Erik Ramstad / February 4, 2011
Comment
The Steamboat area has seen a definite increase in real estate activity during 2010. The main contributing factors to this increase are the increasing confidence in the broader economy and significantly lower prices for many properties. This has driven increased buyer activity on the Internet, more people looking in person, more people buying and even a good number of multiple offer situations.

The sales volume for 2010 totaled at $513,051,000 which was 117% of 2009. It feels like we have turned the corner in dollar volume and price will follow at some point but it really depends on what type of property we are talking about and where it is located. This statement is true for the market as a whole so let me know if you would like to know more about a particular property, property type or area and I will give you a more detailed perspective.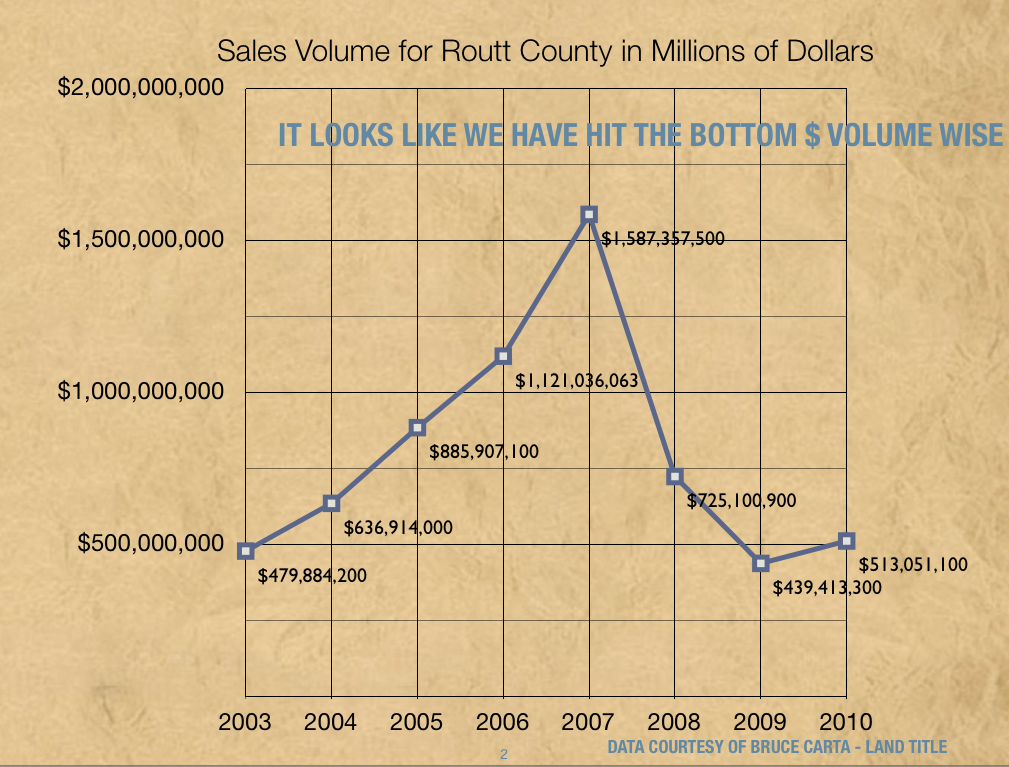 Looking at specific types of properties, single-family home sales have seen an increase in the average sales price. ASP's have increased from 2009 as higher end buyers have returned to the market. 2010 saw 30 sales over $1m as opposed to only 12 sales over 1m in 2009. The average price per square foot on single family homes is down by about 40% from the peak, but are still above 2006 prices due to the increased mix of higher end homes(Data for the City of Steamboat)

For townhomes and condos 2010 saw average sales prices drop from 2008 and 2009 as sales of new project inventory slowed in 2010 vs 2009 when Edgemont, One Steamboat Place and Wildhorse were completed. The average sales price dropped but the overall sales volume increased as buyers return to the market. In 2010 there were 242 total condo and townhome sales in Steamboat, whereas 09 saw only 175 sales. 2010 also saw the return of sales under $300,000; there were more than double. 2009 at 43 sales, whereas 2010 had 95. 2010 also saw the steady continuation of sales of condos and townhomes over 2m, 2009 and 2010 both having 4.

Land has seen some encouraging sales in the 2nd half of 2010, some at surprising good price levels, but most are going at a significant discount. Looking into 2011 it appears as though Land sales will pick up as more land becomes available at lower price points. Land Values and interest levels are particularly dependent on their location and characteristics.This is true for everything but even more true for land.

During 2010, on average, properties in Steamboat Springs are selling for 87% of their listing price. 60% of the properties that sold closed between 90% and 100% of the listing price. For those buyers seeking serious discounts from list price it should be noted that only 8% of properties sold for than less 75% of final listing price.

Sellers should know that people appear to be waiting until they feel that a properties price reflects a good opportunity for them. Despite the fact that properties sold for an average of 87% of their listing price, the final selling price is often 30% or more lower than initial listing price. What this tells us is that buyers are waiting until they feel that properties are priced appropriately. That said it can make sense to work the deal so to speak and see if you can reach your goals.

It really pays to have an in depth understanding of properties you are interested in, so you know the value, have the right knowledge level to act appropriately and we can work the deal intelligently. At The Steamboat Group, we have been able to help negotiate several contracts in 2010 that were in that 8% with discounts of 25% or more.

What is in store for 2011
As prices adjust, more Buyers are returning. I am seeing lots of location neutral and people that plan to retire in a few years beginning to look seriously. Timing the market is difficult just like with stocks, but if the national economy recovers, we could be at or close to the bottom in some sectors of our local market in 2011. The other factor is that right now some of the best properties are still available. Even though there are large numbers of properties available in many parts of the market, when you start to look, my experience (and that of other tops brokers) is that most buyers only find 1-3 properties that are a fit for them. This is a good reason to be watching and looking in the near future if your goal is to find the right property in the next year or so. Buyers have been saying this to me for the last few months and that is an encouraging sign they feel similarly.

With this in mind it is important to note that distressed properties will continue to define part of the market. The market will continue to consolidate and work through distressed inventory. After looking at this in detail I think that Short Sales / Foreclosures will increase significantly this year and likely peak in 2011. It's not pleasant but it is what it is, and the sooner we work through them the better (higher) overall values will be. Outlying areas will continue to be the hardest hard hit; summer will be telling in how areas like Stagecoach and Oak Creek will be affected and more if more interest returns. We are seeing some sign of this interest coming back. Financing will be a challenge but more cash buyers will come in with time and continue to help stimulate the local economy.

Speaking of the local economy, sales tax revenues are stabilizing and have started to increase for the last several months. As I talk to individual businesses some of the best run ones are seeing significant increases in their business and even years matching 2007 in volumes and profitability. A few local architects have new homes in process and building is starting to increase although not to levels close to before.

This is a simple overview of the current and future outlook on real estate in Steamboat. If you would like more specific examples of areas and types of properties mentioned above, please feel free to contact us at [email protected] or give us a call at 970.879.0879. We have a few power point presentations and can provide in-depth analyses of communities and developments within Steamboat to help you get a feel for where things are.