Steamboat Celebrates July 4th With the Cowboys' Roundup Days 2022
Posted by Jon Wade on Friday, June 10, 2022 at 12:34 PM
By Jon Wade / June 10, 2022
Comment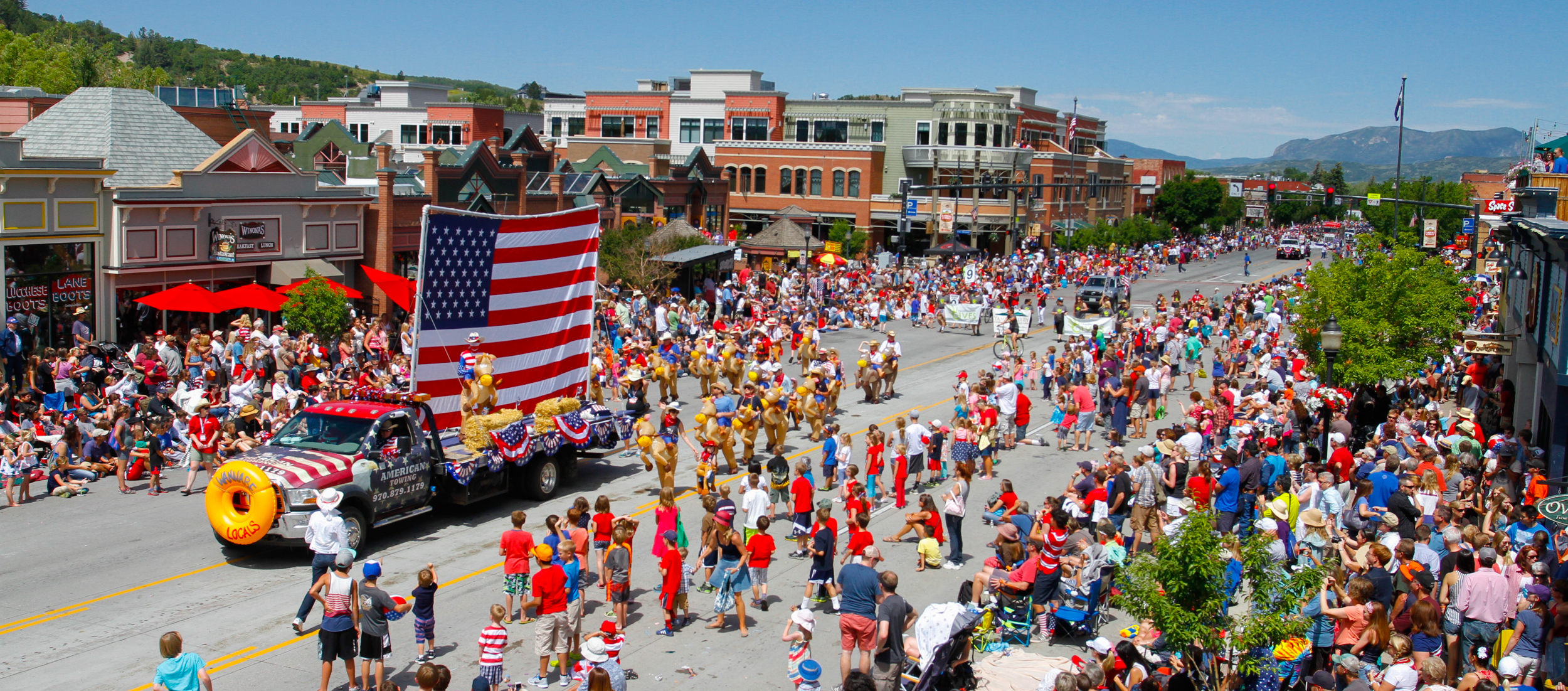 With a rich history steeped in western Americana—think rodeo, ranching, the Gold Rush, and a distinct small-town USA charm—the Steamboat Springs community takes Fourth of July celebrations seriously. Steamboat Springs puts on Cowboys' Roundup Days, a four-day event featuring a traditional hometown parade alongside events unique to the Steamboat area, including the summer's largest Pro Rodeo and Ski Jumping Extravaganza. This year marks the 119th annual Cowboys' Roundup Days, and it promises tons of western-themed patriotic fun and festivities. Although there won't be any fireworks displays this year, keep reading for a list of the top Fourth of July events in Steamboat Springs, Colorado, in 2022.
Steamboat Springs Pro Rodeo
While the Steamboat Springs Pro Rodeo is held every Friday and Saturday from June 24th through August 27th, there's a special Pro Rodeo Series for the Fourth of July happening July 1–4. Thrilling rodeo events include classic rough-and-tumble competitions such as team and tie-down roping, steer wrestling, barrel racing, bull riding, and bareback riding.
This rodeo will be Steamboat's largest of the summer, with events happening nightly Friday, Saturday, Sunday, and Monday. The first three nights' rodeo starts at 7:30 p.m., while the finale on July 4th starts at 6:30 p.m. Beginning at 6 p.m. before every rodeo (one hour earlier on the Fourth of July), local artists perform live music, and a classic western BBQ dinner is available.
Address: Brent Romick Rodeo Arena 285 Howelsen Parkway, Steamboat Springs, 80487
Date/time: July 1-3 at 7:30pm; July 4 at 6:30pm
Ticket prices: General admission uncovered seating tickets are $20 for adults and $10 for children ages 7-15. Covered seating is $25 for everyone, and children under age 6 get in free. Ticket prices for the 4th of July rodeo are all $5 more. It is highly recommended to purchase tickets in advance. Season tickets are also available at a significant discount (note that July 4th is excluded from the season passes).
Parade & Block Party
The hometown parade is one of the most highly anticipated events of the entire Cowboys' Roundup Days. It always takes place on the morning of July 4th, proceeding through Yampa Street in downtown Steamboat Springs. Every year, the parade has a theme; 2022's is 'Red, White, and YOU!'
Steamboat Springs community groups, such as local businesses, schools, and meetup groups, are encouraged to collaborate to create parade floats. Local judges will rate floats based on creativity, originality, and spirit in several categories, including Best Overall Theme, Best Commercial Businesses (which also includes political candidates), Best Group, and Best Parade Theme. Anyone wishing to participate in the hometown parade should register by June 28th.
Immediately following the parade, head over to Tread of Pioneers Museum for a good old-fashioned block party. The free event includes many kids' activities, hot dogs and root beer floats provided by local vendors, and a concert. The museum itself also offers free admission during the event.
Address: (Parade) Downtown Steamboat Springs, starting on Yampa Street between 9th and 10th streets; (Block party) Tread of Pioneer Museum, 800 Oak Street
Date/Time: July 4 at 10 a.m. (participants should check in at 8:15 a.m.), followed by the block party
Ticket prices: Free
Ski Jumping Extravaganza and Jumpin' and Jammin' Competition
The Ski Jumping Extravaganza and Jumpin' and Jammin' Competition prove the slopeside fun doesn't necessarily stop in the summer in Steamboat. It's no secret that Steamboat is a major destination for winter sports, with many Winter Olympics hopefuls choosing to live and train here.
During Roundup Days, spectators can watch some of the world's best ski jumpers and athletes perform on summer ski jumps at Howelsen Hill. Bring a chair or blanket and an umbrella of pop-up shelter and snacks, and watch in awe. The athletes practice and train for three days, and the final elimination competition begins just after the parade on the 4th. The competition is followed by a community party with food vendors and live music.
Address: Howelsen Hill, 845 Howelsen Parkway, Steamboat Springs, CO 80487
Date/Time: (Training) July 1 and 2 from 8:30 – 10:30 a.m. and 4 – 5:30 p.m.; July 3 from 9 a.m. – noon; July 4 from 11 a.m. – 2:30 p.m.
Ticket prices: Free
First Friday Artwalk
The Yampa Valley region is home to some incredibly talented artists and makers, and First Friday Artwalk celebrates their talent. Enjoy the gorgeous summer weather and take a self-guided tour of Steamboat's galleries and museums, popping in and out as you stroll downtown. Exhibits change frequently, many participating businesses serve light refreshments, and live music performances are often downtown.
Address: Various downtown Steamboat venues
Date/Time: July 1, 5 – 8 p.m.
Ticket prices: Free
Steamboat Springs Serves Up Old-Fashioned Fun on July 4th
With its close-knit community and small-town charm, it's no surprise that Steamboat Springs goes to great lengths to celebrate the Fourth of July. No matter which events interest you, they're a wonderful way to celebrate America's Independence and the town's rich western heritage—and meet some community members, too.