11 Year High today for Nasdaq ... Real Estate in Steamboat is at a 5 to 30 yr Low
Posted by Erik Ramstad on Friday, February 3, 2012 at 1:38:46 PM
By Erik Ramstad / February 3, 2012
Comment
We live in interesting times. Our economy is not great but I agree with many economist's conclusion that it is remarkably durable given the challenges of the last few years. There are definitely challenges ahead but we are seeing improvements in many key factors and the horizon looks better than it has in years.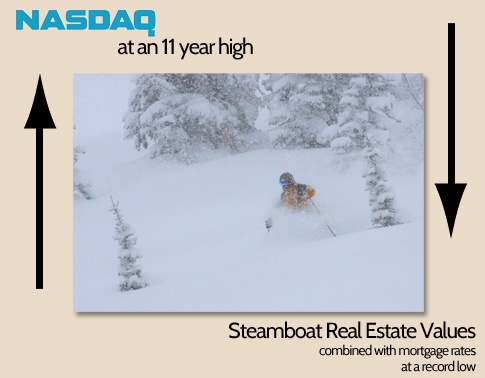 I am not a believer in efficient markets because they so often swing to far each way and react as much on emotion as data. Seeing the headlines about Nasdaq hitting 11 year highs while there is improvement but not good times yet formed a stark contrast in my mind. I am not a believer in efficient markets because they so often swing to far each way and react as much on emotion as data. I think that we are seeing an example of this now.

Current prices for Steamboat real estate are at and sometimes just above their lows for 4 to 30 year periods, this depends on the type of property and it's location. No kidding, ask me for examples of both 30 year lows and properties that have appreciated recently. We don't need to judge if current values for real estate in Steamboat are too far of a swing or not to see the contrast to stock valuations.
You are not exactly buying low today in the Stock market and holding is essentially the same as buying stocks at current levels when holding cash or shifting to other asset classes is an alternative. People are seeing this and taking this chance to look more seriously then often buy when they find the right thing. Right now we have a unique combination of improving signals in many parts of the economy, what many see as a better outlook going forward, the lowest prices in a long time and a good but not great selection of properties.

We have high inventory levels overall but when you start to look you are likely to only find 1-4 properties that you like and it is not surprising to find none. How can this be? Well not much has been built since 2008 or 2009 and while activity has been much lower during the recession people have been buying as prices on individual properties reached the right levels.

This has left us with a mix of some good to great properties along with more not great to bad properties. We are also still in an environment where most sellers are willing to negotiate. I think that we have a window here where values have come down dramtically, other asset values are at high levels, interest rates are low and the values here in Steamboat are very attractive. Smart clients tell me some version of this at least a couple of times a week.

Owning in Steamboat isn't just about the money. Most people wouldn't be here if we didn't have such a great lifestlye and great people in Steamboat. Do you want to spend time in Steamboat any less now than before? Would it be good for your mood, fitness or family to spend more time here?
You know your reasons and situation best. What I can say is that if you are watching the market or just thinking about having a place in Steamboat it may be worth looking around to see how your part of the market is looking and if there is something you should think about more. Give me, Jon, a call at 970-819-6930 if you would like an honest assesment of what is going on in the Steamboat Real Estate market and an assessment of options that meet the goals for your lifestlye.

Nasdaq's rise: (Reuters) A surge in hiring last month lifted U.S. stocks on Friday, with the Nasdaq index hitting an 11-year high, as the data boosted hopes the world's largest economy has turned a corner. The broad-based gains also sent the Dow Jones industrial near a four-year high. The S&P 500 extended its 2012 advance to about 7 percent.
More than 450 stocks across all sectors hit 52-week highs, including Apple , United Parcel Service , Yum Brands and MasterCard. "This is a continuation of a grinding but measurable improvement in the U.S. data," said Stephen Wood, chief market strategist at Russell Investments in New York.
He said there are still risks, like the European debt crisis, but "to the extent the market has the time or luxury to focus on the U.S. economy, this is a modestly positive environment for U.S. equities."